Are you wasting your precious time curling lash lines and applying numerous layers of mascara each morning? Don't worry, the presence of lash extensions now will facilitate your beauty routine better than ever before. How long do lash extensions last and what are the guides for beginners? Let's read the following blog from Kwin Lashes to find out the answer!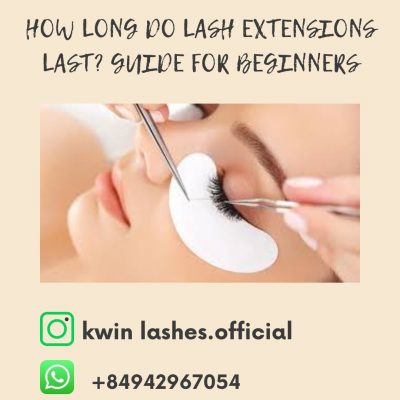 1. How long do lash extensions last? What are lash extensions?
To answer the question "How long do lash extensions last?", please take a look at the following part. This section aims at giving you an overview of lash extensions and their related aspects.
1.1. How long do lash extensions last? Definition of lash extensions
In general, lash extensions are semi-permanent fibers that are individually attached to each strand of your natural lashes. Their purpose is to produce longer, thicker lash lines while also improving your overall look by lifting and opening your eyes. The fibers for lash extensions are basically synthetic, faux mink, or silk which are available in a variety of different sizes and curvatures. So, "How long do lash extensions last? It depends on various factors.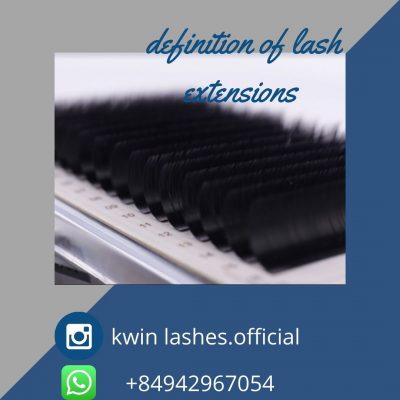 1.2. How long do lash extensions last? Merits of lash extensions
Eyelash extensions provide excellent benefits that both beauty enthusiasts and eyelash extension artists cannot dispute.
Unlike artificial eyelashes, which attach to the skin as a strip or individually, lash extensions strongly connect to the lash. The end effect is more luscious, thick lashes that may allow you to forgo mascara.

The final appearance is to add length, fullness, and curvature to your natural lashes. It is up to the customer if they want a more dramatic or natural look, but in general, the more lash extensions they get, the more dramatic effect they obtain. 

Because everyone's face shape and bone structure vary, it's critical for women to recognize that lash extensions can help them express their unique facial features. So "How long do lash extensions last?" Let's go exploring in detail in the next section.
2. How long do lash extensions last? Customers and lash artists' opinions
The lifespan of eyelash extensions can depend on loads of factors, but we can predict that they work well at a certain period of time.
2.1. How long do lash extensions last? From customers' perspective
We conduct a survey on a number of customers to find out the estimated time of their lash extensions' lifespan.
As for many users, eyelash extensions typically last 2 to 4 weeks. It is typical to shed a few lashes every day as your natural lashes progress through the hair development cycle. This is the real period of time when they apply typical lash extensions.

In addition, the finding shows that the majority of consumers prefer to schedule refills every three weeks with a view to maintaining a thick and full lash line. Actually, everyone always desires the most perfect appearance for their eyes.

However, the period of 2 to 4 weeks is just the statistics collected from a certain number of people. There are countless customers out there all over the world that need more data to answer the question "How long do lash extensions last?"
2.2. How long do lash extensions last? From lash artists' perspective
As for the concern "How long do lash extensions last?", maybe there is no one who can give people a more satisfying answer than the professional lash artists. 
Since the extensions are connected to the lash, they endure for the same amount of time as the normal growth cycle, for around six weeks. This period of time is quite equal to that the customers reveal in the survey.

As general expectations, lash artists also suggest that users have "refills" every two to three weeks to fill in any gaps due to the lashes falling out. It is an optimal amount of time that helps to keep the most ideal lash lines.

Furthermore, taking proper care of them allows eyelash extensions to last for six to eight weeks before falling out naturally, just like natural lashes.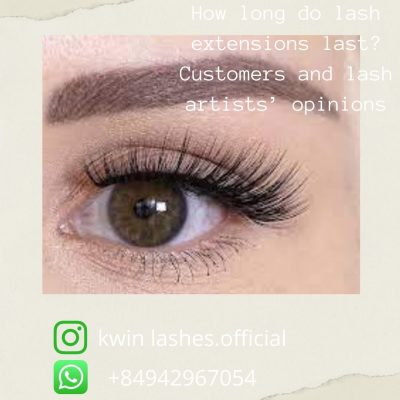 3. How long do lash extensions last? FAQs for beginners
Kwin Lashes will help you address the questions such as "How long do lash extensions last?" and so on in the next section. Let's find out together.
3.1. How long does the process of lash extensions last?
A skilled lash technician will take their time when doing the work since safety should be the top priority.
It is dependent on the technician's competence and how long they have been performing eyelash extensions. The type of eyelash extensions you pick is one of determining factors. Anyhow, a skillful lash artist generally needs 90 minutes to fulfill the task.

Decision on the number of extensions directly relates to the client's desired look and, more significantly, the condition of the client's own lashes. The time required for Russian extensions, for example,  ranges between 2 and 3 hours, depending on how full the customer wants their lashes to be. 

People usually have a thought that the short time for doing the lash extensions in some cases makes them concerned about "How long do lash extensions last?". However, a short time does not mean low quality.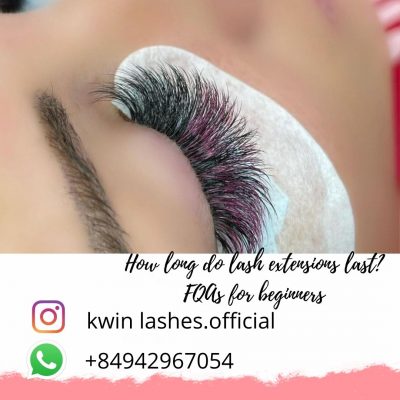 Read more on:
3.2. Do eyelash extensions cause any harm?
Eyelash extensions are not hazardous provided your lash artists use the right techniques and they have enough qualifications to do that. Don't worry, it will never harm your lash lines if it follows the right method.

Additionally, always make certain that your lash artist washes hands carefully, wears a mask, utilizes sanitary pillow covers, and so on. Also, don't be afraid to question your technician to ensure that they apply all of these standard measures.

Don't worry too much about that. If things follow the right routine, "How long do lash extensions last?", it is just a matter of time you need to take care of them.
4. How long do lash extensions last? Where to buy the best quality lash extensions in Vietnam
You may find a plethora of businesses acquiring lash extensions. Kwin Lashes, on the other hand, is an excellent alternative for you since we are among the most prestigious wholesale eyelash extensions providers in Vietnam.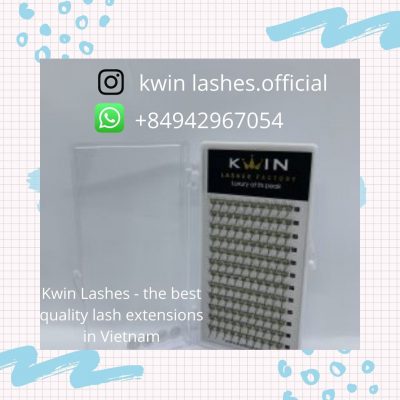 Choose semi-finished goods with caution and say no with low-quality lash extensions.

To ensure a high degree of black foundation, delicate texture, and retention, the best materials for lash extensions are meticulously selected and imported from Korea.

Kwin Lashes eyelash extensions are constructed of Polybutylene Terephthalate, a kind of plastic fiber (PBT) that creates the ideal lash form and natural glossy sheen.

Make an investment in high-performing staff. Moreover, meticulous and beautiful packaging design is also a key target.

Above everything else, the quality level is critical.

Kwin Lashes

constantly puts in a lot of work in inspecting and selecting products for the process of making lash extensions. Using the company's products, customers hardly have to concern with "How long do lash extensions last?". The high quality makes Kwin Lashes outstanding.
Don't wait any longer! If you are interested in owning such eyelash extensions, please contact us through the detailed information below.
Kwin Lashes Contact:
"Ms. Wendy –  Lash Expert 
Instagram: kwinlashes.official"