Out of the three main types of promade fan packaging that we are currently providing, loose fan is the product that has gained highest sales of all time. You can learn more about loose promade fan in this blog.  Today we will talk about private label for loose fan in this article: What packaging option is available for loose fan? What is the minimum order quantity to get customized box for loose fan? How much is the cost to do private labelling? 
Currently, loose fan is stocked in single box and mix box.
1. LOOSE FAN WITH PRIVATE LABEL – SINGLE LENGTH
Kwin Lashes default packaging for loose fan come in a plain white plastic box like the picture below: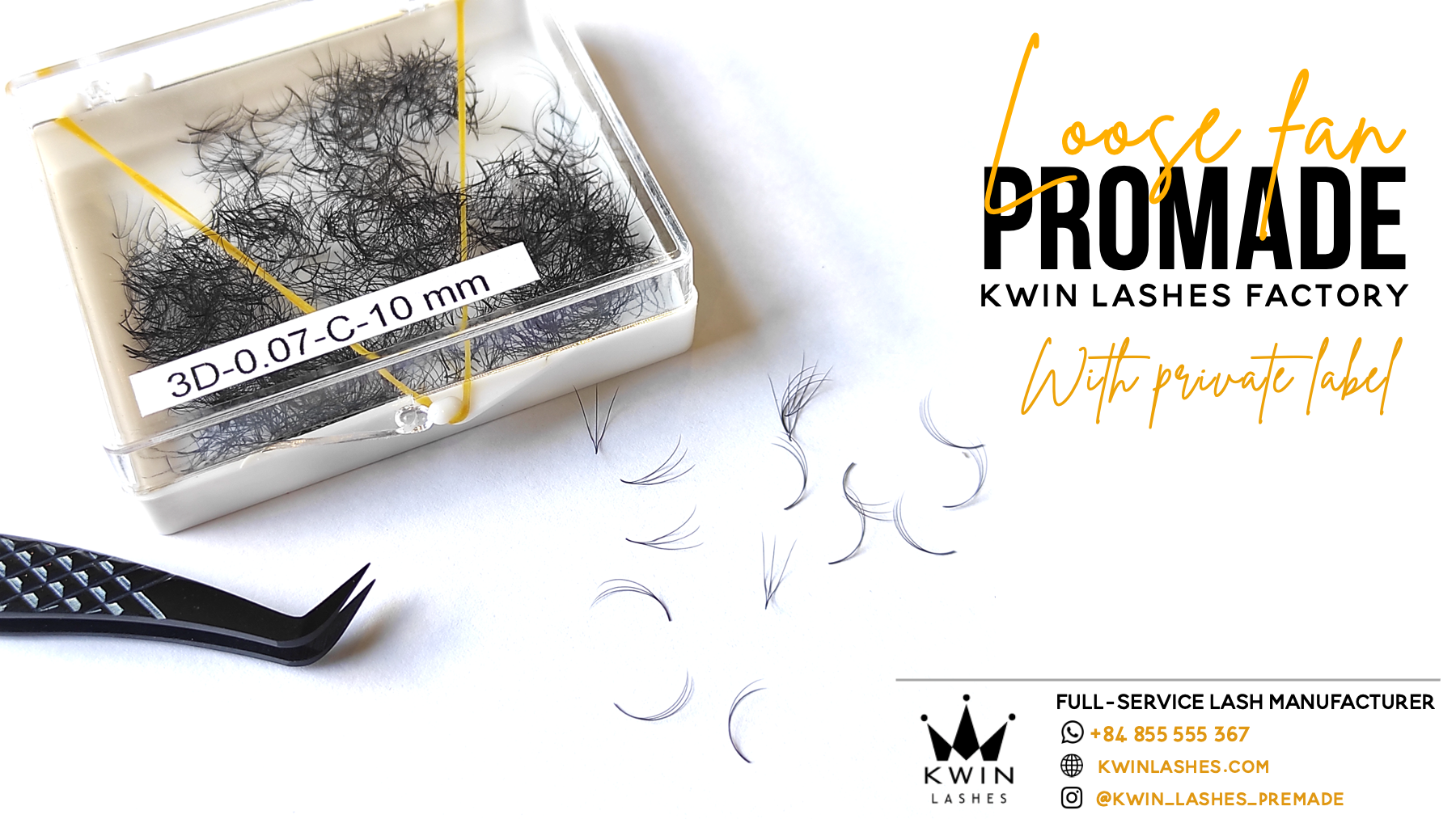 What options are available for loose fan with private label single length?
We suggest two options for private labeling loose fan: Plastic boxes with logo sticker and Customized cardboard boxes.  Please read the table below for further details. If you have any questions, please feel free contact our staff for inquiry.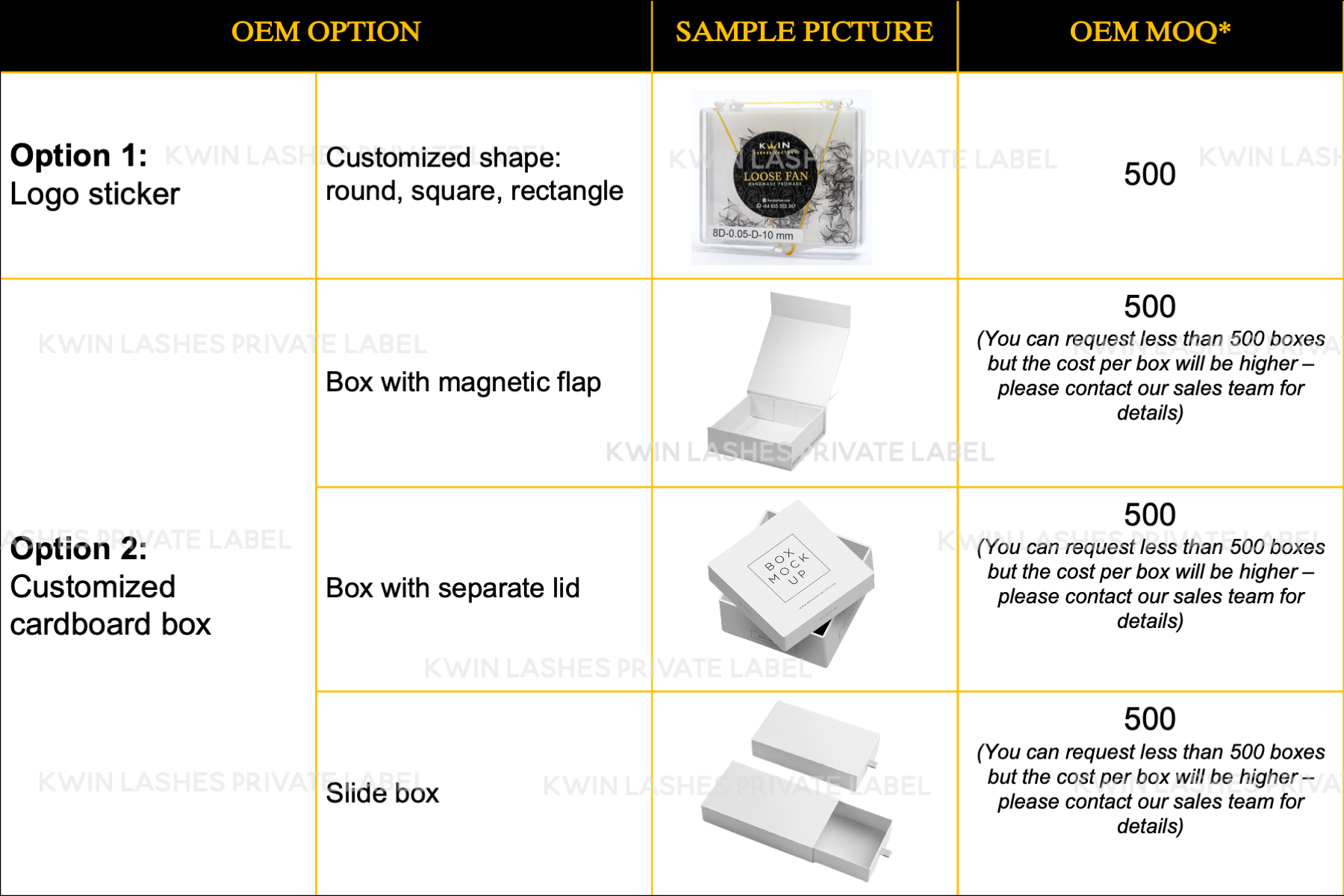 OEM MOQ is the minimum quantity for the box/label to be printed in customized design. It's not the minimum quantity order. You may be requested to pay for more boxes/ labels than your actual order. The remaining paid boxes/ labels can be used for future orders.
Which option should I choose to do private label for loose fan single length?
Using stickers is an economical way because printing stickers is cheap, just 20-50 USD for 1000 pieces. Logo stickers can be used for loose fan boxes  lash wheels. However, if you want your brand to look more professional and more high-end and more luxurious, you should consider the second method which is making your customized cardboard box. 
Making your customized cardboard boxes shows your brand personality because you'll be able to design it. You will be able to put your own design, your requirement on the box/ and compared to the plastic box, the cardboard box will definitely look more high-end and look more professional. Also, thanks to being made of cardboard, the box is recyclable, which reduces the amount of plastic waste. However the cost of making a cardboard box is definitely higher using stickers. So if your brand scale is small, you can use use sticker method. If you have enough capital, you have enough money to invest, you should choose the cardboard box option.
This video will explain different types of private label for loose fan as well as other promade packagings.
2. LOOSE FAN WITH PRIVATE LABEL – MIXED LENGTH
Mixed length loose fan is a box containing different lengths. With a mixed length box, lash artists don't have to pay a lot of money to buy too many single length boxes that they may not use up. Kwin Lashes Factory also provides two options for mixed length loose fan with private label: Plastic lash wheel and Customized cardboard box. Details about them are shown in the below table.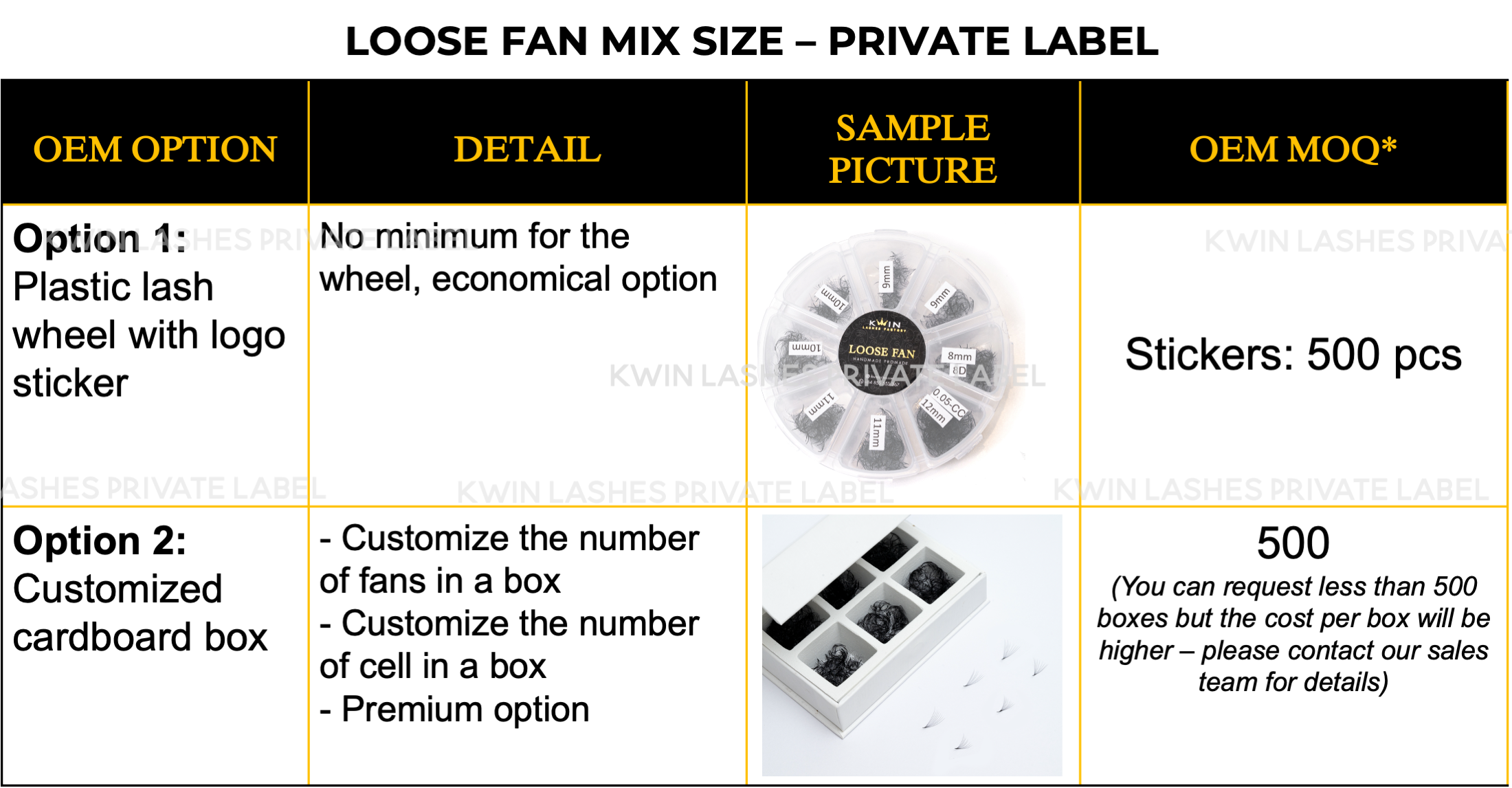 Same as single length loose fan options, the plastic lash wheel is a cheap option without having to invested too much capital while cardboard option is more professional.
If you need further consultant about loose fan with private label OEM/ODM service,  please feel free reach us via the below information:
CONTACT INFORMATION
Whatsapp: +84 855 555 367
Email: karine.kwinlashes@gmail.com
Instagram: @kwin_lashes_premade