If you are a person who wears false eyelashes, have you ever wondered if you can sleep overnight with them? The straightforward answer is no. Sleeping in false eyelashes is not a good idea. There are numerous reasons why it's best to remove your false eyelashes before your head hits the pillow. Therefore, let's discover this article below.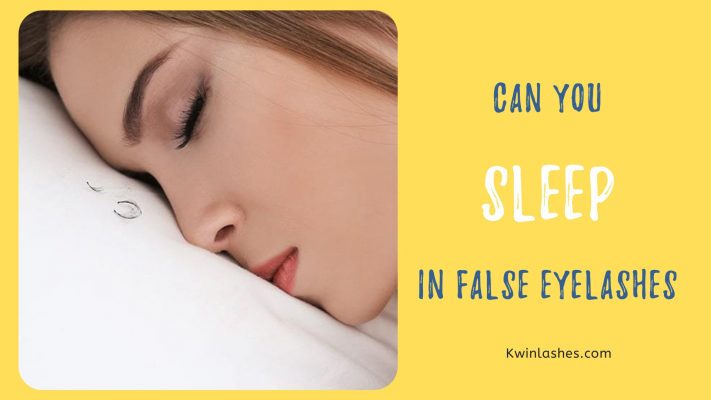 1. Can you wear false eyelashes overnight?
NO because of  the risk of contact dermatitis of the eyelids and keratoconjunctivitis.
False eyelashes cause harm to health risk because they tend to trap dirt and cause the skin around your eyelids to get dry, itchy, and irritated.
In most cases, it is recommended to remove fake lashes at the end of the day before you head to bed.  This can help prevent eye infections and will also keep you more comfortable.
2. Why shouldn't I wear false eyelashes overnight?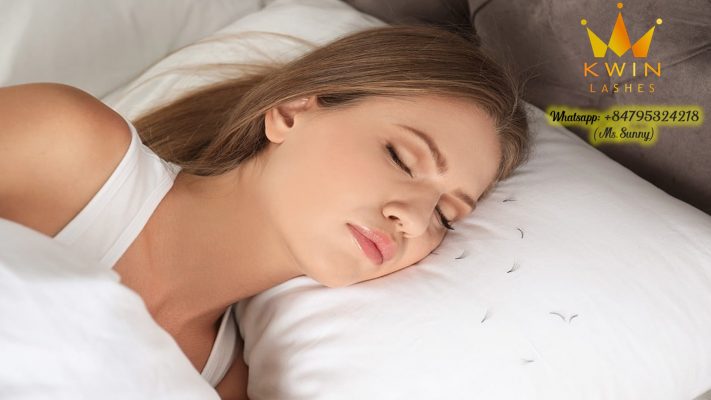 When it comes to wearing false eyelashes overnight, there are a lot of reasons why you should not do that. Wearing false lashes overnight allows your lashes to become damaged, collect dirt, and cause problems with your eyes. Here are some of the issues that can arise from wearing false lashes overnight on a regular basis.
Germs: Your false eyelashes have been attached to your eyes all day and have been exposed to new environments as well as any drainage (tears, etc.) from your eye. If you go to bed with your lashes still attached, any germs that remain in those lashes have an excellent opportunity to grow around your eyes and cause an infection. Furthermore, if you are not sleeping on your back, your lashes will rub against your bed pillow, picking up dead skin cells, dirt, oil, dust, and whatever else is on your pillow. This poses a significant risk of eye infection, and no one has time for that. Your lashes will be dirty when you wake up, making them difficult to wear again without a thorough, deep cleaning.
Damage your natural eyelashes: If you've ever worn fake nails, you know how damaging they can be to your natural fingernails. Fake eyelashes are very similar. They put more strain on the tender lashes follicles from which your natural eyelashes grow. This causes lashes breakage and disrupts normal lashes growth cycles.
Won't look good in the morning anyway: Your false eyelashes will look dreadful in the morning. You do not want to leave them turned on. They can come loose from the glue and hang off, giving you a shabby look rather than a lovely one. Even a short nap can be problematic with false eyelashes if you sleep on them incorrectly. You could bend them out of shape and end up with a very asymmetric look that will look terrible on you.
3. How to remove false eyelashes when you sleep.
4 steps to remove false eyelashes

4 steps to remove false eyelashes
Step 1: Starting in the middle of the lash band, grasp the lashes as close to the 100 percent cotton lash band as possible. If you experience any discomfort, you have most likely grasped your natural lashes. Let go and move down the false eyelash fibers a little more.
Step 2: Once you've removed the lash strip from the middle of your natural lash line, grasp the ends of the lash band and gently pull outward to completely remove the lash strip.
Step 3: Remove the lash band. Roll off the excess lash adhesive from the lash band with your forefinger and thumb. If you're tired or pressed for time, you can skip this step once in a while.
Step 4: Store. Replace your lashes in their original half-moon packaging to prevent them from falling out and to keep their shape.
4.What if I have to sleep with my lashes on?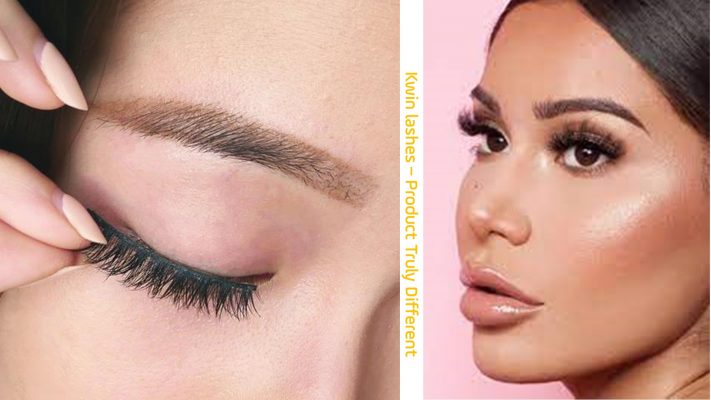 Sometimes it's just unavoidable. You've had a late night, you're not at home, or you simply forgot; whatever the reason, if you wear your lashes overnight, try to sleep on your back to avoid your lashes rubbing against your pillow or bedding. Don't sleep with your stomach because it causes damage to your false eyelashes and face any germs and bacteria.
The quality of lashes is very important. If you choose eyelashes with the best quality and good material, your false eyelashes can keep for a long time and experience low damage when you forget to remove them. So choosing the right place for buying false eyelashes is the first criteria you need to focus.
At Kwin lashes, our factory offers eyelash glue that allows you to enter the water without affecting the extension of the eyelashes. But nothing is perfect, wearing false eyelashes is the best way to get the voluminous, lengthy lashes you want without a lot of hassle.  They are simple to apply, easy to wear, and quick to remove.  Because they're so quick to remove, you'll want to make sure you actually do remove them every day before going to bed.  Sleeping in your false eyelashes is never a good idea.
5. Kwin lashes – where to buy lashes that help you to guarantee the quality and keep your lash longer.
Kwin Lashes which are located in VietNam guarantees to provide you with high-quality false eyelashes made from the best PBT synthetic materials. Not only do we provide excellent products, but we also offer lower prices than other factories because we have our own production facilities staffed by lash manufacturing experts. The lashes allows you to enter the water and sleep with your back without affecting the extension of the eyelashes.
Customer feedback at Kwin lashes

Customer feedback at Kwin lashes
Kwin Lash Co., Ltd – Wholesale eyelash supplies
The leading false eyelash manufacturer in Vietnam, a specialist in false eyelashes.
Specialized in processing eyelash extensions, eyelash strips on request from customers.
Skillful worker to manufacture lashes
Working model OEM / ODM – Eyelash private labels.
Founded by a leading specialist in eyelash manufacturing.
Experienced staff, supervised by longtime experts.
Contact Ms. Sunny – Sales Director at Kwin Lashes to get the wholesale prices:
Instagram: kwin_lashes_ms_sunny
Whatsapp: +84942967054
Final Thoughts:
For instant voluminous, lengthy lashes. False eyelashes are your best option. Falsies are low maintenance, easy to apply, wear, and remove.
Because they are so simple and quick to remove, they should be removed every day before going to bed. Removing your false eyelashes allows your natural lashes to breathe, prevents bacteria from multiplying, and extends the shelf-life of your fake lashes.