Have you ever heard the quote "I'm not perfect but my lashes are"? Exactly! Your eyelashes contribute a lot to your appearance as well as confidence. That is the reason why most women always dream of long, full, and thick eyelashes. However, not all people are lucky to have desired natural lashes. What should they do now? Kwin Lashes would like to suggest two effective solutions – Lash lift vs lash extensions. 
Today, we will find out the difference between lash lift and lash extensions, their advantages and disadvantages, and how to choose the right one for you!
1. Lash Lift vs Lash Extensions – What is the Difference?
When it comes to lash lift vs lash extensions, we know that both of these applications make our eyelashes look longer and fuller. But they are still different to some extent.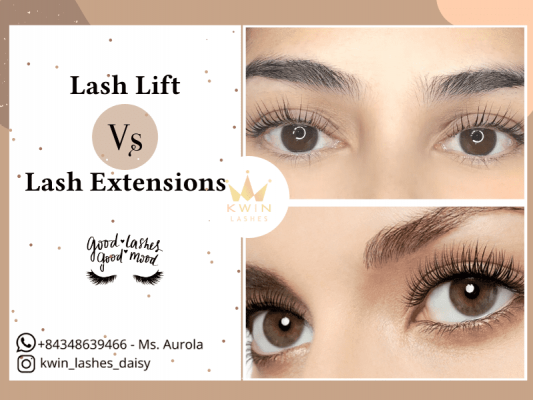 1.1. What is a Lash Lift?
Learning about what a lash lift is will make it easier for us to understand more about the difference between lash lift vs lash extensions. A lash lift means a treatment making your natural eyelashes look fuller, denser, and longer by using non-toxic chemicals to curl them upwards. These special-made chemicals help to break down the structural bonds of the lashes and reform them. 
Some lash artists also call this application an eyelash perm since your natural lashes are lifted and curled by a perming solution. Your natural eyelashes are pressed around a silicone-shaped shield, and then a bonding formula is applied. No extensions are needed here. The result is that your natural eyelashes get their own new shape.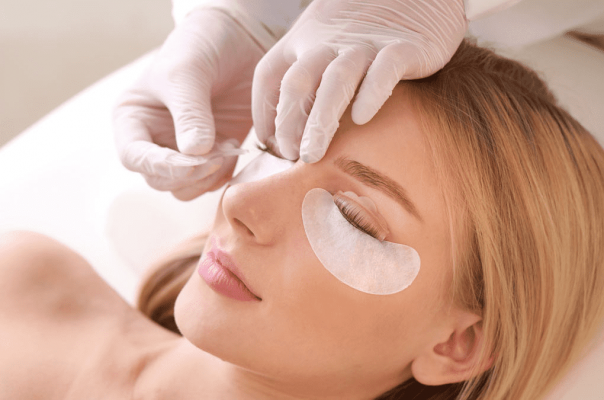 Besides, the lashes are also tinted into a darker shade as if you were wearing mascara. The process of the lash lift treatment can take you around 1hour. All you need to do during the whole time is to close your eyes and relax until it is done. It is evaluated to be a quite long-lasting solution, about 8-12 weeks.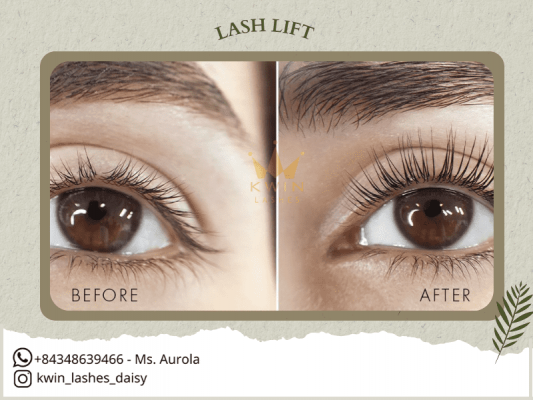 1.2. What are Lash Extensions? 
To have a clearer comparison between lash extensions vs lash lift, let's discover what eyelash extensions are. Lash extensions are known as mink, silk, or soft and lightweight synthetic lashes that are used to apply directly on your natural eyelashes. Eyelash extensions can come in different thicknesses, lengths, curl shapes, and colors to completely transform your eyelash look.
Regarding the bonding method, there are two types – glue-boned and heat-bonded lash extensions. The skill and proficiency of the lash artists make a big decision on the finished look of the clients. It is different from the application of a complete strip of artificial eyelashes. The lash artists have to attach individual lash extensions or fans to each natural eyelash very carefully and skillfully. Therefore, it can take up to 2 hours for a complete volume set.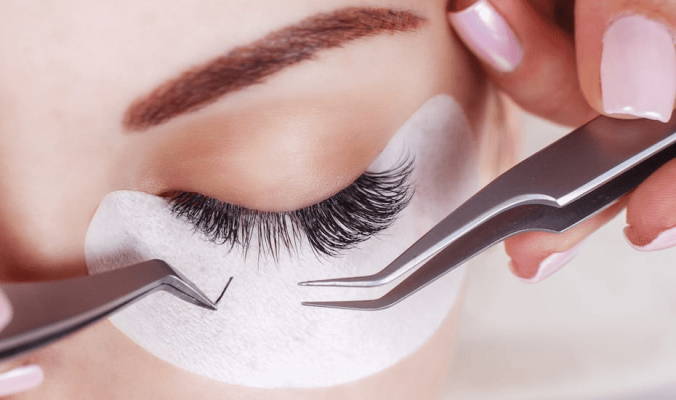 1.3. The Difference between Lash Lift vs Lash Extensions
Now, it is time for us to find out how different lash lift vs lash extensions are. Although both of these treatments are applied to give the natural lashes a longer, fuller, and thicker look, they work differently.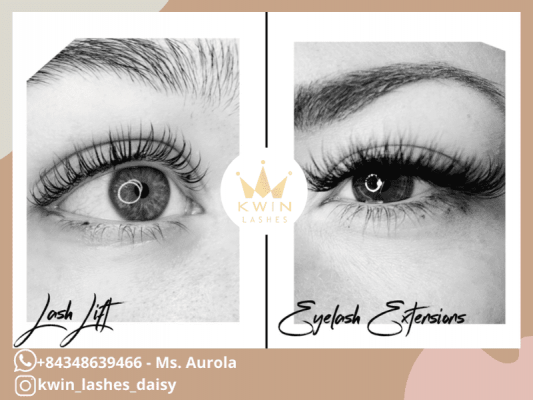 Firstly, lash extensions are applied to natural eyelashes with the help of experienced lash artists to give them thickness and length. Meanwhile, a lash lift means the natural perming and curling of your natural lashes by using special chemicals to make them fuller and longer as well. 
Secondly, what makes lash lift vs lash extensions different is the effect they give. Eyelash extensions give a more dramatic effect while lash lifts tend to look more natural. However, it is not a clear difference because each treatment can be customized to some degree. In the end, the most important thing depends on your preference. 
Lastly, the process of lash lift is a lot simpler and takes much less time to be done while eyelash extensions can take 2-3 hours of application. 
2. Which one is better – Lash Lift vs Lash Extensions? 
After understanding more about lash lift vs extensions, one question now is "Lash lift vs lash extensions – which one is better? So, to look for the answer, we will explore the pros and cons of both these treatments. 
2.1. Pros and Cons of Lash Lift
Below are some advantages and disadvantages of a lash lift that are helpful to you.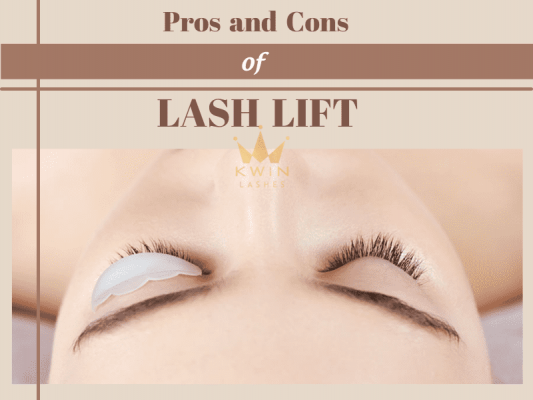 Pros of Lash Lift
Lash lift gives you a more natural eyelash look in comparison with the extensions.

You are still able to use mascara.

It lasts longer (from 8 to 12 weeks) between maintenance or touch-ups.

You will feel very comfortable because this method only needs your own eyelashes.
Cons of Lash Lift
For those preferring more dramatic and voluminous eyelashes, a lash lift seems not to be the best choice. 

It is a truth that lash lifts are not for everyone. For example, if your natural eyelashes are too short and sparse as well, applying a lash lift may not be successful. 
2.2. Pros and Cons of Lash Extensions
What's about eyelash extensions? Keep reading for more information about this lash application.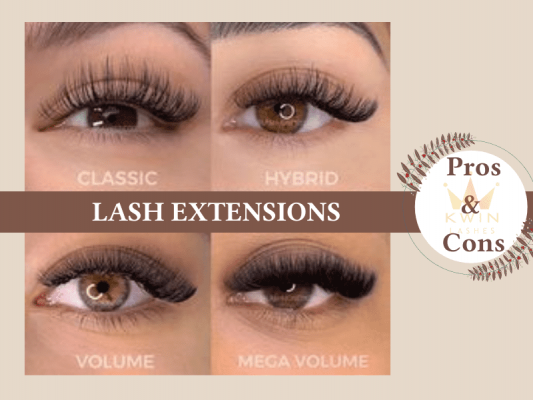 Pros of Lash Extensions
Lash extensions give a more dramatic effect to your eyelashes. 

There are various options for you from thickness, lengths to styles like classic lashes or volume lashes. So, you can feel free to choose one that is the most suitable for your lashes and your hobby. 
Cons of Lash Extensions
Wearing eyelash extensions, sometimes, makes you a little uncomfortable to a certain degree, especially when you use low-quality eyelash extensions. However, the high-quality false lash extensions made from PBT are evaluated to limit the discomfort maximally. 

It is impossible for you to use mascara.

Eyelash extensions require frequent retouches and care to maintain a full appearance. 
Both lash lift vs lash extensions have pros and cons. So, it is hard to answer "which one is better? Lash lift or eyelash extensions?" But, depending on your purpose and preference, you can make your decision. 
3. Lash Lift vs Lash Extensions – How to Choose the Right One for You? 
It is a fact that many people are still confused about choosing lash lift vs lash extensions – which one is the best for them? There are two important things you need to consider to choose the right application for you.
At first, as mentioned above, it is necessary to know what type of final look you want to achieve. If you want to own a dramatic and striking look, lash extensions are the best for you. But, if you are into a more natural look, a lash lift will suit you most. 
In addition to the desired look, to choose between lash lift vs lash extensions, the present condition of your natural lashes also plays a vital role. Lash lift is fantastic if you possess relatively noticeable lashes by nature but need to add Wow factor. In case your natural eyelashes are too short, sparse, light in shade, you should use eyelash extensions, instead of lash lifts. You can use Kwin Lashes eyelash extensions which are made from completely high-quality PBT. You must be amazed at how wonderful our lash extensions are. Below are some pictures of our products as well as nice feedback from customers.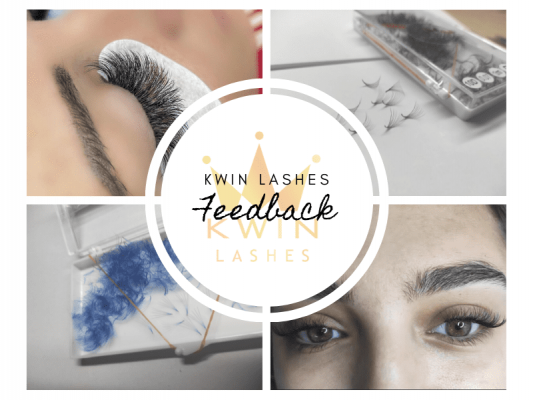 Read more: 
A Quick Guide To Volume Lash Mapping You Shouldn't Ignore
Everything You Need To Know About Camellia Eyelash
In a nutshell, lash lift vs lash extensions are considered a successful invention in the beauty world. Both of them help to simplify the daily beautifying routines of women as well as offer a great way to achieve attractive eyes easily. So, which one do you prefer? Let us know by leaving your comments. If you want to own the best eyelashes extension, please contact us via this address: 
Kwin Lashes Contact: 
"Ms. Aurola – Lash Expert
Whatsapp: +84348639466
Instagram: kwin_lashes_daisy"