What do you know about volume lash mapping? When it comes to the application of volume eyelash extensions, the first technique a lash tech needs to learn is lash mapping. Volume lash mapping is very important because it helps lash artists figure out the placement of each volume eyelash and give clients the desired look. So, today, we will discover everything about volume lash mapping. Are you excited about it? Let's go! 
1. What is Volume Lash Mapping?
Volume lash mapping is the mathematics of dividing the eye into various zones to determine the length of volume eyelash extensions that are needed for each section of natural eyelashes. 
Lash maps are known as pads put under the clients' eyes, in the lower lash area. It aids in deciding the most suitable length of extensions and creates a set completing their eye shape. It is so important that all lash artists need to learn about lash mapping and do it for every client. 
As can be seen, the lash artists can not do a lash style like a doll eye on all clients and hope it works well. They need to ask for the client's preferences and define the shapes and characteristics of their eyes, then choose the best lash style for them.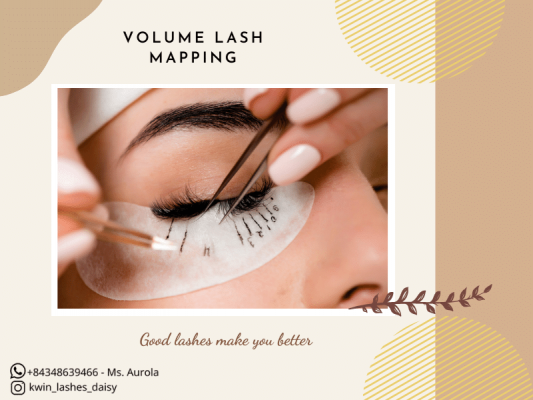 That is the reason why lash stylists need to do volume lash mapping before applying volume eyelash extensions. It is not wrong to compare the importance of lash mapping to lash artists with that of a game plan for a winning soccer team. 
2. What will You Need for Volume Lash Mapping?
There are some things you need to prepare to be ready for volume lash mapping. So, let's find out what they are! 
2.1. Things you need for volume lashes mapping
Before doing volume lashes mapping, there are some necessary tools you need to equip yourself to practice the technique well. 
Cleanser

: It is used to remove dirt around the client's natural eyelashes.

Colored pen

: Using red or blue pens helps the lash artist map the lashes accurately. 

Eye pads

: You should choose good quality gel pads that do not hurt sensitive eyes and help you map easily. 

Various volume eyelash extensions

: Eyelash extensions in different lengths are perfect for volume lash mapping. Besides, you had better use high-quality volume eyelashes to achieve the best results. 

Client's preference

: Discussing with customers about their preferences is so important because you can know what they really want with their eyelashes. 
2.2. Determine the shape of the client's eyes
As a lash artist, you must come across many different eye shapes. Before lash mapping and choosing a proper lash style for customers, you need to figure out the client's eye shape. There are some main eye shapes your clients could have such as almond, round, monolid, close-set, wide-set, deep-set, downturned, hooded or protruding. All you need to do is understand what eye shape your clients have, and then do lash mapping to compliment them. 
2.3. Volume Lash Mapping for Different Lash Styles
After you figure out the client's eye shape, it is time for you to choose the most suitable lash style for her. Deciding the correct lash style is also a vital step in volume lash mapping. 
For Doll-eye style: By using the eyelashes with the longer length throughout the midsection of the natural lashes, it creates the look of large and open eyes. It is ideal for almond and wide-set eyes.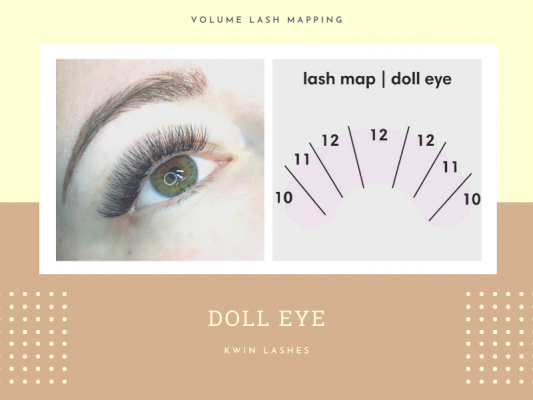 For Cat-eye style: This look is created by using the longest eyelashes towards the outside edge of your eyes. It suits almond, round, and close-set eyes.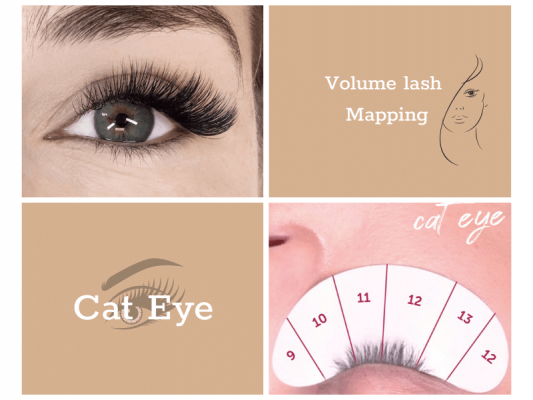 For Squirrel style: This lash style is created by starting with the short lash extensions and gradually using longer ones. The longest lash extensions are placed underneath the arch of the client's eyebrows, and then gradually get shorter extensions again towards the outer corner of the eye. It suits almond, downturned, close-set, hooded, monolid, round, and protruding eyes.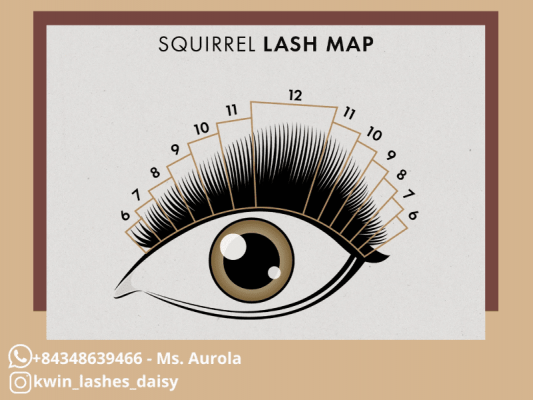 For dramatic mega volume look: This lash style is quite dreamy, fanciful, and over-the-top. However, it is ideal for young women who love a dramatic look. This style is a combination of the highest thickness, curls, and lengths depending on the client's preference. Sometimes, it can be mistaken with volume lashes, but they are different.
Read more:
What Do You Know About Hybrid Eyelash Extensions?
What's It Really Like to Get Volume Lash Extensions? Here's the Truth
4. Where to Buy Qualified Volume Lash Extensions? 
As we all know, to create a fantastic eyelash look from volume lash extensions, you need to use high-quality volume, along with the good skill of volume lashes mapping. If you are searching for a reputable company specialized in false eyelash extensions, Kwin Lashes is a good suggestion for you. Well-known as one of the leading Vietnamese companies in the eyelash field, Kwin Lashes always provides customers with the best products from classic eyelashes, volume lash extensions, Wispy/Camella fans, to colored eyelashes. 
Our products are highly appreciated for their quality, models, and aesthetics as well. We use a special plastic fiber called PBT to create the best false eyelash extensions. Therefore, Kwin Lashes products, especially volume lash extensions, are very strong, shiny, and good at keeping their curls. Furthermore, All eyelash extensions of our company are heat-bonded, which is safe to apply and makes extensions lightweight because there is no need for extra glue to attach the lash extensions into natural eyelashes. For these reasons, the customers are always satisfied with Kwin Lash eyelash extensions as well as our services. As you can see, below are some of our products.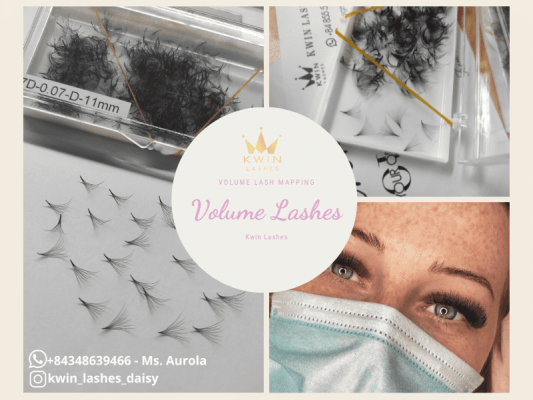 Needless to say, volume lash mapping plays a vital role in helping lash artists create a perfect volume set for the clients. In addition to mastering lash mapping, you also need good eyelash extensions to achieve the desired look. So, don't ignore Kwin Lash lash extensions if you want to impress your clients at the first appointment. To purchase our products and get good services from our professional staff, please contact us right away! 
Kwin Lashes Contact: 
"Ms. Aurola – Lash Expert
Whatsapp: +84348639466
Instagram: kwin_lashes_daisy"