The party season is upcoming and the eyelash extensions to make yourself attractive are almost indispensable. I bet you are often attracted by thick lashes and big eyes, right? If you have eyelash extensions on, can you wear false eyelashes with eyelash extensions? This article is for you!!!
1. Can you wear false eyelashes with eyelash extensions?
In general, wearing false eyelashes with eyelash extensions is not recommended. Doing so carries a high risk of damaging not only the extensions but also your natural lashes. However, if you really must wear them, there are a few things you should keep in mind.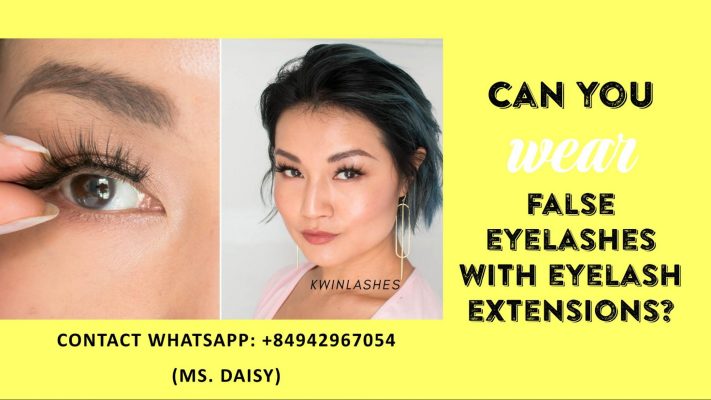 2. The reason why you shouldn't wear false eyelashes with eyelash extensions?
Here are some reasons that you shouldn't definitely wear false eyelashes with eyelash extensions:
2.1. They Weigh Down Your Lashes
False eyelashes are often heavier than eyelash extensions. While extensions tend to look like human lashes both their appearance and weight, most fake eyelashes are made of low-quality fibers, often from plastic or rubber. Applying these heavier, your eye will be broken even can be blind. When applied by a trained lash technician, eyelash extensions are already customized to your natural lashes' length and strength. Any additional strain from fake eyelashes could cause long-term damage to your extensions or natural lashes, causing gaps in your lash line.
2.2. They Damage Your Lashes During Removal
About theory, false eyelash adhesive should never have to come into contact with eyelash extensions. Fake eyelashes (also known as strip lashes) are glued to the skin of your eyelids at the base of your natural lashes. In practice, however, the amount of glue used may not always be accurate. If the adhesive isn't applied properly, it can seep onto your lashes and lash extensions, clumping them together. This could make removing the strips a difficult and sticky process, resulting in the loss of an extension or two, as well as a few of your own lashes.
Losing a couple of lashes may not seem like a big concern for one day of use, but if you're planning on wearing false eyelashes with your extensions on a regular basis, it won't be sustainable.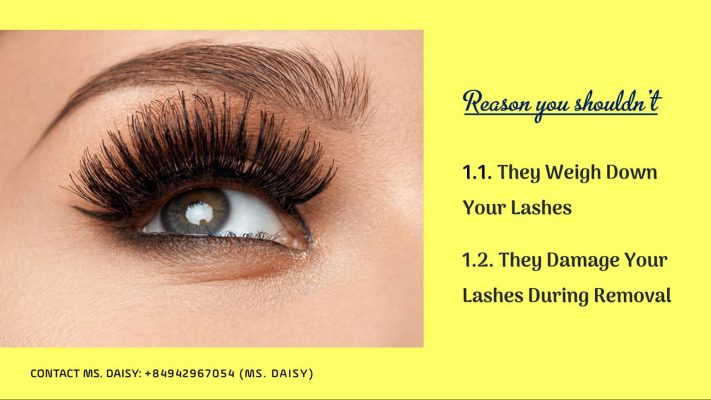 3. Kwin Lashes – the best choice for you to buy high-quality eyelash extensions
Founded in 2010, Kwin Lashes is now one of the leading manufacturers of false Lash extensions in Vietnam. As one of the first lash companies created, KWIN LASH always ensures that we have major experience and a high level of expertise in the false lash selling field. We are confident that you have the highest satisfaction with our products and services. This is shown through many good feedbacks from our customers.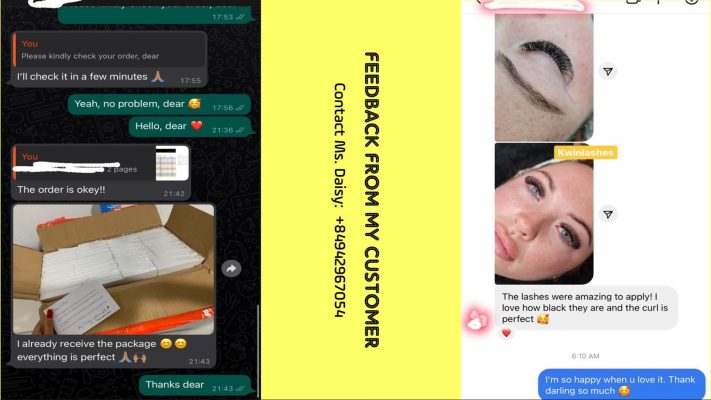 Kwin Lash Co., Ltd – Wholesale eyelash supplies
The leading false eyelash manufacturer in Vietnam, a specialist in false eyelashes.

Specialized in processing eyelash extensions, eyelash strips on request from customers.

Working model OEM / ODM –

Eyelash private labels.

Founded by a leading specialist in eyelash manufacturing.

Experienced staff, supervised by longtime experts.
How we work:
Quality assurance

Affordable, wholesale price

Commitment to completion time

Professional work

Sample support to check the quality

Global delivery

Diverse payment methods
CONTACT VIETNAM LASH MANAGERS FOR THE BEST DEALS, PROMOTIONS, AND FREE BUSINESS ADVICE NOW!!!
WhatsApp: +84348639466 (Ms. Daisy) 
Instagram: kwin_lashes_daisy