Attractive eyes are the centre point in your beauty quest, and as far as I'm concerned, the current trend of women is to embrace natural beauty. We all should look confident whether we are at home or going out,  but without wasting too much time. Eyelash extensions seem to be designed to meet most of these requirements. Have you heard of the unique L curl lashes before? If not, read this article right now.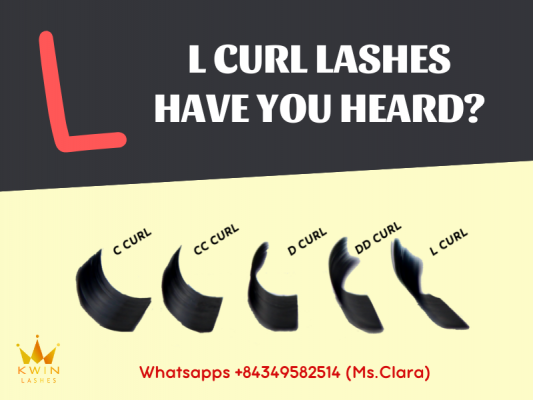 1. All you need to know about L curl lashes
How are L curl lashes different from other curls, I wonder?
1.1 What do L curl lashes look like?
Eyelash extension's curling is normally performed in the following order: J, B, C, CC, D, L. We are too familiar with curvatures J, B, C, CC, D, they are all curved at less than 60-degree angle. With L curl lashes alone, it might look a bit different. L curl lashes begin with a flat part from the base and then curve strongly upwards, unlike the other eyelash curl described above. To make it easier to imagine, L curl lashes style is likely the letter "L". L lashes are curled at an angle of 80 degrees, giving them the most extreme kinda look. 
We also have L+ curl lashes, which are a bit curvier than an L. This is a sharper upward curve eyelash extension. You can consider mixing any style for your eyelashes depending on varied degrees of curvature. Just think about your own persona and interests, and choose what embraces your beauty best.
1.2 Who would suit "L curl lashes" look the best?
Customers with long, pointed down natural lashes are ideal candidates for L curl lashes. They mostly go well with dramatic, cateye and hooded-eye. At first, L curl style was actually derived to serve Asians needs, because they usually have monolids or concealed eyelids. Owning L curl lashes, some might feel those lash extensions will cover all of your eyes. But trust me, L look will instead make your face pop. When people first heard about L curl lashes, they thought it was too  intense, maybe too crooked to be perfect, they thought it would turn out to be a disaster. Hear me girls, you never know till you try, lash artists and experts can help figuring this out. Actually, some even believe that the longer and flatter your lashes are, the better the retention you get. 
L curl lashes trays can be found in the KWIN LASHES category:
2. Pros and cons of L curl lashes
What is there so special about L curl lashes?
2.1 Advantages of a L curl lashes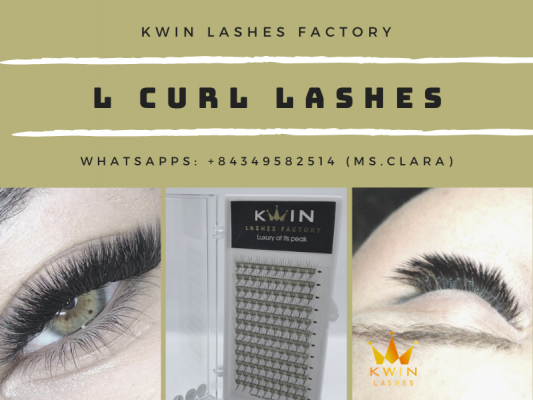 L curl lashes help to lift your downward facing lashes, creating a natural round look for the eyes. All eyelash extensions can be customised to meet your specific requirements. Don't be shy to tell your lash artists what volume, length or thickness you desire. Everything that goes with an "L" can boost and light up your eye shape. Commonly, different curl types are blended together, for example, in LD look, we mix-match L curl lashes and D curl lashes for a more 3D texture. When other lash curls are too boring to repeat, L look is a great option for producing a glossy, wide-eyed effect. And thanks to L curl lashes' flat base, there's less chance of them poking into your eyelid, which can cause irritation.
Not only L curl lashes, any lash extensions in general can speed up your daily beauty routine. I must say "L curl lashes carry out the whole season!!!". 
2.2 Disadvantages of a L curl lashes
If you meet an amateur lash artist, dream L curl lashes can turn into a clumsy mess, or cover too much of your eyelids. L curl lashes are basically just flat at the bottom and then basically go up. When speaking of disadvantages of eyelash extensions, most bad-experience feedback are from lash artist's bad technique and lack after caring for one's own eyelashes.
3. How L curl lashes were made
When compared to regular lashes, L curl lashes have some differences in how they create curves.
3.1 L curl lashes were made by skilled workers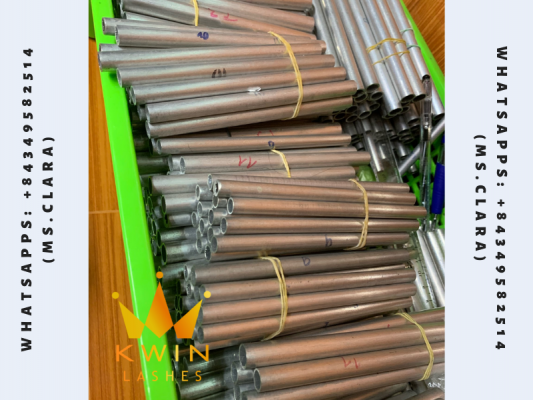 Normally, basic curvatures like J, B, C, CC, D only use a rolling metal rod, to create eyelashes. Each rod has its different size. With L curl lashes, we don't want to see such basic curls like that, that is why we will need a flat metal rod. The L curve will have a crooked L shape, flat at the bottom and then bend straight up.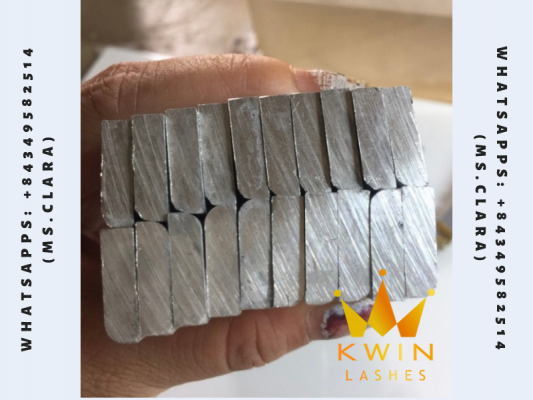 These are the flat rods, people will wrap the fake lashes on the corner to create that curvature. The rounded corner is to bend M, and obviously, the angle is to bend L curl lashes. The difference between this type of eyelashes and the usual ones just rely on the metal rod. The rest of the steps are the same from heat-bonded lashes to the final success products in the box.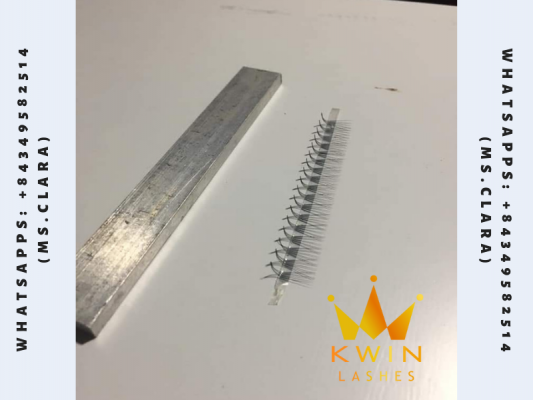 This process might sound easy but not everyone can do it. To make L curl lashes, it requires a craftsman with good skills and knowledge to make basic curls first, then this type of advanced eyelashes. Even when the material of our false eyelashes are durable, if they fall into the wrong hands, it will become a damaged product. The characteristic of this curvature is that it is more difficult to wrap lashes on the tube. Put a lash at the wrong point of the angle, you failed. Bent the lash too much, creates a ziczac L, you failed. Like I said, if the worker is not skilled, of course those lashes will easily be crooked or snapped.
3.2 L curl lashes Do-it-yourself version
This version is not official but still recommended if you wanna try something fun. That's the best excitement of DIY right? For customized L curl lashes, if you're already having a lash line set, where the fake eyelashes are stuck on the sticky strip, you are good to go.
First, hold a tweezer to pick up a lash at about halfway up, imagine the foot of letter "L", it's two-thirds of the lash. Then, we're gonna stick it back down on the sticky strip and just pat that base down, tap it to make sure it's stuck on there. Continue using that tweezer, hold it to bend the lash forward a little bit. Be careful not to break it, there you go, a simple L. Remember to peel it back towards yourself to keep its shapes. 
4. Recommend best L curl lashes from KWIN
L curl lashes look is one of KWIN LASHES favorite products. Not only does it bring a seductive, liberal and confident appearance, L curl has affirmed its own uniqueness among other types of curves. And we have received a lot of good reviews and feedback from buyers too.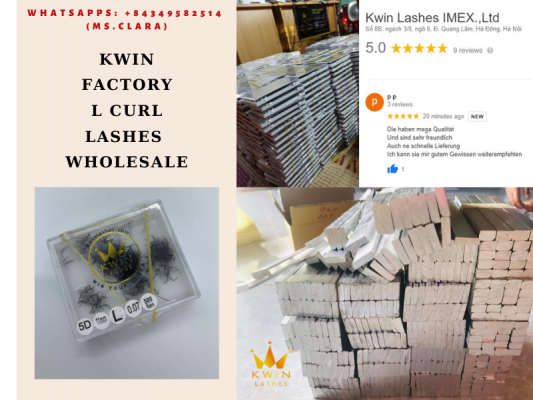 Do you know Polybutylene Terephthalate (PBT), a unique synthetic material, is used to create beautiful L curl lashes. Customers love our L curl for strengths like they are cruelty-free and really meticulously made. The purchases are expected to multiply in the near future in accordance to the client's specific needs. KWIN is grateful for the opportunity to be your suppliers and a reliable choice. Try KWIN Lashes for a sample!
For more information, contact us via social links and media:
Ms: Clara – Lash Expert 

Whatsapps: +84349582514

Instagram: kwin_lashes_factory