The Lash extension business is becoming more and more popular nowadays. Eyelash extension jobs attract a lot of people with the purpose of making money from it.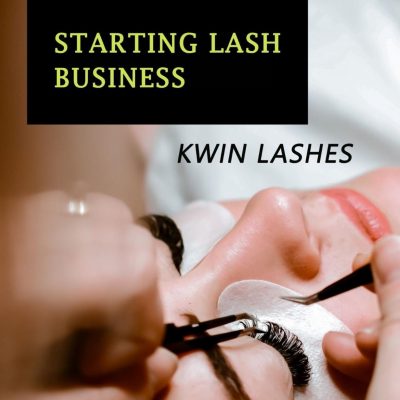 1. Set a goal for your lash extension business
Before launching your lash extension business, ask yourself why you wanted to do it in the first place.
1.1 Learn from your own experience
Most successful start-ups share that they build their company from personal experience with certain products. It may seem obvious, yet not everyone can have such sensations. For instance, a person who had a bad experience with cheap lashes products will always want better quality ones next time. That can be a motivation to the actualization of a lash extension business.
1.2 Why do you want to start a lash extension business
They say all big dreams start from little habits. Let's say you're a makeup lover, you want to embrace girls' natural beauty and lashes extension is your strength. So do start your lash extension business. When you act from the heart, no one can say you're incompetent.
1.3 Decide how do you want to commerce with lash extension business
If you are confident in your knowledge and business skills, consider setting up a legitimate company. Eyelashes products can be imported or you can purchase raw materials for the chain production. Another strategy to grow your lash extension business is to buy wholesale for your beauty salons, which enables you to upsell products while still performing lash extension services.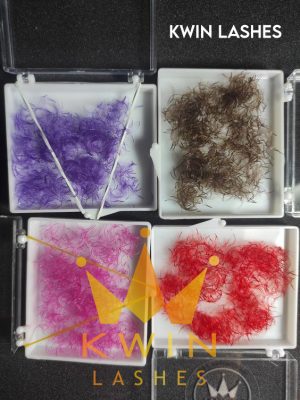 2. Build a careful business strategy for your lash extension business
Careless planning is one of the main hindrances to success. Remember every detail is important.
2.1 Build strong brand image of your lash extension business
One way or another, you must have an image to define the brand and distinguish it from other brands. Decide what name your company should be and will it coincide with the name of another company. For example, in "KWIN Lashes", "KWIN" is another way of expressing "Queen". Next, hire a professional designer to create a logo brand that reflects your vision. There would be no lash extension business if none of this was done in the first place.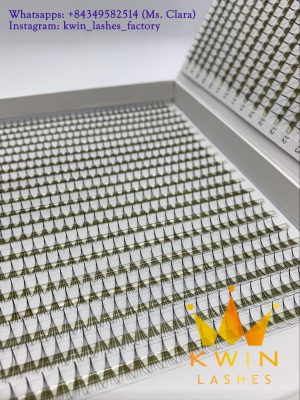 2.2 Make sure you have had a long-term lash supplier
Of course, you can't do anything without a trustworthy supplier who is willing to work with you on a long-term agreement. Choose a company with long years in the lash extension business and remember to try out their sample products. The important point here is that both sides benefit, and there is financial disclosure. 
Read more on:
2.3 Marketing is the key
In the launch of your lash extension business, things may not go as smoothly as you think, or at any time later. In the present pandemic period, all actions of communication and advertising must constantly change to attract clients. It would be terrific if there were professional staff available to put your ideas into practice. Notes that customers always like discount deals as well as money-saving services…
3. Keep tabs on your lash extension business
As the lash extension business expands, various problems and demands present themselves, which can be a challenge for the company. Our job is to keep track of sales as they flow in and out, and make sure that your system is free of faults. Failure to control sales reports will result in the company not obtaining maximum income and incorrect sales number.
4. Understand clients – lash extension business is competitive
Your lash extension business must be unique to rival in this fierce beauty industry.
4.1 Keep up with the new trends
Customers are the most loyal and truthful critics to your lash extension business. If you let them down, your company will know the costs. Learn to know your customers to bridge the gap between you and them. It's crucial to stay updated with new trends on the field. You can think of strategy like instead of just choosing to sell wispy eyelash fans in large quantities, choose a variety of products for clients to shop. They'll stop by your lash extension business more often.
4.2 Create new trend
Social media networks are free and effective sales channels. Try to create new trends on Instagram, Facebook… for more attention. In the lash extension business, the typical trend is very much in favor of natural-looking eyelashes. You should interact more with clients to answer concerns when purchasing. Improving shopping experience will get customers to have more trust in your lash extension business.
5. Be determined with your lash extension business
Last but not least, keep your head in the game. You won't be able to succeed in your lash extension business if you don't stick with it long enough.
6. Customer's review KWIN lash extension business
KWIN Lash Factory has been in business since 2010, and we are proud to be one of our clients' top choices when seeking for lashes suppliers. KWIN was also once a small start-up to a reputable lash factory. Follow our lead to know more about lash extension business.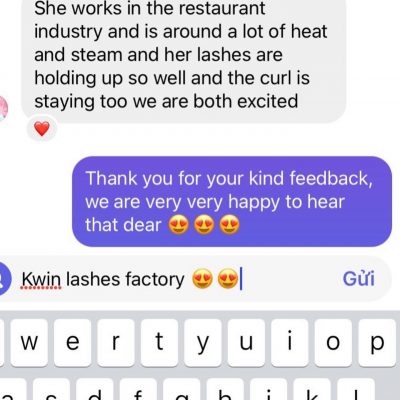 For more information, contact us via social links and media:
Ms: Clara – Lash Expert 

Whatsapps: +84349582514

Instagram: kwin_lashes_factory