You want to be an entrepreneur but rampant eyelash products in the market make you confused. Could there be a lash factory which can satisfy all your needs? Allow KWIN to assist you on your "lash-life" journey.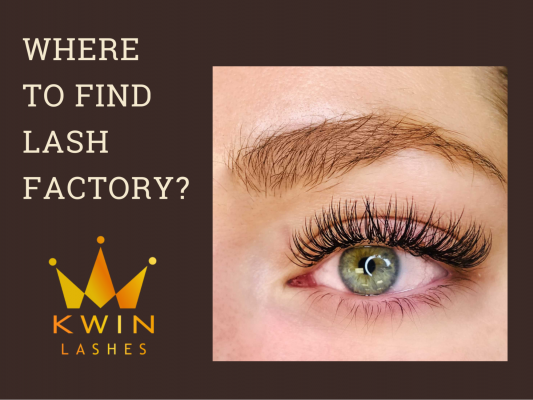 1. Find a lash factory near your area
Most purchasers think finding a lash factory close to you is rather convenient. But it's not as easy as it seems.
1.1 Advantages of choosing a lash factory near your area
Today, the digital era allows us to look for anything on the Internet with just one single click. As usual, newbies can use the Google Search bar for information about a lash factory. Therefore, you could have a long list of eyelash vendors to consider. Try keywords like "wholesale lashes extensions", "lash factory in your (area you live)"… If you have the address of a lash factory "around the corner", go and test the quality right now!
This approach is highly beneficial in many ways. First, a local lash factory in your area holds no language barriers. Talking to the suppliers face-to-face somehow shows trust and equity. We should know their working style if we aim for long-term partnership with them. Besides, observing procedures and techniques in their lash workshop with your own eyes can result in better understanding. 
1.2 Disadvantages of choosing a lash factory near your area
Imagine having a lash factory adjacent, you always got chances to negotiate in either way, and the distance saves time. But what if there are no eyelash manufacturers in your area? You will have to reach out to further districts or counties in your country. And with small, nameless lash extension factories, it's difficult to assess a product's safety without seeing oneself.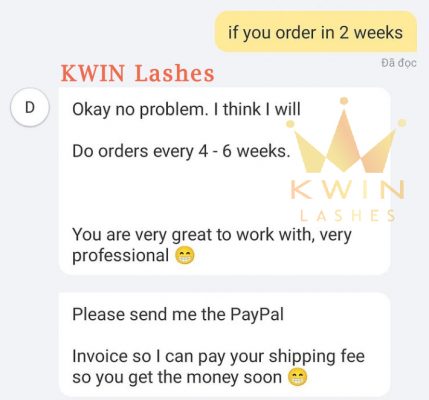 2. A lash factory in other nations
To a newbie, a lash factory in another country may seem suspicious.
2.1 Advantages of choosing an international lash factory
For some people, one intimate foreign lash factory is far superior than several local lash factories in their home country. Since each country's production techniques are different; so are prices, goods, and quantities… don't evaluate. For products that are fake eyelash extensions, you can only trust in major producing countries. They usually build websites to approach potential clients to their lash factory. Don't be reluctant to use the Google Search bar, the most useful results will appear at the top of the screen.
Developing countries are the ones that produce good-quality fake lashes, for example: China, India, Vietnam. Leading in human resources, a lash factory in these countries can produce such big quantities. It includes different styles of lashes extensions, lashes color, extension supplies… Most European nations will then purchase them for use in beauty salons. Plus, if you buy in bulk, the price will be cheaper. For example, in Vietnam, they are very informed and skilled in the field of beauty, particularly eyelash extensions. Stop to pick any lash factory that is both potential and explicit, you'll won't be disappointed.
Read more on:
 2.2 Disadvantages of choosing an international lash factory
Collaborating with a foreign lash factory means you can't be sure of the promises they offer. An experienced buyer used to share: "They scammed me out of all the money I had, and then their website vanished too". This is one of the few cases when buyers have placed too much trust in foreign lash suppliers. The eyelash extensions market grows, so do the tricks used to deceive clients. 
Additionally, you might well have difficulty communicating in other languages, your time zone is different to your supplier's time zone, making contact more tricky. And if you know nothing about import taxes, shipping worldwide cost or anything financial related, it gets tough.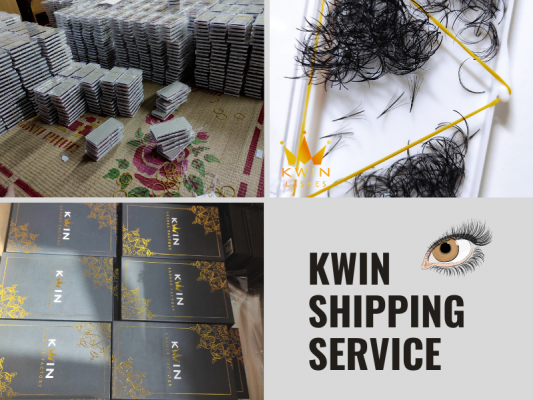 2.3 What lash factory should I choose – near or far?
This choice is indeed dependent on your circumstances, as whether you want to purchase a small or large quantity, from a handmade lash factory or mechanical lash factory… In either scenario, you should think carefully and conduct deep research. 
3. How do you know which lash factory is the best?
If you've decided to go into the eyelash extensions business, careful planning is a must. KWIN was also once a small start-up to a reputable lash factory.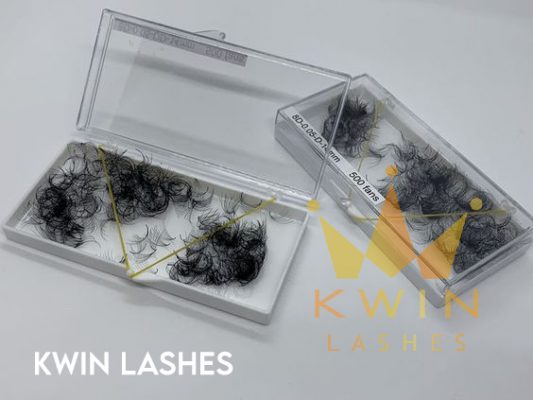 3.1 Set a firm objective in picking your ideal lash factory
First, you have to determine your aim in purchasing these products. You want to upsell them or you need them for beauty salons or for personal interest…? A quality lash factory should be able to serve your demands. 
3.2 Conduct thorough research on the lash factory you're considering
After enlisting choices, it's best that you track activities on a lashes website, see if they have good analog, reviews, and their extent of fame. Instagram or Facebook has more trustable opinions on large brands. Try asking clients who have purchased before you.
3.3 Be smart in negotiating with the supplier of the lash factory
For example, if you want Premade fans extensions in bulk, ask them for images of the lash products, procedures at their workshop, even videos for more angles. Don't allow them to tempt you into paying the bill right away. Just ask, ask and keep asking until you find what you're looking for.
3.4 Invest money in sample tests
Good things take time and of course… cost money. But trust me when I say it will pay off in the end. Suppose you are stuck between 2 lash factories, one lash factory offers customized boxes, one lash factory with colorful lash lines. Choose both, buy their samples to see which is better.
4. Where can I contact a quality Lash factory right away?
KWIN Lash Factory has been in business since 2010, and we are proud to be one of our clients' top choices when seeking for lashes suppliers. Our products are so diverse in many styles and colors to choose from. Customers love KWIN's lashes most because of the high quality of our service and lashes material. We use Polybutylene Terephthalate (PBT), which is a special plastic fiber, cruelty-free and carefully-made. KWIN says no to real mink lashes for they are harmful to animals.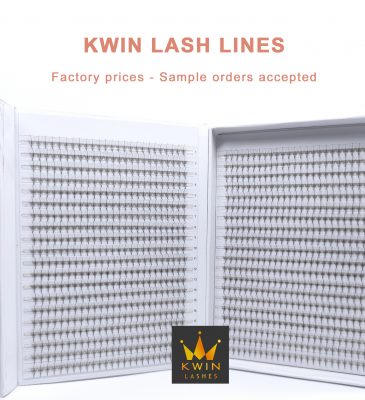 For more information, contact us via social links and media:
Ms: Clara – Lash Expert

Whatsapps: +84349582514

Instagram: kwin_lashes_factory