Premade and promade fans are now blowing a wind of change through the eyelash extension market due to their convenience. Since its appearance, promade fans are highly sought after in terms of their outstanding advantages to women and lash artists all around the world. This article provides detailed information and facts you need to know about promade lashes for wholesale, your salon, and your upcoming lash extensions.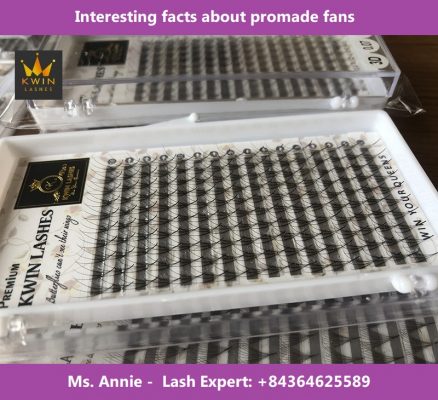 1. What are promade fans?
Do you actually know about promade fans? Let this part grasp all the detailed information you need to acquire about promade lashes.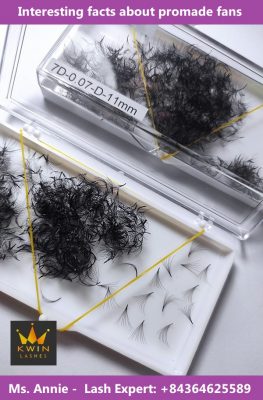 1.1. Definition of promade fans
Promade fans are defined as handmade fans, which are created manually from individual lashes before applying to real eyelashes. The technicians use eyelash extension tweezers to hold a cluster of lashes and fan them out by hand, then the roots of lashes are glue-bonded to complete a volume fan. This complicated process requires skilled technicians who are experienced to ensure the dimension and quality of the handmade fans.
1.2. Characteristics of promade fans
The higher quality materials are used to produce false lashes, the better promade fans are created. In addition to the technicians' skills, lashes for promade fans should be made from premium PBT synthetic materials for the best softness, curl, and durability. 
Different from classic lashes, volume lashes used to make promade fans have thickness under 0,07mm for extremely lightweight to reduce the burden on ground lashes. Moreover, there are many promade fans with different curvatures and lengths to suit your customers' requirements.
Read more on:
Maybe you miss this striking news about flat lashes
Amazing things about Hybrid Eyelash Extensions
2. Promade fans in comparison with Premade fans
On account of being newly appeared products, promade fans are often confused with premade ones. Many people think they are one, however, they are different in two following aspects: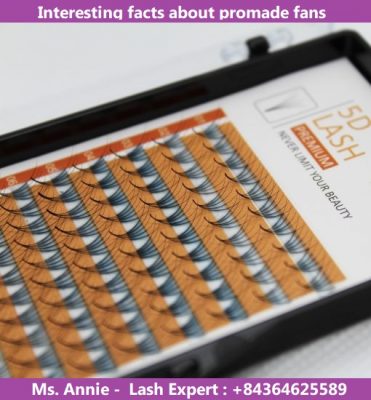 2.1. Features
Although they share the production materials, the fans and the base of premade and promade lashes are not the same. Being made by hand, promade fans are glue-bonded, which means the technicians need to dip the roots into the glue for enough amount to make a fixed fan. Also, the handmade lashes are fanned out more naturally and have a better curl. On the other hand, the heat-bonded method is used widely in producing premade fans for better durability and heat resistance.
2.2. Convenience
Each type of these premade fans has its pros and cons based on its productivity. The production process of promade fans needs skillful technicians and much time, resulting in small quantities but high cost. In contrast, premade fans are more popular with larger amounts of products and better prices. However, many complicated manufacturing steps are required to complete the premade fans.
Additionally, the shape of promade fans looks more natural than premade fans because it depends on the hands of technicians. The spread of eyelashes is better when they are handmade which make promade fans superior to premade ones.
3. Should we use promade fans?
The question to be raised is: "Should we use promade fans in the salon and for wholesale?"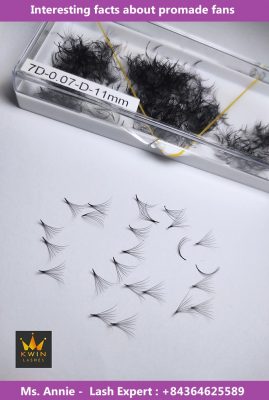 Our answer for you is YES. Despite promade fans' drawbacks on productivity, most women expect a naturally marvellous lash line when they come to the salon for an eyelash extension and that is the aim of this product. Clients love promade fans due to their perfect curl and natural look so that they do not mind paying more money or anything else. Therefore, every salon needs to have promade volume fans available in its glass holders. Along with the high demand for lash salons, promade lashes are also profitable for the wholesalers.
Nevertheless, promade fans are suggested to be used on strong real eyelashes in case the customers are willing to wear a bit thick false lash line. For further understanding, the base of promade fans needs to take 2 layers of glue for being fanned and applied on the ground eyelashes, making the base thicker and more weighty than premade fans. Thus, the clients should be explained and recommended before choosing fans for their satisfying eyelash extension experience.
4. Where to find the best promade fans?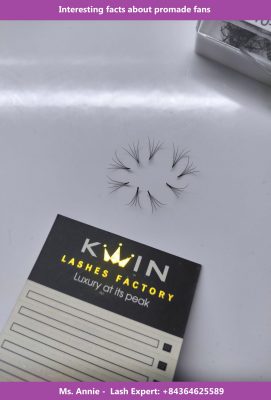 Having millions of loyal customers worldwide, Kwin Lashes ensures to provide you with the best quality false eyelashes made from the top PBT synthetic materials. Not only excellent products, but we also offer you better prices than other factories because we have our own production facilities with experts in the lashes manufacturing field. 
Many positive and satisfying feedback is sent to Kwin Lashes every day which proves our prestige and trusted brand. Read some of our customers' responses below for further understanding and contact us when you recognize that this is a potential investment object.

We have many other wonderful products for you on:
Kwin Lashes: Best choice for false eyelashes
If you want to get more information, contact us via: