Have you ever heard of the term premade lash fans? What are they and why are they so popular? For further information, come with us to discover them! Getting into the premade fan extensions job, you may catch the appellation of "premade fans". For the professionals, it's not hard to get this term at all, but for the amateur, you may find it difficult to understand. That's why today we'll give you the discovery of premade fans and their upper hand.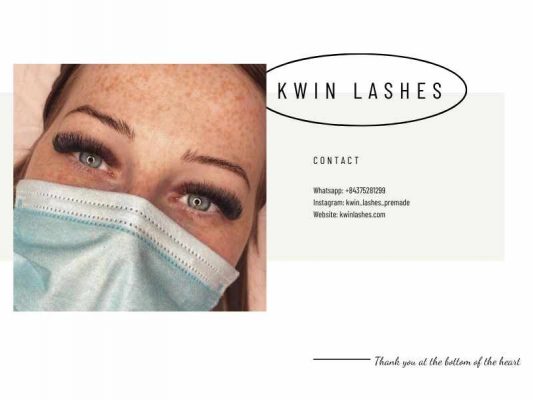 1. What Are Premade Fans? 
From Russian volume to a plethora of other full and lovely looks, you can totally own satisfactory premade lash fans at Kwin Lashes. Now let's learn more about "premade fans".
1.1. Definition Of Premade Fans
Premade fans, also called pro-made lashes, are volume fans that are produced in advance by an eye-extension provider and sent to the lash artists ready for dipping and placing on the customer's eyelash. Briefly, it is mainly powered by machines.
Premade lash fans are made to make applying volume eyelash extensions a breeze. They fit with the natural lash just like classical lashes or semi-permanent volume lashes. 
1.2. Kwin Premade Fans
Kwin Premade lash fans are only made from heat bonded not glue. This doesn't give volume fans additional weight, on the contrary, it can make the effect of eyelashes fuller and more impressive. 
In addition, you can make a natural or dramatic effect depending on the pre-made fans' thickness. Ordinarily, a premade fan contains 2 to 8 lashes which are attached at the base. Kwin Lashes suggests choosing the 2D if you like a more natural look or the 6D if you want to create a more dramatic look.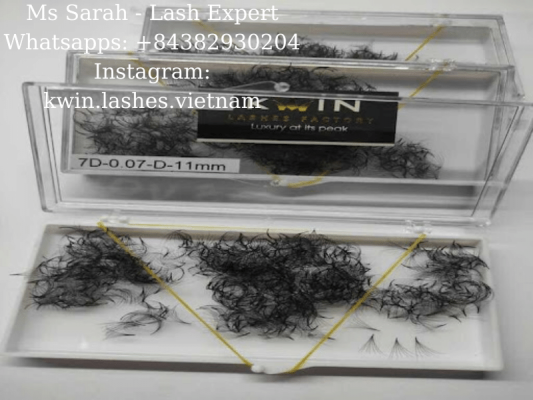 2. Why Are Premade Fans So Popular? 
As mentioned above, Premade fans are a great choice for those who don't have a lot of lashes or who prefer a more attractive look. Therefore, that is why Premade fans are becoming more and more popular and favorite among more people. 
Moreover, premade lash fans are increasingly appealing to clients with many other advantages which are always available at Kwin Lashes. Specifically, they are lightweight and improve the appearance of the client's lashes.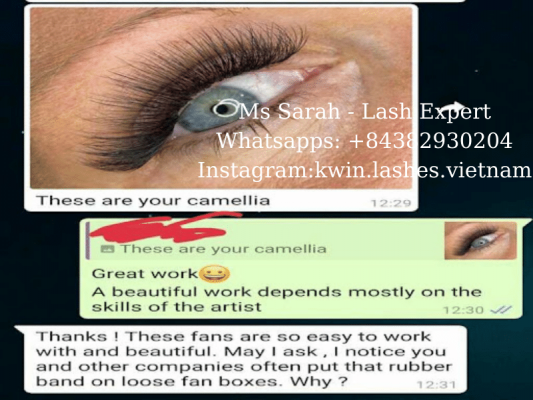 One thing that makes premade fans popular is a huge application time-saver. No more training is required to start volume lashes with premade lash fans. In addition, we can also fill a set of volume lashes in a classic set in the same amount of time.
Therefore, you can successfully employ premade volume fans to save time and build your method as a volume lasher. Premade lash fans, especially heat-bonded fans, also make controlling the adhesive volume easier to handle. They come off more easily than handmade fans.
In short, they are simple to use, taking the effort and aggravation out of creating volume. 
Maybe you'll be interested: 
3. What Are The Possible Drawbacks Of Premade Fans And How To Solve? 
With perfect characteristics, premade fans still have some shortcomings that make clients irresolute when choosing them. In this section, Kwin Lashes is here to give the drawbacks as well as some useful ways to overcome them. 
The biggest problem that clients meet when using premade volume fans is that premade lash fans offer little to no flexibility to allow for customization. They cannot adapt to individual lash textures, lengths, or strengths. On the flip side, if you use the glue-bonded lash fan which is blamed for being double dipped in glue, your natural lashes add extra weight. This not only makes you less attractive but also has a harmful influence on the health of natural lashes.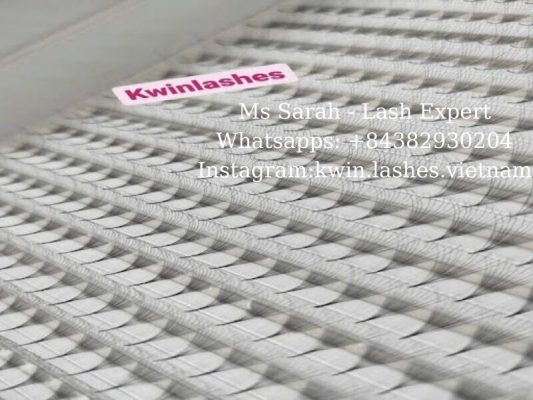 Read more:
However, you can completely overcome this weakness by referring to Kwin Lashes's quality premade lashes. Kwin Lashes offer a variety of premade fan designs with different weight, length, and diameter to suit all looks. 
Additionally, all premade lashes by Kwin Lashes are heat-bonded fans as opposed to glue bonded, which means there is no excess weight from extra glue, giving the client a subtle glamour they may be looking for without affecting their eyes and eyelashes. 
Kwin Lashes have considered the health of clients, as our pre-made fans are rigorously tested and produced in a double-heated method. So, why waste hours upon hours scrupulously making perfectly mega volume fans, when Kwin Lashes can do that for you?
With Kwin Lashes pre-made fan lashes, flawless fans in minutes aren't hard to work anymore.
4. Tips For Choosing Good Premade Fans 
As you may know, now there are so many premade lash fans brands appearing in the commercial beauty market. So, the question is: How to pick quality premade eyelash extension fans?
4.1. Standard Dimensions Of Premade Fans
Our instruction for you is that: Laying on some standard dimensions like the weight, length, and diameter. That volume lashes could be handmade fans or manufactured by machines, and it's all accepted! However, the perfect premade lash fans must acquire the right dimensions for various purposes.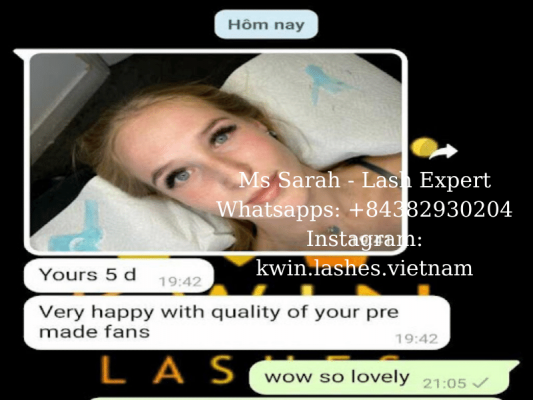 If you are expecting the premade fans with a natural lash, 0.10 to 0.15 mm diameter fans are the ideal solution for you. On the other hand, 0.15 to 0.20 diameter may lead your eyes to become more dramatic along with the darker and sharper lashes.
On the field of weight, all types of client's lashes are available with 1/20 in compared to 0.15 lash extensions. This is the perfect size of premade volume fans for everyone to get natural eyelashes.
4.2. Kwin Lashes Premade Fans
If you ask me where to get that quality premade lashes, I would like to recommend Kwin Factory with all high-quality volume and classic fans if you like. One of the things I like most is their package; those premade fans boxes are made professionally at a rational price.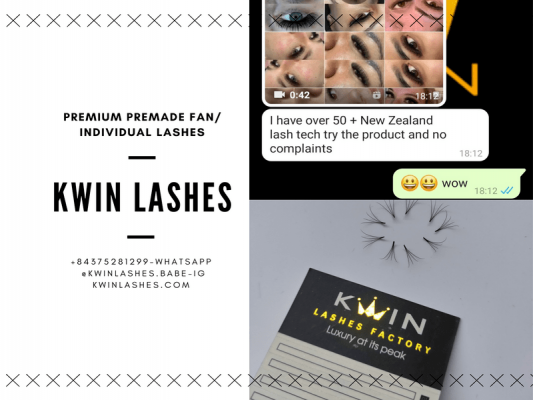 For more information, contact us via:
Ms Sarah – Lash Expert

Whatsapps: +84382930204

Instagram: kwin.lashes.vietnam