Narrow fans used to be quite new 2 years ago. However, it has become more popular among lash artists and many lash supplies brands have been selling it since last year. In this article, let's learn what narrow fan is and in which case you should use this special fan instead of regular wide fan. 
1. What is narrow fan?
Narrow fan is a fan with narrow/close openness. It typically has a longer stem, therefore offering more space area for bonding to natural lashes. It means you can achieve better retention with narrow lashes. 
Narrow fan is the perfect option for creating Russian volume sets as the closed fan lash makes your work look more uniformed, denser and therefore more voluminous. It's sought after by Russian volume lash artists, especially who are working in EU countries.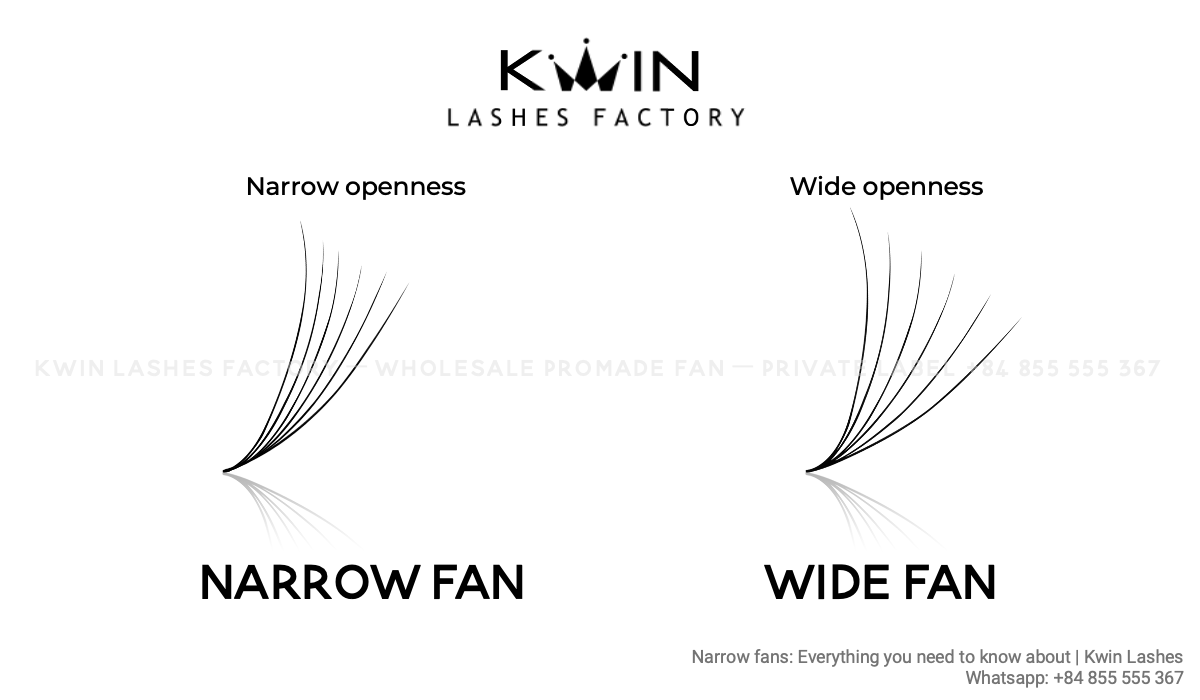 Most of promade fans in the market are medium or wide fans. When you send an inquiry to a manufacturer, if you don't specify that you need closed fans, most of the time you'll receive a quotation for regular (wide) fans. It's because regular (wide) fans are more popular.
2. What's the difference between narrow fans and regular wide fans?
This is a quick comparison of the two: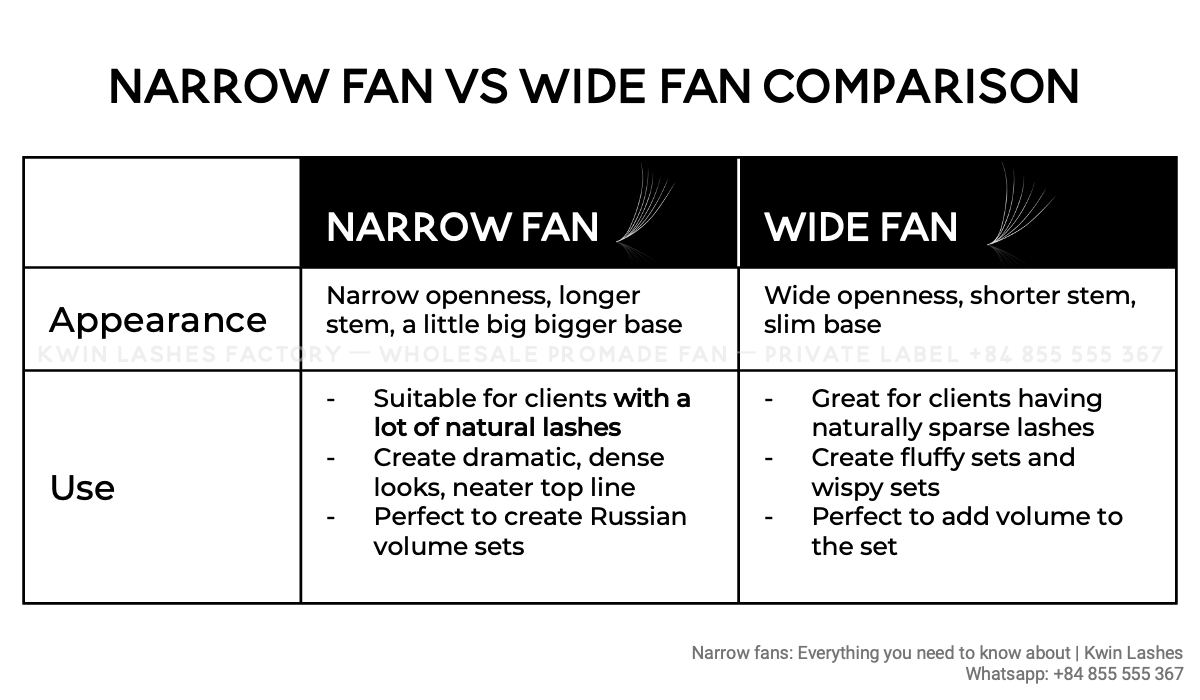 2.1. The appearance of narrow fan and wide fan
We already talked about the look of narrow fans in the first part. Basically, they have a narrower width and longer stem than regular wide fans do. But one thing you may not notice about the difference between the two is that: a wide fan's base is a little smaller than that of a closed fan. Take a look at the below picture!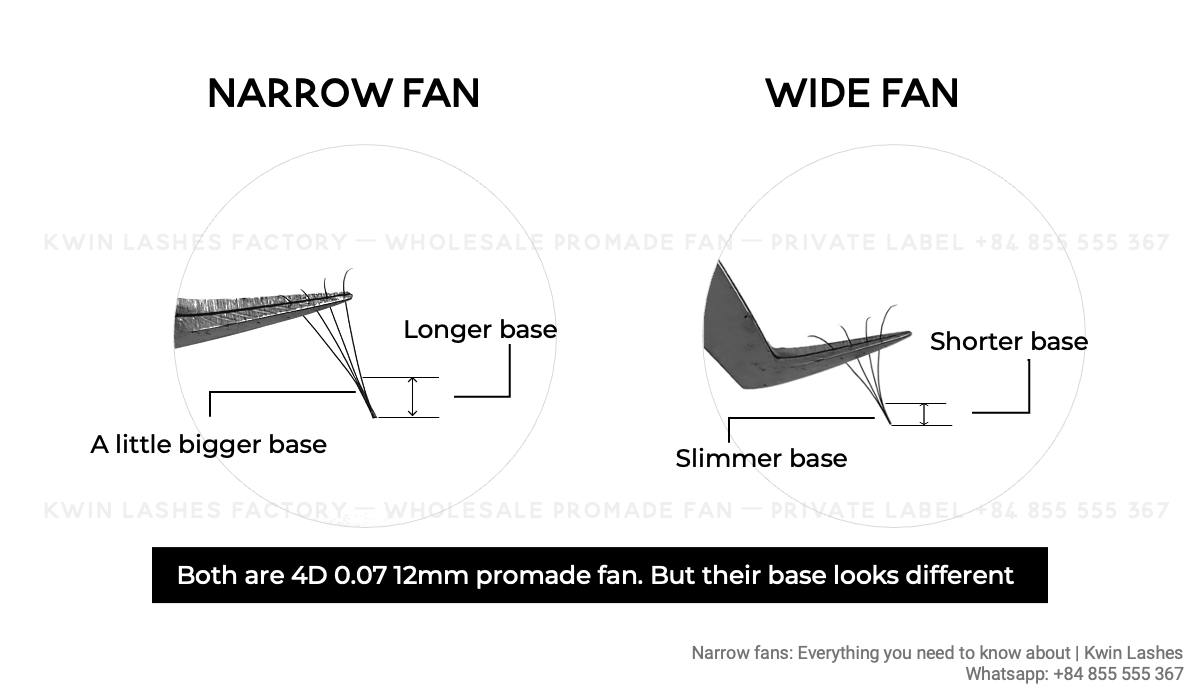 Both fans are in 0.07 thickness, 4D and 12mm but their base is quite different. The longer and slightly bigger base of the narrow fan allows larger bonding contact area, therefore your work can achieve better retention.
2.2. The use of narrow fan and wide fan
Due to the difference in their appearance, closed fans and open fans have different uses. 
Fans with small openness are great for clients with thick natural eyelashes. With clients having a lot of natural lashes, the tip of the lash fan should not open too large, as this can cause a disheveled look. Since the natural lashes are thick in density, after applied, the fans lash extensions are very close together. Wide fans in this case will make the set look bristly and messy due to their large opening. Fans with the tight opening (narrow fan) will be a better choice to avoid this undesirable result.
Narrow fans is also wanted for the dark line effect. When a lash artist wants to achieve a dark volume result despite fans with little volume (3D, 4D…), tightly fanned lashes can help make the lashes appear intensely black at the top line. With this feature, narrow promade fans is sought after by many lash stylists in the EU where Russian volume is popular.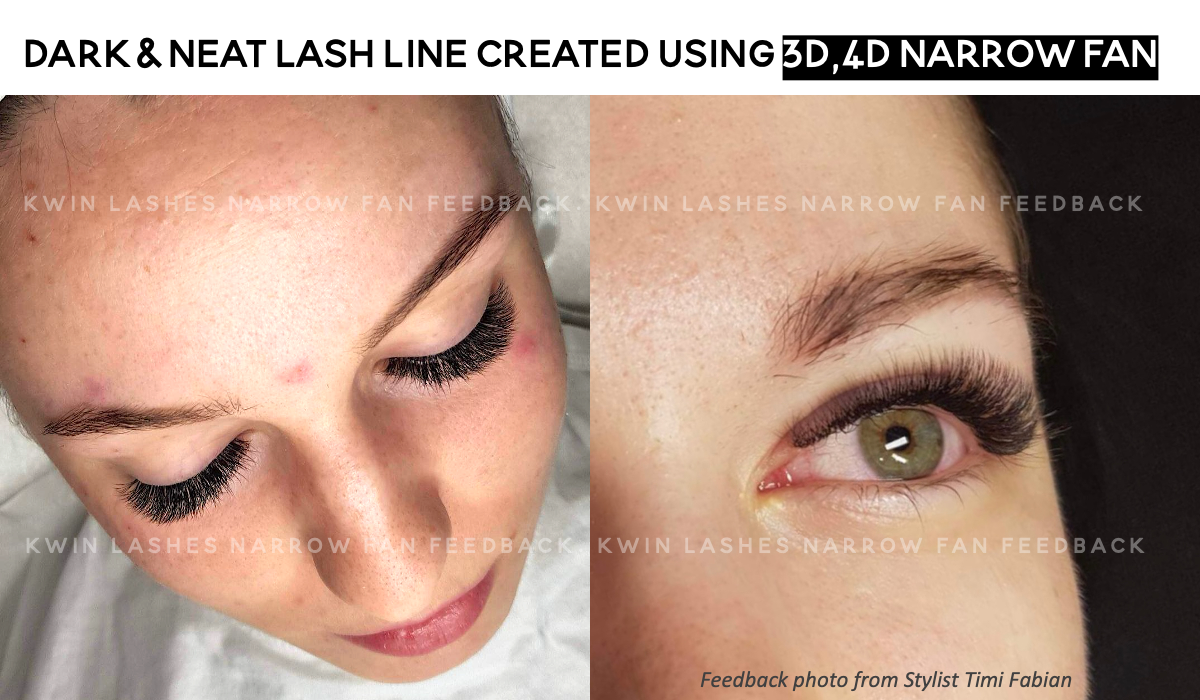 Fans with wide openness are the go-to fan for clients having a sparse lash line with many gaps. Fans with the tight opening, in this case, can't cover the space between two lashes therefore making the set look uneven. Wide fans will offer a stunning even lash coverage by filling in the lash gaps.
Wide fans is also an ideal option if your client loves a light and fluffy look or desires a lot of textures. This type of fan is always loved by American and Australian lash artists.  80% of Kwin Lash wholesale customers from Australia and the USA buy wide fan to resell. A small part of them sell both type of fans to provide more options for their customers.
Read more: What Are Premade Fans? Why Are They So Popular?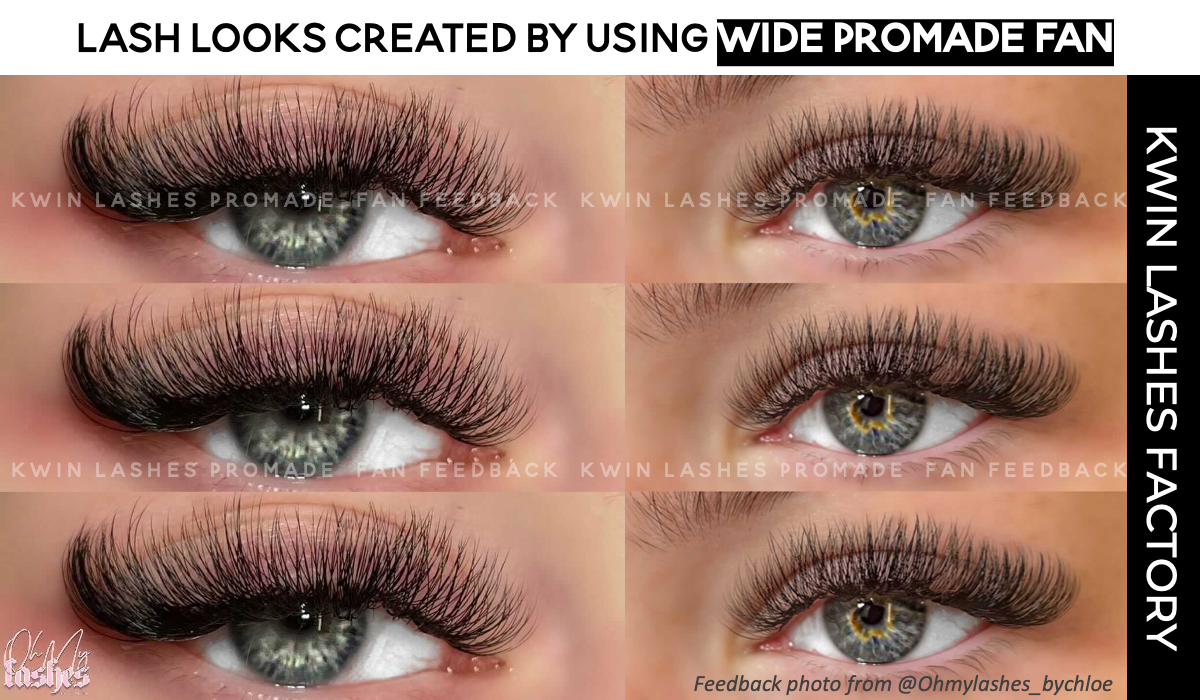 If the sets above are the styles that your clients ask for, then Wide promade fan is the way to go!
3. Best manufacturer of narrow fan promade with private label service
Making fans with the tight opening is much harder than making regular wide fans (which is more popular). Currently, not many factories can produce this special fan as this process can only be done by skillful workers with uniquely designed tools. So if you are looking for a manufacturer who is able to produce narrow promade fans, make sure you choose the reliable one. 
Kwin Lashes has been making a relentless effort to understand different lash markets to develop the best product for each market. We realize that narrow fans is favored by Russian lash artists in EU markets such as Hungary, Czech, Romania and the UK. We luckily have had chances working with top brands in these countries and learn a lot about the needs of narrow fans. Currently, Kwin Lashes offers  narrow fan in diverse packagings: XL Tray 20 line, XXL Tray double side 40 line, Rapid promade tray (Loose strip fan), Loose fan.
With the experience of being the close partner of hundreds of European lash supplies brands, Kwin Lashes is of high confidence to bring you the best quality of promade fan, especially narrow fan promade. Once you've tried our narrow promade fans, you'll definitely fall in love with them! Things you'll love about our products:
A wide range of packaging and models

High quality Korean PBT: Super dark, ultra soft, no plasticky effect

Consistent and pointy long stem

Extra tight-opening fan recommended by professional lash artist in EU

Perfect symmetrical fan
Kwin Lashes Factory is trusted by many leading cosmetic companies not just because of our excellent quality, but also because of our professional OEM service. With FREE PACKAGING DESIGN service and LOW MINIMUM QUANTITY for private label, Kwin Lashes is the best partner for new lash supplies brands. Our team always comes up with new ideas for lashes and packaging. So if you already own a lash brand, let's level up your business with our top-notch products and efficient service. Send us an inquiry right today via the information below!
CONTACT INFORMATION:
Whatsapp: +84 855 555 367
Instagram: @kwin_lashes_premade 
Website: kwinlashes.com
Email: karine.kwinlashes@gmail.com