If you are a big fan of eyelash extensions, you may have heard about the amazing Russian volume fans. This innovative technique is thought to open a new era of full and gorgeous lash lines which completely change the view of eyelash extension in the mind of women around the world. So, what do you know about Russian volume fans? This article provides you with all detailed information about Russian volume fans.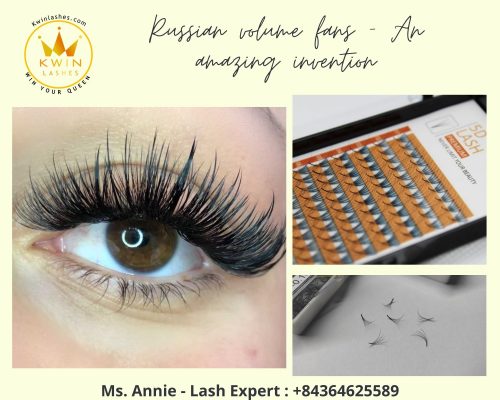 1. What are Russian volume fans?
As the name defines, Russian volume fans originated from Russia. Back to decades ago, when the world only knows about the classic lash extension, well-qualified and meticulous Russian lash artists began making fans from individual lashes to create a fuller and more dramatic look. They made volume fans manually from 2-5 mink lashes and applied them at the base. The eyelash extension using these fans gained positive responses from many Russian women and became popular all over the world. Then the term "Russian volume fans" was born.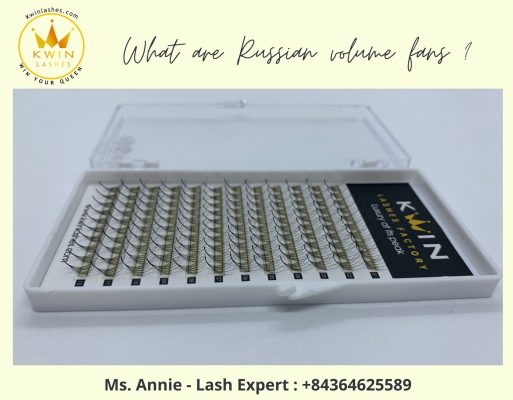 Since its appearance, Russian volume fans are beloved of many women, especially celebrities and influencers due to the fantastic look which beautifies their eyes better than ever. The false lashes makers recognized the great potential of Russian volume fans and started trying to premade them. Consequently, premade and promade Russian volume fans appeared in every lash salon.
Read more at:
Hybrid lash extension – How to make a perfect hybrid look?
Facts you should know about promade fans
1.1. Definition of Russian volume fans
Nowadays, Russian volume fans are no longer handmade fans that are made directly in the salon because this process takes a lot of time and effort. Instead, all volume fans are ready for applications as they present in salons. 
Along with the development, Russian volume fans recently may be made from up to 6 volume lashes depends on how noticeable look clients want to get. Volume fans are made from the same material as classic lashes, which is synthetic fiber (PBT). However, false lashes used in making Russian volume fans must be thin, under 0.07mm to reduce the burden on real lashes. 
Due to their lightweight feature, Russian volume fans have better retention than the classic lashes, about 4-6 weeks. Also, your eyelash needs to be refilled every 2-3 weeks to replace lost or grown-out lashes.
1.2. Who are the most suitable for Russian volume fans?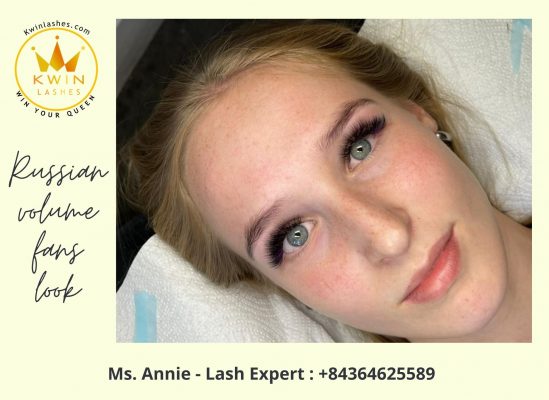 By offering a wonderful look, Russian volume fans benefit anyone who expects for glamorous effect for their eyes. However, people having fine and thin real eyelashes as well as wanting more volume are the most suitable ones for this technique. Because in Russian volume fans extension, a cluster of mink lashes are applied to one real lash, which provides you an extremely full and thick lash line with much more false lashes than the classic lash extension.
2. Russian volume fans in comparison with classic lash extension and mega volume lashes
By reading many praises people spend for Russian volume fans, you may wonder how do they differ from other techniques. Then this part will answer all your questions about that.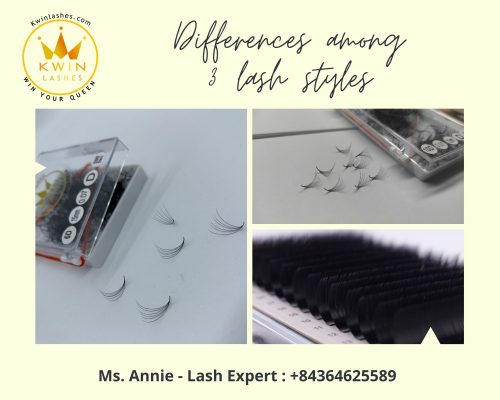 2.1. Russian volume fans and classic lash extension
Based on the characteristics, the look, and experience they provide clients, Russian volume fans and classic lash extension have many differences that are named as follows:
Classic extension:
Be the first eyelash extension technique to be invented.

Apply a 1:1 ratio of individuals lashes to natural lashes.

Offer a thinner and more natural look.

Add length to the real lashes and open up the eyes.

Have a thickness over 0.1mm.

Be suitable for clients who want natural and dark lash lines for daily life.
Russian volume fans:
Be the second invention in eyelash extension.

Apply a cluster of 2-6 mink lashes to 1 natural lash. 

Provide a fuller and more dramatic look.

Add thickness to the eyes.

Have lightweight individual lashes under 0.07 thick.

For those expecting a show-stopping and noticeable lash line on special occasions.
Generally, no technique is better between Russian volume fans and classic lash extensions because each of them meets the demand of different clients.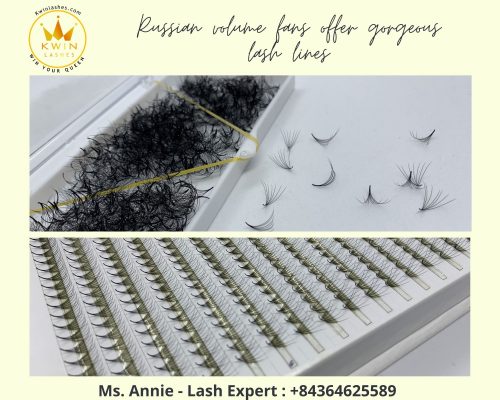 2.2. Russian volume fans and mega volume lashes
Mega volume lashes still seem to be a strange term to many people because of its less popularity than Russian volume fans and Classic lash extension. As the name suggests, Mega volume lashes are also volume fans but it contains over 10 false lashes in a fan, a much larger number than Russian volume fans. Moreover, to maintain the weight of Mega fans, the diameter of each lash must decrease if the number of lashes in a fan increase, and vice versa. This means fans with more lashes require lighter lashes. As a result, while Russian volume fans need under 0.07mm extensions, Mega fans only use extensions under 0.05mm.
By applying numerous extensions to the real eyelashes, Mega volume fans offer an extremely dark and dense lash look which often attracts celebrities or famous people.
3. What makes perfect Russian volume fans?
A perfect lash look must be made from the best quality Russian volume fans and by proficient lash artists. Let's find out what makes good Russian volume fans.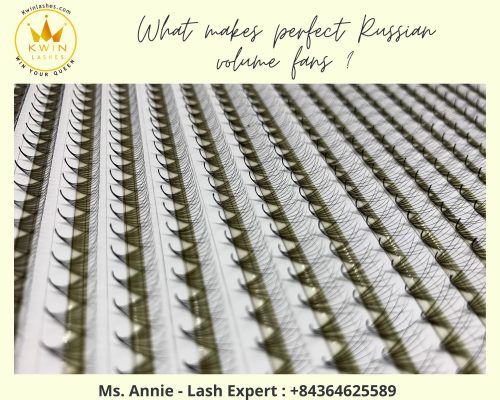 3.1. Requirements in making Russian volume fans
High-quality PBT materials: 
The very first requirement for perfect Russian volume fans is the best quality materials, which is suggested to be synthetic fiber called PBT. This material provides soft, thin, and the best curvature of individual lashes. Of course, it has to be safe for the health of real eyelashes. 
In addition, the bonded bases of Russian volume fans have to be as pointy as possible so that they are lightweight and easy to fit in narrow distances between each real lash. Glue-bonded and heat-bonded are the two methods are using for the base and Russian volume fans bonded by heat seem to have thinner bases.
Thickness, curvature, and length: 
Along with various expectations of clients, Russian volume fans now have a range of different curls as J, B, C, D, L… The suitable thickness goes hand in hand with the number of lashes in a fan which ranges around 0.03mm and 0.07mm. Also, the lengths of Russian volume fans are up to 20mm for numerous choices of clients all around the world.
3.2. Qualification of technicians making Russian volume fans
As mentioned above, there are premade and promade Russian volume fans creating in the factories, and both of them need qualified and experienced technicians. The better the makers are, the more productive and beautiful fans are produced. Therefore, suppliers with more experts and meticulous technicians in the eyelash extension market will provide you with better Russian volume fans which satisfy you and your clients.
4. Where to buy the best Russian volume fans?
If you already fall in love with Russian volume fans or any false lashes product, Kwin Lashes are the best suppliers you should have in your mind. As one of the top factories in the market, we ensure to provide you with high-quality false lashes products at a better price than any other supplier. Millions of positive feedback sent to Kwin Lashes every day from customers in Europe, Australia, Africa,… are great motivation for us to keep developing and supply you with our best service.
In case you are still considering, please read customers' responses about Kwin Lashes products and contact us right now via Whatsapp: +84 85 555 5367.

We have many other wonderful products for you at:
Kwin Lashes: Best choice for false eyelashes