With higher and higher demand for beauty all over the world, eyelash extension is becoming familiar with women falling in love with the gorgeous lash lines. In terms of its preeminent characteristics, hybrid lash extension attracts the attention of those wanting a fuller lash line than classic extension but less dramatic than volume extension. So, how to do a hybrid lash extension, and what are the pros and cons? This article will answer all your questions about the amazing hybrid lash extension.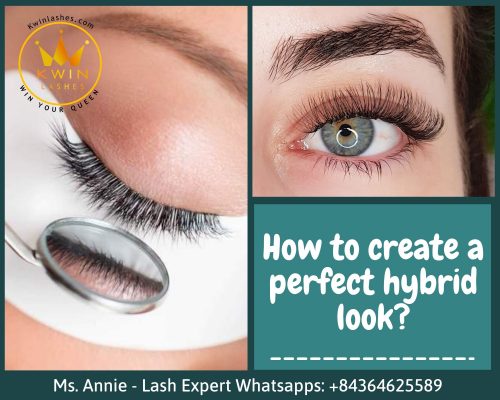 1. Differences among classic, volume, and hybrid lash extension
To fans of eyelash extension, classic, volume and hybrid lash extension are no longer strange terms. If you are new to this world of beauty, however, this part provides detailed information you should know about each technique.
1.1. Classic extension
The classic extension can be seen as a traditional technique because they are simply 1:1 applied ratios meaning one individual false lash is attached to one real lash. This is a natural-looking extension that provides clients with a dark, curly, and beautiful lash line. The classic lash extension adds length and thickness that open up the eyes. However, lash lines made from the classic techniques are not as full as hybrid lash extensions.
1.2. Hybrid extension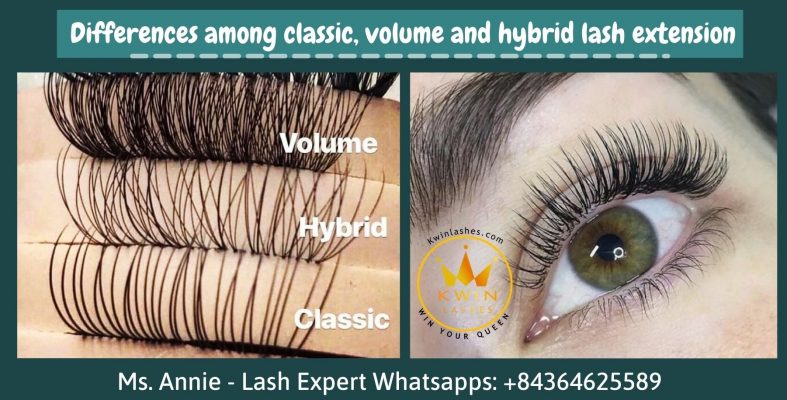 The hybrid lash extension is defined as a mixed technique between classic extension and volume extension which gives women the best of both worlds. The hybrid look is achieved by mixing volume and individual lashes to make the eyes fuller and more attractive. Hybrid lash extension is the route to go for anyone wanting to add a bit more volume to their classic but not as thick as volume extension.
Read more on:
Premade fans and Promade fans – Which one is better?
What's It Really Like to Get Volume Lash Extensions? Here's the Truth
1.3. Volume extension
By using volume fans with a cluster of lashes attached to one real lash, volume extension creates the fuller, more dramatic lash line than the classic or hybrid lash extension. Due to the bigger number of false lashes to be attached, the fans used in volume extension must be lighter than the classic one, for the soft and lightweight lash lines.
2. How to do a hybrid lash extension?
As mentioned before, hybrid lash extension is an application method that strategically blending classic and volume lashes. For further understanding, lash artists add a mixture of 1:1 lashes and volume fans to the real lash line to make a hybrid look. The volume fans are created by bonding 2-10 lash extensions as well as pre-fanned and curled. A full set of hybrid lash extensions typically lasts about 2-3 hours. Hybrid lashes offer you more volume and gorgeous texture without a sometimes-unnatural look of volume extension.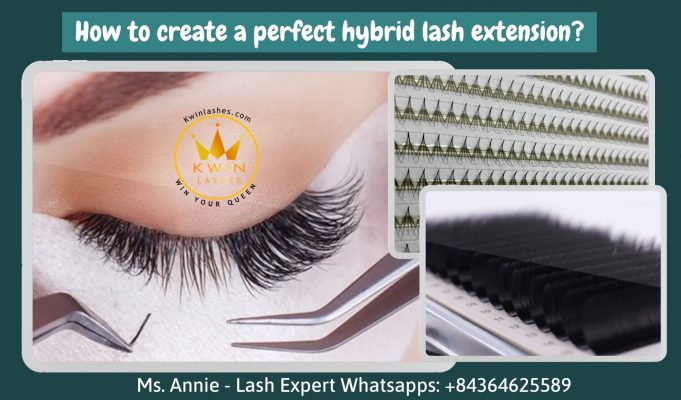 The lash artists offering hybrid lash extension must be well-qualified in both Classic and Volume extension. To protect your lashes, you should choose certificated artists who can evaluate the condition of your real lashes, thickness and length to create the most suitable solution for your beautiful and healthy lash extension. In addition, high-quality lashes and volume fans play an essential role in the success of your hybrid lash extension. Good products provide dark, full and highly durable lash extension as well as protect your eyes from allergy.
3. What are the pros and cons of hybrid lash extension?
Many people are still wondering whether the hybrid lash extension is worth trying or not. The answer to this question is laid right below.
3.1. Pros of hybrid lash extension
As a combination of the two best lash applications, hybrid lash extension is an innovative technique that meets the demand of many women torn between classic extension and volume one. Hybrid lashes are the perfect choice for those who want to fix the thin look of classic lashes and reduce the super dramatic look of volume ones. Moreover, the hybrid lash extension offers a natural but gorgeous lashline that completes your eyes and builds on your natural lash beauty.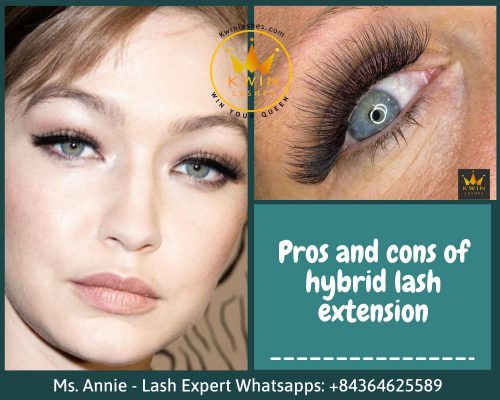 3.2. Cons of hybrid lash extension
However, the hybrid lash extension may become a disaster if you trust the wrong artists or salon to have your lash extension done. Bad quality products or unqualified lash artists may bring you terrible experience on hybrid lash extension or even damage your lash line. Therefore, make sure you have researched and choose a trusted brand for your eyelash extension. Additionally, the fact that hybrid lash extension requires skilled artists and a complex process makes it a bit more expensive than the classic one. Consequently, classic lashes are a more affordable choice if you mind the budget. 
4. What to do after getting a hybrid lash extension?
The durability of the hybrid lash extension depends not only on the quality of products but also on your after-care and refilling it. So, what to do after you get your hybrid lash extension?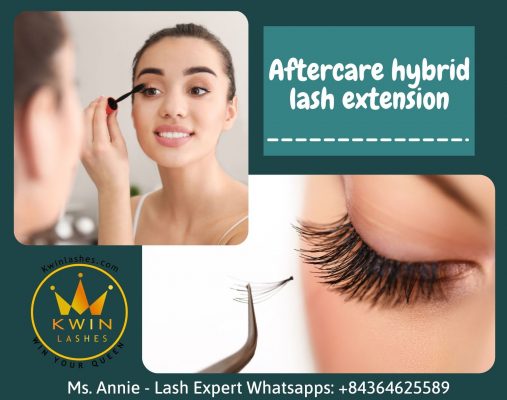 4.1. Aftercare hybrid lash extension
It is necessary to keep your hybrid lash extension dry in the first 24 hours so that the false lashes are totally bonded to real ones. The adhesive takes up to 48 hours for the best water and heat resistance. Besides, your make-up has no bad effect on the hybrid lash extension, but do not wear mascara, especially oiled mascara because oils can break down the bonding of adhesive and result in your falling-out lashes.
4.2. Refill hybrid lash extension
We recommend refilling your hybrid lash extension every 2-3 weeks to replace any lost or grown-out lashes as your natural eyelash always growing. You only need to spend about an hour refilling and enjoy your fresh eyelash extension.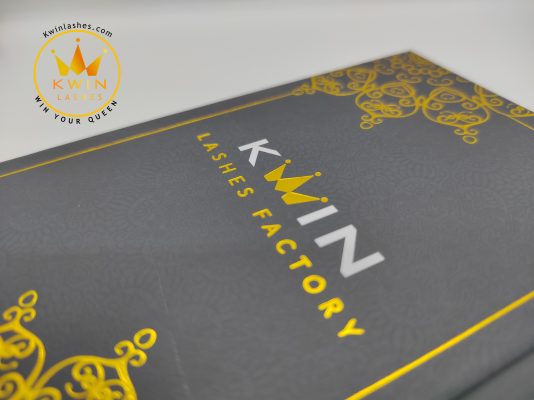 Overall, hybrid lash extension is an advanced technique providing you best experience on eyelash extension. If you are considering getting one, we recommend giving it a try and it will not let you down. Hope you gain some useful knowledge from this article. Our factory always serves you with the best lashes, not only hybrid lashes but many other wonderful products you can take a look at Kwin Lashes Factory.
Read our feedback on: 
Kwin Lashes customer feedback.
For more information, please contact us via: