Premade fans are so high-end. But Premade fans misconceptions happen a lot to lash artists. They easily misconceive if not getting full insight into business.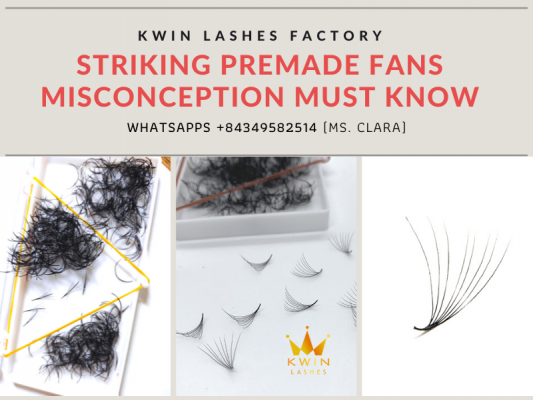 1. What have you heard about "Premade Fans" misconceptions?
Here is the story untold of Premade Fans misconception
 1.1 Definition of Premade Fans
Normally, eyelash extensions only use one pointy lash (like a stem) each by each to attach to the eyes. This technique is the most traditional and revolutionary approach for any lash lover. Premade fans came along just to round up the beauty list. But in the new days, customers and artists have a wide range of styles to choose from. Premade Fans misconceptions mostly started from that. 
Premade Fans' misconception vs. Handmade lashes can be a big deal. Premade fans or Pre-fanned is a strand of lash attached together with just the right curling. That's why it is called a fan. The lashes are merely tied up only at the base but do not go chunky. Clients can select from a variety of 3D/4D/5D… Premade lash fans for their choices.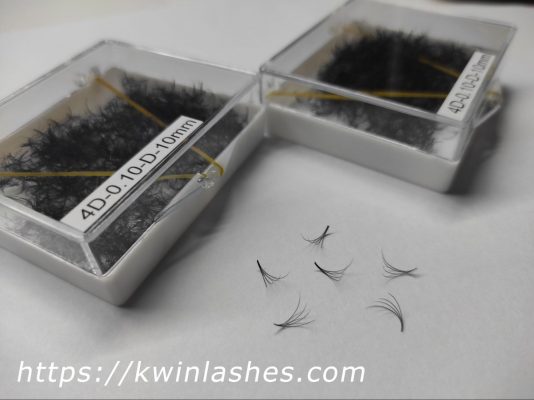 1.2 Behind Premade Fans misconception – great material
 

People can usually mistake lash origin by human hair or cheap plastic. As we are always concerned about the quality and safety of the goods we put on our sensitive eyes. This Premade lashes misconception should end here right now. Most quality lashes are actually cruelty-free and meticulously made. Polybutylene Terephthalate (PBT), a unique plastic fiber, is used to create our beautiful lashes.

KWIN Premade volume fans are light-weight, elegant and silky. Clients will be surprised to freely choose their beauty upgrade style, maybe mega volume or russian volume…
2. Premade fans misconception: Premade Fans vs. Handmade lash
So what is the actual difference between Premade fans and Handmade lash. Allow us to explain.
2.1 What is Handmade lash?
Premade fans misconception usually happens since few people can tell where lashes really came from. Handmade fan, also called promade fan, is easily understood as "crafted by hand". One fan is created only with one eyelash tray. To make a fan, the worker will link the lashes together with special tweezers, then immerse the fan's base in adhesive to attach them. The outcome product is a perfect glue-bonded lash fan.
2.2 Disadvantages of Handmade lash
As meticulous as it be, making a Handmade fan each by each really takes time. In modern days, this kind of method not only costs time but requires a large labourment force. Just imagine clients seeking to invest in bulk will be rather frustrated with the slow progress.

Unlike Handmade lash, Premade fans can generate a significant output at the most affordable price.
Indeed a lesson: the more we educate, the more we can polish our skills. Misunderstandings are natural and nothing to be ashamed of. Isn't Premade fans misconception now crystal clear?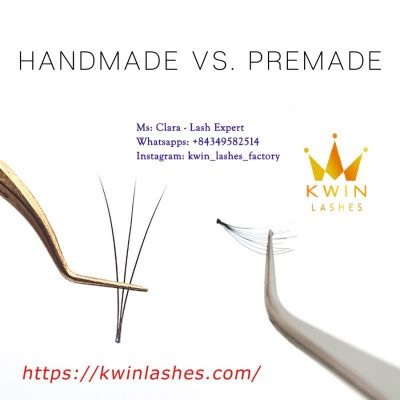 3. Premade fans misconception in how Premade Fans are made
You are probably curious about how our Premade fans are created. This procedure is rather simple to follow.
3.1 Producing process of Premade Fans
The most obvious factor we can notice about Premade fans is that they are manufactured in a factory and follow a more complex procedure.
First, new lashes are stuck to the adhesive strip (tape).

Next, we select the right curling up to the client's request. A metal rod (like a stick) is used in this step.

Then again, the competent worker applies more adhesive and rolls the rod sticking to lashes. 

Final step, we heat them and bond the base. This completed result is regarded as "heat-bonded fans".
Deadliest Premade fans misconception is that some people often mistake our lashes for machine-made ones. What they don't know is KWIN Lashes extensions must all be precisely handcrafted.
3.2 Advantages of Premade Fans
Besides, there's another Premade fans misconception some of us don't know: To create Premade fans, workers have to go through many stages of manufacturing instead of just using a tweezer like Handmade lash technique. The method has become popular and favourable for client's lashes. Also, it is considered more economical.
3.3 Premade Fans misconception can't lure Premade Fans reputation
Lashing artists love Premade fans. They can mingle both natural lashes and Premade volume lashes to create a fresh, dazzling look with just simple extension supplies. Due to our quality and diverse products, KWIN Premade fans are taking up so much room in the hearts of our customers. In addition, KWIN Lashes are perfectly aligned in a customized box. But there are also loose fans to offer other options. Don't let Premade Fans misconception get in your way of business!
Read more on:
4. Comment on Premade Fans from buyers
KWIN LASHES has received a lot of positive feedback from buyers after using Premade fans. The purchases are expected to multiply in the near future in accordance to the client's specific needs. After having explained about our Premade lashes misconception, there's no more need to hesitate.
Let's take a look at some of our feedback. We are all grateful for the opportunity to be your suppliers and a reliable choice. To become our dear client, try KWIN Lashes for a sample!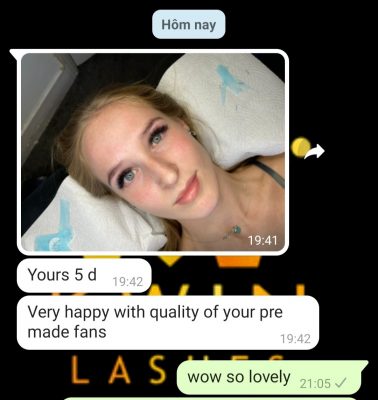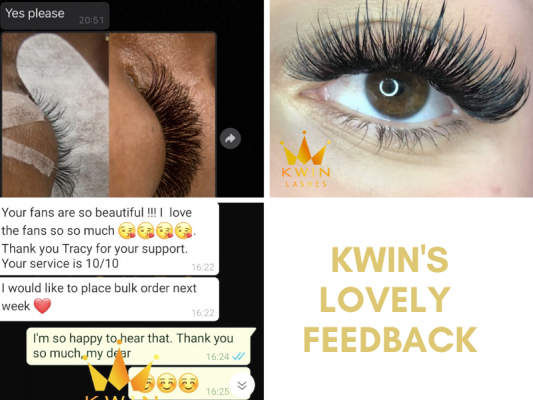 For more information, contact us via social links and media:
Ms: Clara – Lash Expert 

Whatsapps: +84349582514

Instagram: kwin_lashes_factory