Every woman wants to have glamorous eyelashes to enhance the beauty of their eyes. As a result, several eyelash types, such as mink lashes and silk lashes, have been designed to suit these requirements. As you know, each of us has a unique set of eyes. They vary in size, thickness, color, and shape, making eyelash extensions hardly have a fixed style. Let Kwin Lashes help you determine which eyelash style will complement your eyes and personality.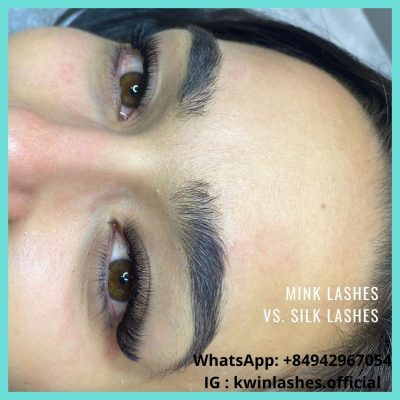 1. Mink lashes and silk lashes: What are mink lashes?
This section is to give you a better understanding of mink lashes before diving into the differences between mink lashes and silk lashes.
1.1. Mink lashes and silk lashes: Definition of mink lashes
Despite their name, mink lashes from Kwin Lashes are composed of synthetic fibers known as PBT. PBT (Polybutylene Terephthalate) is a kind of polyester that you can find in a wide range of items such as toothbrushes, sportswear, and, of course, false lashes. This type of lashes gets inspiration from the characteristics of real mink fur including the shape, thickness, and level of shine.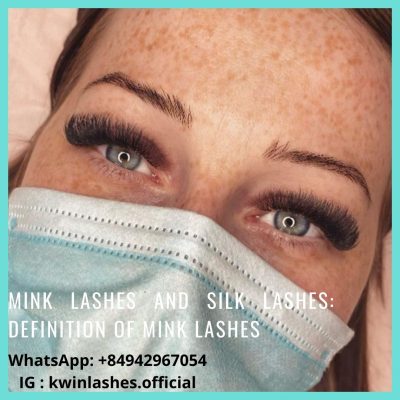 1.2. Mink lashes and silk lashes: Features of mink lashes
The highlight of

mink lashes

is that they are very light and smooth, making it difficult to distinguish them from your real eyelashes at first glance. Thanks to that, when using this eyelash material, your eyes will appear very real and natural.

The mink lashes are usually tapered 2/3 of the way down from the tip of the extension. They have a dark, semi-gloss sheen and feathery look.

Mink lashes

extensions feature a natural, semi-matte finish that resembles the look of real lashes, as well as a particularly lightweight body.

This kind of lash is thinner than other forms of lash extensions and is frequently utilized in volume sets. As they are tapered for the majority of the lash extension body, mink lashes are up to 30% lighter than

silk lashes.

In addition,

mink lashes

are ideal for those searching for natural-appearing lash sets. They are also suitable for people with extremely fine natural lashes, and those looking for volume or mega-volume sets.
2. Mink lashes and silk lashes: What are silk lashes?
You may get confused about the term "silk lashes". Don't worry, this part will supply you with an overview of these lashes so that you can choose the most appropriate type of lashes for yourself.
2.1. Mink lashes and silk lashes: Definition of silk lashes
Many people assume that silk lashes are incredibly light and thin when they hear the name. These eyelashes, on the other hand, have a dark hue that makes them become "super curved" and appealing. Silk lash material is ideal for women who tend to wear heavy makeup. Many ladies prefer eyelashes made of silky smooth material that is thicker and darker than regular eyelashes due to their sharpness to the eyes. Now you can partly differentiate between mink lashes and silk lashes, right?
2.2. Mink lashes and silk lashes: Features of silk lashes
Silk lashes

, like

mink lashes,

are composed of PBT. The primary distinction between the two is not in their materials, but rather in their form, finish, and weight.

Silk lashes

have a short taper, which means the body of the lash is thicker for a longer period. They also have a beautiful semi-gloss sheen, as opposed to

mink lashes

.

Silk lashes are ideal for dramatic looks thanks to their thick, full-body, and are frequently used in conjunction with classic eyelash extensions (in which we have one lash extension per natural eyelash)

Our silk lashes have a semi-matte texture and are tapered only 1/3 of the way down from the tip. They have a heavier build across their bodies, giving them a more assertive appearance.

Silk lashes

provide the same look for customers who used to apply 3 to 5 coats of mascara before discovering eyelash extensions. As a result, it helps to own a completely perfect appearance while minimizing the mascara clumps.

One obvious advantage of silk eyelashes is that they

can hold their curvature very well, in the meanwhile, being particularly long-lasting when applied properly.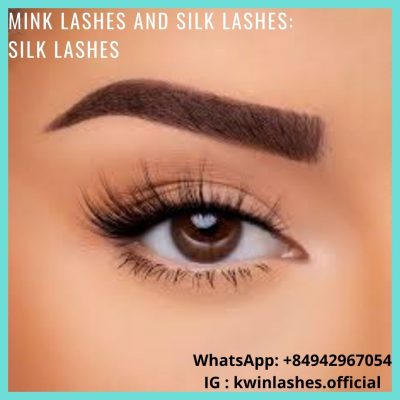 Maybe you want to read:
3. How are mink lashes and silk lashes different from each other?
Yet serving the same aim of meeting clients' preferences for eyelash extensions, mink lashes and silk lashes bear some significant differences. These dissimilar characteristics perform as the foundation for classifying the applicability of these two types of eyelashes for various purposes and styles.
One of the most common extensions utilized by lash stylists nowadays is

mink lashes

extensions. These poly-fiber lashes come in a range of lengths, and curvatures, have good elasticity, and, depending on the length, seem fairly natural. They're made to seem like actual mink fur, but lash artists and customers alike prefer them due to their permanent curls and low level of maintenance. There is no need to curl or apply mascara to these types of extensions. Because of their wide range of sizes and lengths, they're ideal for creating unique styles for each customer.

Silk lashes

are mid-weight lash extensions that are more flexible than synthetic lashes, giving them somewhat greater retention. Silk lashes are ideal for elderly customers or those with thin and fragile natural lashes due to their low weight. These extensions also maintain their curl, although the curl is less consistent than with

mink lashes,

making them appropriate for customers seeking a more natural appearance. However, silk lash extensions seem to be the least pleasant form of extension and should only be worn for special occasions.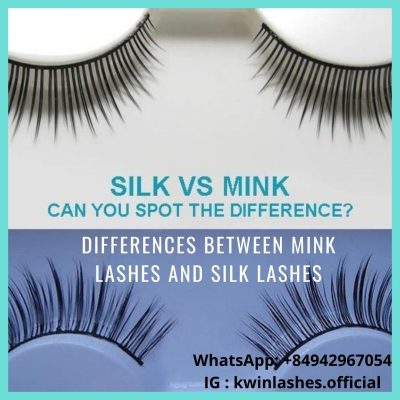 4. Care tips for mink lashes and silk lashes: Be aware of extreme heat
Because both silk lashes and mink lashes are synthetic, avoid using them near extreme heat sources such as stoves, ovens, hairdryers, lighters, or anything else that produces the sources of extreme heat. Excessive heat appears to be counterproductive as it can also cause synthetic eyelash extensions to melt, rendering a clumpy look after they cool. That is not a charming appearance at all.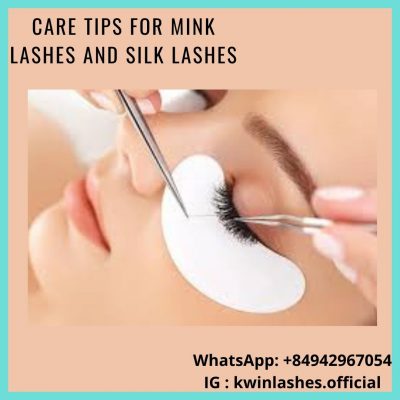 5. Mink lashes and silk lashes. Which one is better?
People typically seek to discover which is better between mink lashes and silk lashes since everyone wants the highest quality items. This section will answer readers' questions on why silk lashes possess better quality than mink lashes.
Water isn't the only thing that can cause

mink lashes

to lose their curl; time will as well. Mink lashes must be re-curled on a regular basis, but

silk lashes

maintain their form considerably better.

Silk lashes are a little bit thicker than mink, which means that it's better for producing a dramatic appearance. It's also shinier. Since silk eyelashes may be wet without losing their curvatures, you can apply mascara for more volume.

In general, silk lashes are superior as they retain their form better as well as being easier to care for and allowing for a more dramatic and intense look.
6. Where we can buy mink lashes and silk lashes in Vietnam
Kwin Lashes is becoming one of Vietnam's top wholesale eyelash extension providers. Our company also offers a variety of lashes, ranging from flat lashes to mink lashes and silk lashes. Our product materials have all been carefully selected and are designed by a unique plastic fiber known as Polybutylene Terephthalate (PBT), which is 100% imported from Korea. Do not hesitate any longer, come to the world of super high-quality eyelash extensions from Kwin lashes for the best experience.
Let's contact us right away for more customer support by following the information below. 
Kwin Lashes Contact:
"Ms. Wendy –  Lash Expert 
Instagram: kwinlashes.official"