Premade fans are highly popular in the present eyelash extension industry due to their exceptional advantages for both consumers and distributors. However, because it is so popular, there are a plethora of places that sell premade fans, making it difficult for customers to choose a reputable eyelash vendor that guarantees a reasonable price. Please read the following article by Kwin Lashes to find out the top 5 wholesale premade fans suppliers in Vietnam.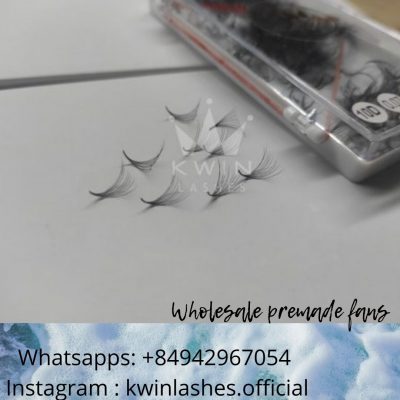 1. Top 5 wholesale premade fans suppliers in Vietnam: What are premade fans?
Before we go into the top 5 wholesale premade fans providers in Vietnam, let's go over the fundamental knowledge needed to know about premade fans.
1.1. Wholesale premade fan suppliers in Vietnam: Definition of premade fans
Premade fans are lashes that have been designed specifically for lash artists. They placed it in a tray so that it could be picked up and utilized immediately. Due to its high level of applicability, wholesale premade fans are more preferred than ever before.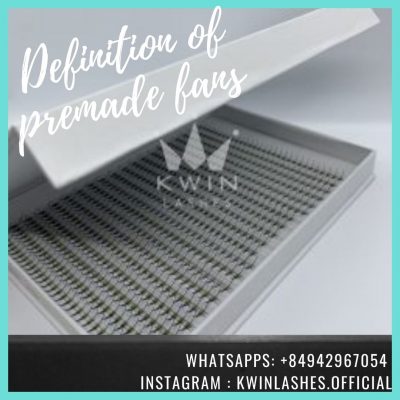 1.2. Wholesale premade fan suppliers in Vietnam: Features of premade fans
A premade fan is a grouping of two to eight lashes that have been cemented or heat-bonded at the base.

The goal of wholesale premade fans is to save lash artists time and remove the need to manually build fans.

The method of gluing the lashes together adds volume to the fan's base. After being covered in adhesive, the foundation thickens significantly.

In addition, for clients who want a quick treatment, pre-made fans are more convenient to apply.

Pre-made fans make lash extensions easier for people who are unfamiliar with volume approaches.

Premade fans are especially favorable for volume lash extensions. Unlike traditional lash extensions, which are put one by one, volume lash extensions necessitate a delicate balancing act between lashes. Therefore using premade fans can support this better.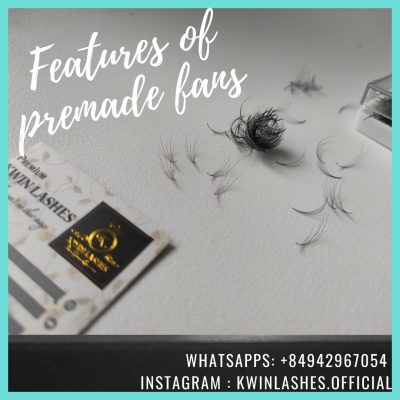 2. Top 5 biggest wholesale premade fans suppliers in Vietnam
Among numerous premade fans vendors in Vietnam, we will introduce to you the top 5 biggest and most renowned companies based on the factors of product quality, price, and positive feedback from customers.
Kwin Lashes – The most recognized wholesale premade fans in Vietnam

CharmLash

KTV Lashes

Kimmi Lashes factory

Vinalashes Company
2.1. Kwin Lashes – The most recognized wholesale premade fans in Vietnam
Top#1 supplier of wholesale premade fans in Vietnam: Kwin Lashes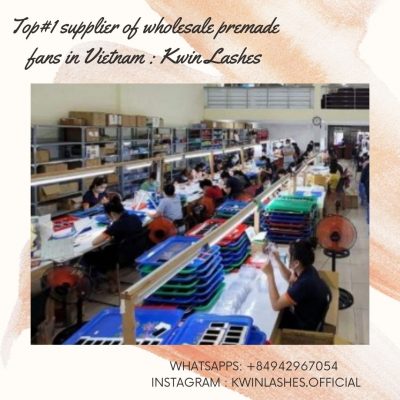 Location: No 8B Lane 8, Quang Lam Street, Phu Lam, Ha Dong, Ha Noi, Vietnam
History: Kwin Lashes, which was founded in 2010, is currently one of Vietnam's top wholesale premade fan

s

manufacturers. As one of the earliest lash companies, Kwin Lashes can assure you that the company has extensive knowledge and competence in the fake lash selling field

The reason you should choose Kwin Lashes: Premade fans of lashes from

Kwin Lashes

are so soft and natural-feeling that you'll forget you're wearing them. However, everyone else will notice your glamorous lash lines. Your eyes will look beautiful, and your morning ritual will be shorter than before. Moreover, you'll wonder how you survived this long without lash extensions after you've seen how attractive your eyes may appear even before you apply the makeup.

Market: salons, retailers, wholesalers, and various firms worldwide. The majority of customers comes from Europe including

Finland, Hungary, France, Germany, England, and so on 

Contact:

WhatsApp:

+84942967054
Maybe you are interested in:
2.2. CharmLash
Location: Level 1, No. 81, Lane 35, Nguyen An Ninh Str, Hanoi, Vietnam

History: Charmlash is a Vietnamese wholesale premade fans provider that offers high-quality items in the field of eyelash extensions. CharmLash has been in business since 2018 and has expanded to accommodate the changing needs of its clientele.

Market: Individual lash artists, eyelash extension wholesalers, and salon owners

Contact:

WhatsApp:

+84942967054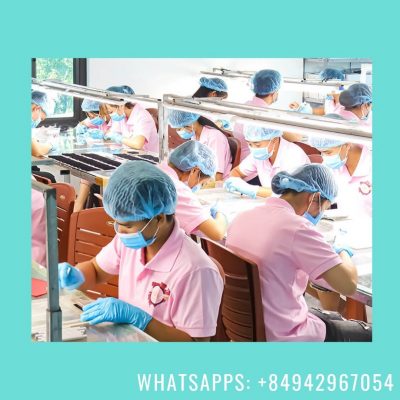 2.3. KTV Lashes
Location:

No.26, No.7 Street, An Lac A Ward, Binh Tan District, Ho Chi Minh

History: KTV Lashes is one of Vietnam's most reputable wholesale premade fans

suppliers. The company is devoted to constantly offering the finest quality eyelash items at the greatest wholesale rates on the market.

Market: If you wish to use the products for a start-up or to support your business's growth, the company welcomes O.E.M ( Private Label ) orders.

Contact:

WhatsApp:

+84942967054
2.4. Kimmi Lashes factory
Location: 264A Trinh Dinh Trong Street, Phu Trung Ward, Tan Phu District. HCMC

History: Kimmi Lashes Factory is one of Vietnam's first wholesale premade fans producers. In 2015, the company was founded. With more than 5 years of expertise in the subject of eyelashes, the company's core competencies include high-performance products for the most demanding applications.

Market: The factory provides

distribution to more than 100 countries around the world.

Contact: WhatsApp: +84942967054
2.5. Vinalashes Company
Location:

k57/24 Le Hong Phong, Hai Chau, Da Nang, Viet Nam,  550000

History: Vinalashes Company also provides wholesale premade fans with the core value of improving the existing goods. Moreover, it develops new ones in order to fulfill the demands of clients and be committed to understanding and satisfying the market's demands.

Market: Italy,  UK, Australia, Canada, and so on

Contact:

WhatsApp:

+84942967054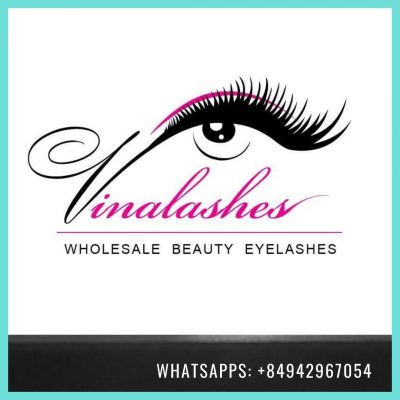 3. Conclusion
The wholesale premade fans industry is a potential market, so choose your business partner with caution and foresight! Choosing the top 5 biggest wholesale premade fans distributors in Vietnam from the list above will be the first step toward your success. A reputable Vietnamese factory in the lash extensions can help you reach the peak of prosperity!
Let's contact us right away for more customer support by following the information below. 
Kwin Lashes Contact:
"Ms. Wendy –  Lash Expert 
Instagram: kwin lashes.official"