Rapid promade fan or so-called Loose strip fan is a new product in the last 2 recent years. Being a combination between two available products: Loose promade fan and Fan in line (XL TRAY), Rapid promade fan earns world wide lash artists' interests for a good few of benefits that it brings to them.
However it's still a new product in some countries, therefore a good option to consider stocking for your lash brand. If you are looking for rapid promade fan with private label service (OEM manufacturing), this article is a must-read. Kwin Lashes Factory will introduce to you a variety of options of private labeling for this trendy product.
Rapid promade fan can be stocked in single length or mixed length trays.
1. RAPID PROMADE FAN WITH PRIVATE LABEL – SINGLE LENGTH & MIXED LENGTH
Rapid promade fan (rapid fan/ loose strip fan) single length can be put in a plastic box or a cardboard tray, while the mixed length one must be put in the cardboard tray with dividers to separate different lash lengths.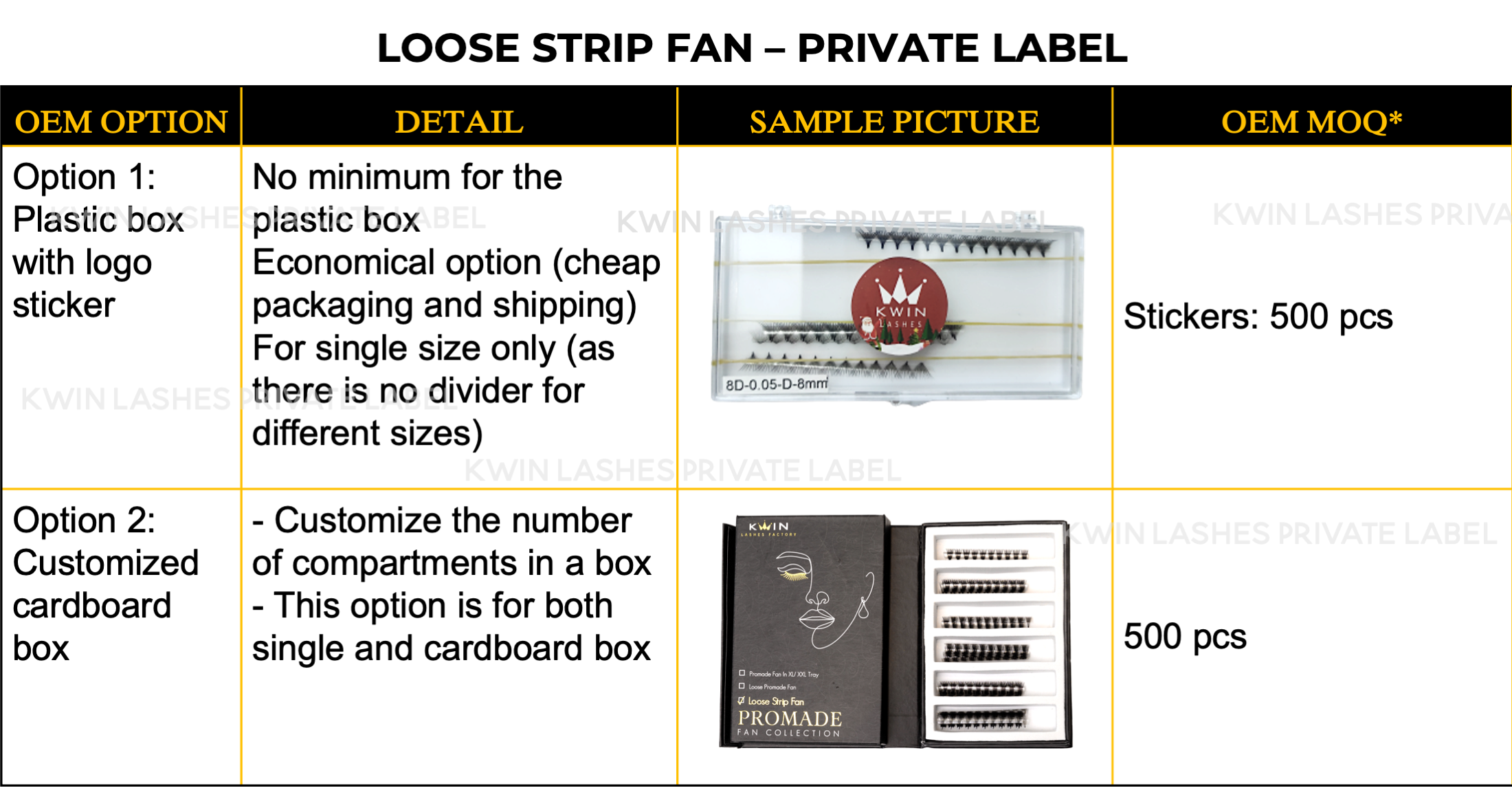 While single length loose strip fan can be put in either a plastic box (with logo stickers) or customized cardboard box, mixed-length loose strip fan must be put in a cardboard one with multiple cells. The number of cells depends on the number of sizes that you want to mix. For example, you want to stock rapid fan mix 8-13mm, then your customized trays should be made with 5 compartments.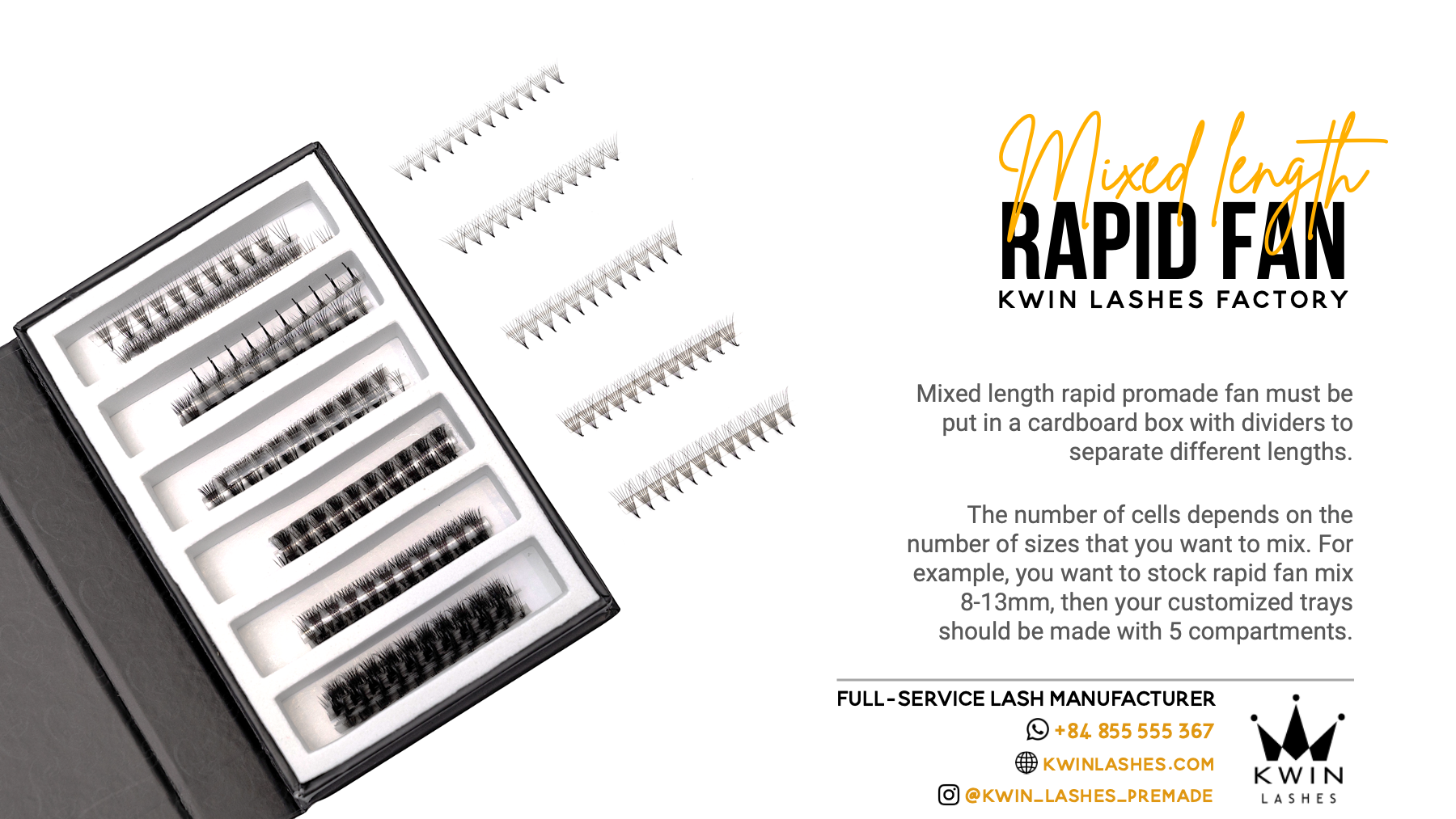 2. RAPID PROMADE FAN WITH PRIVATE LABEL (OEM SERVICE) AT KWIN LASHES FACTORY
Kwin Lashes Factory, as a full-service OEM manufacturer, offers high quality loose strip fan (rapid promade fan) with private label service. 
Being in the lash industry for more than a decade, Kwin Lashes deeply understands our customers' pain point and always tries to offer the best products and best service.
"We don't sell eyelashes, we sell solutions"
With the spirit "Don't sell products, sell the solutions", Kwin Lashes Team not only makes an effort to produce high quality Loose strip fan (Rapid promade fan), but we also attempt to provide best private label solutions to lash business owners. 
We realize that international shipping costs share a considerable percentage in our customers' selling price. In order for their prices to become more competitive, our design team has strived to design the packaging as small as possible. This is an example of Kwin Lashes' attempt to provide private label solutions.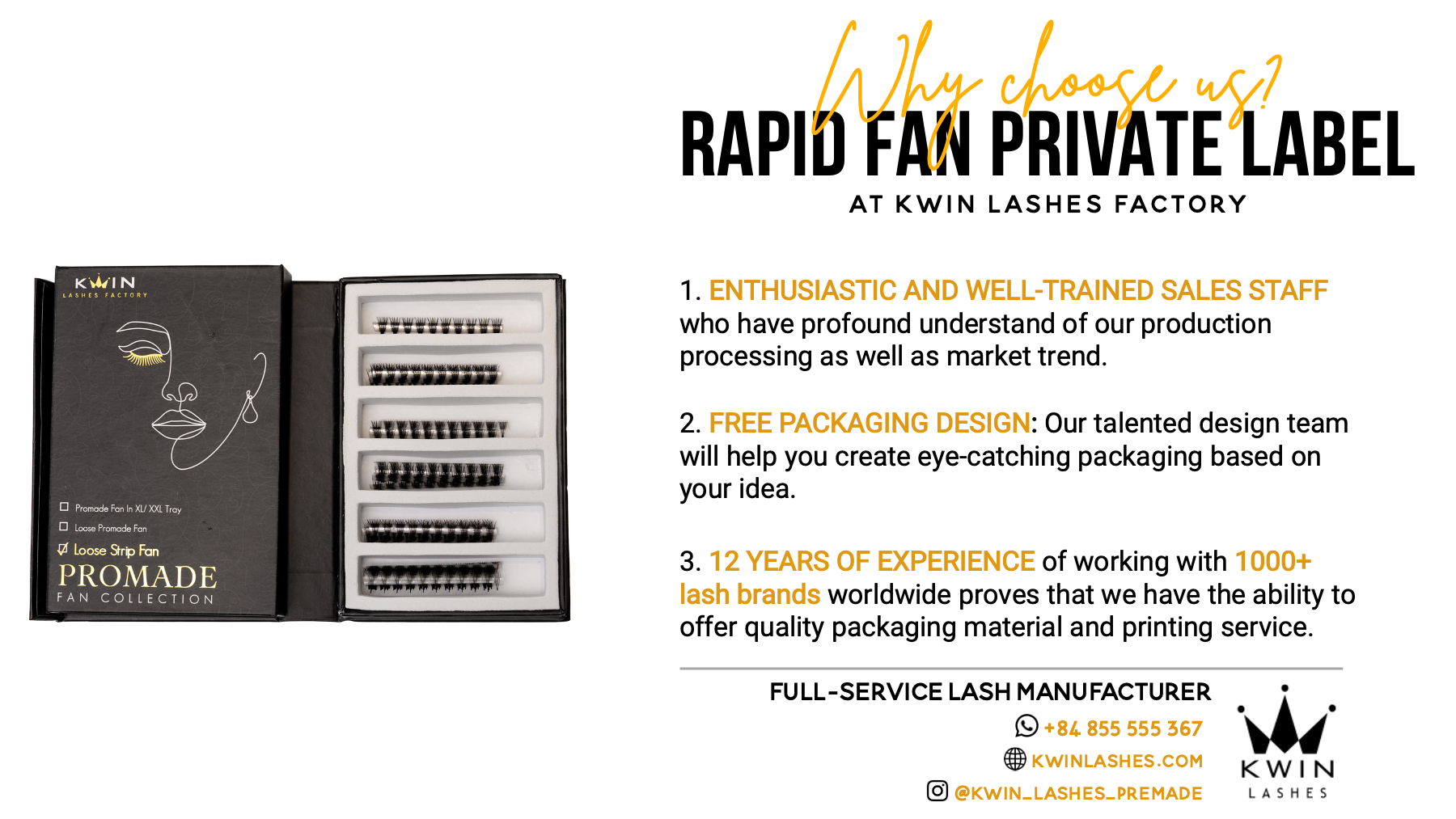 Kwin Lashes Factory is trusted by many leading cosmetic companies not just because of our excellent quality, but also because of our professional OEM service. With FREE PACKAGING DESIGN service and LOW MINIMUM QUANTITY for private label, Kwin Lashes is the best partner for new lash supplies brands. Our team always comes up with new ideas for lashes and packaging. So if you already own a lash brand, let's level up your business with our top-notch products and efficient service. Send us an inquiry right today via the information below!
CONTACT INFORMATION:
Whatsapp: +84 855 555 367
Instagram: @kwin_lashes_premade 
Website: kwinlashes.com
Email: karine.kwinlashes@gmail.com