What is premade mega volume fan? Where to buy best Premade mega volume fan in wholesale with private label? 
Premade mega fan has been one of our best-seller fans recently. It's used to create mega volume extensions  which is super popular among girls. In this article, Kwin Lashes would like to share with you the definition of mega premade fan, how to choose good mega premade fan as well as how to choose a good vendor producing it.
Click to WhatsApp Ms. Daisy to buy promade fan: +84972693719
1. What is premade mega volume fan?
Premade mega volume fans is premade fan with the dimension from 10D to 20D. Since the premade mega volume fan is made from 10 to 20 lashes, the most suitable thicknesses for them are 0.03 and 0.05. While 0.05 thickness can go with 10D,12D,14D mega fan, from 16D mega fan, 0.03 thickness is a better choice to have a slim-base fan.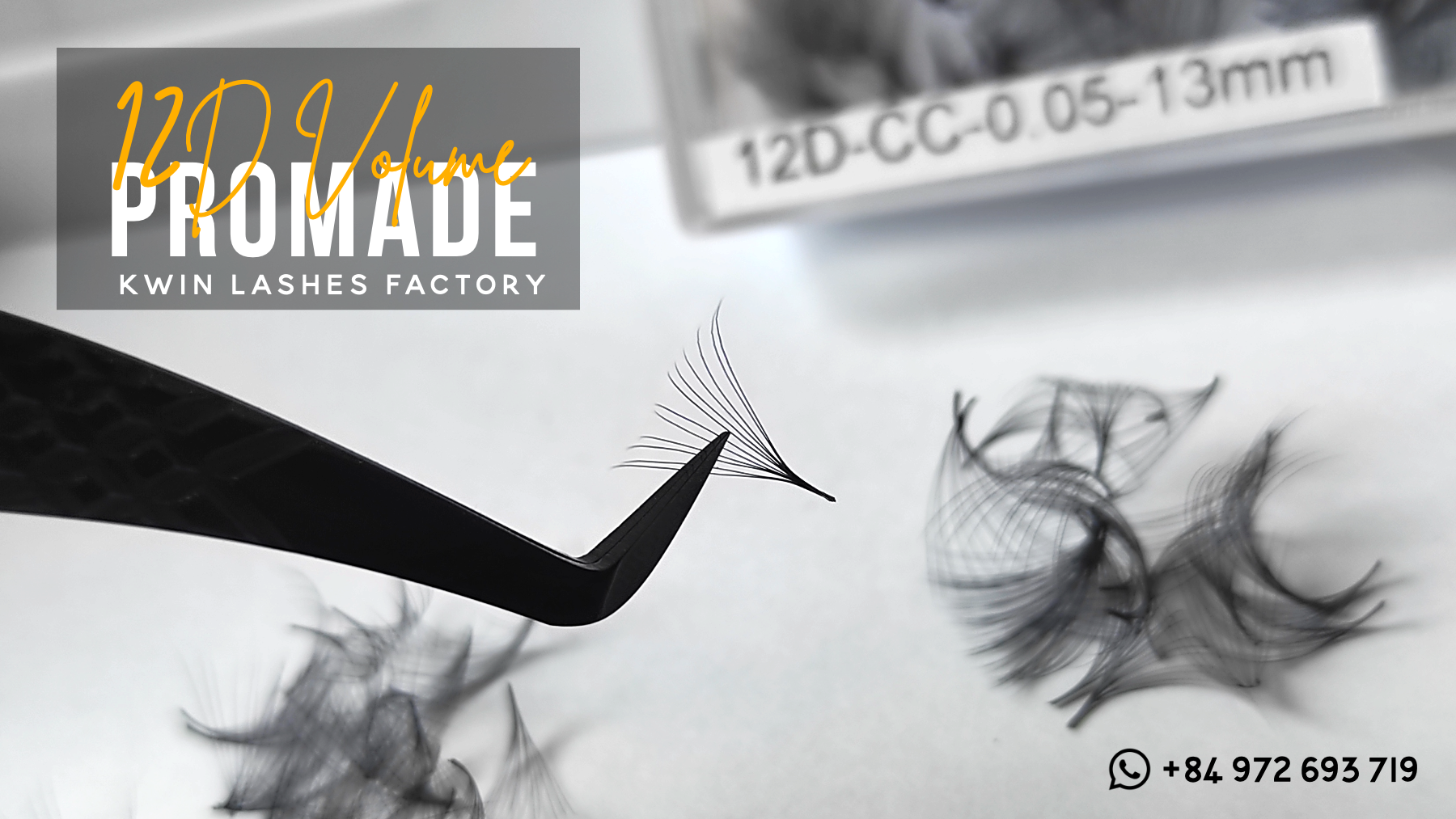 Premade mega volume fan is used to create dramatic mega volume eyelash application. Here is an example of the result of using premade mega fan of Kwin Lashes Factory.
Before premade/promade fan was invented, lash artists have to handmake mega fan by themselves and this process take a lot of effort since not any lash artists are able to create standard mega volume fan. Nowadays, with the advance in lash manufacturing industry, you don't have to struggle with making mega fan yourself to do mega volume set. It can be said that premade mega volume fan is the savior for lash stylists.
Premade mega volume fan can come in three different packagings: XL/XXL TRAY, LOOSE PROMADE FAN, LOOSE STRIP FAN (or Rapid promade fan). While loose fan is the most affordable choice, XL Tray and Loose strip fan will help you save a lot of lashing time thanks to the fans already being laid in a row.
Read more:
How to get loose fan with private label
Rapid promade fan with private label/OEM service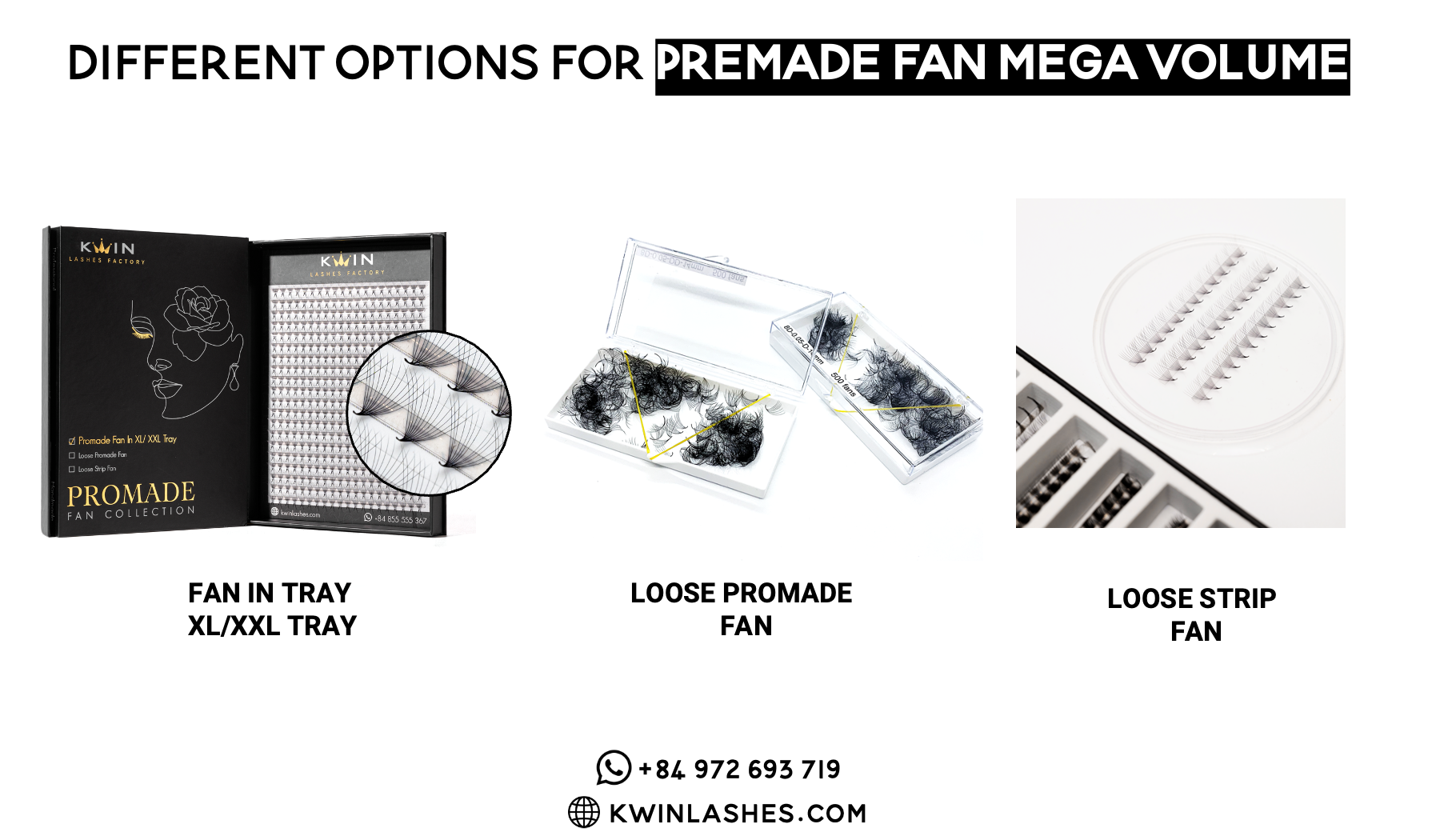 2. How to choose good premade mega volume fan?
It's important to select good premade mega volume fan, especially if you are running a lash supplies brand. With the experience of 13 years in the lash manufacturing industry, we understand that premade mega fan is harder to produce than normal volume premade fan (such as 3D,4D,5D, etc.)
Why premade mega fan is harder to produce than normal premade volume fan?
There are a few reasons for it:
More lashes in a mega fan means it's harder to achieve perfect symmetrical fan shape
It takes more effort and skill to narrow the base of a mega fan than to do so with a normal volume fan
Mega fan is normally made with very light thickness such as 0.05 and 0.03, unlike normal volume fan which is normally in 0.07/0.1 thickness. Due to being very thin and light, the lash 0.05 and 0.03 is easier to bend and break than 0.07 thickness is.
That a manufacturer can produce good 0.07 volume fan doesn't mean they are good at making 0.03/0.05 premade mega volume fan too. For that reason, if you want to stock mega premade fan, you should pay more attention to the quality of the fan and better make a sample order before buying in bulk.
Criteria for good premade mega volume fan
The base of the fans need to be thin and long for easy application and better retention.

The fan should be as symmetrical as possible so that you can have a clean result.

The base must be securely bonded, not easy to break.
3. KWIN LASHES FACTORY – THE BEST PREMADE MEGA VOLUME FAN MANUFACTURERS
"If you want to find a wholesale direct lash factory to buy, then you never can miss Kwin Lashes Factory as the best choice for your lash business"
You need to know that not all Vietnamese factories can make PREMADE MEGA VOLUME FAN with thickness 0.03 because the lash base is very thin and easily clumped in. But at Kwin Lashes Factory, Kwin Lashes' Workers are all high-trained with more than 10 years of experience. Kwin Lashes guarantee that all premade mega volume fans from thickness 0.05 to 0.03 have good quality and are not easily broken.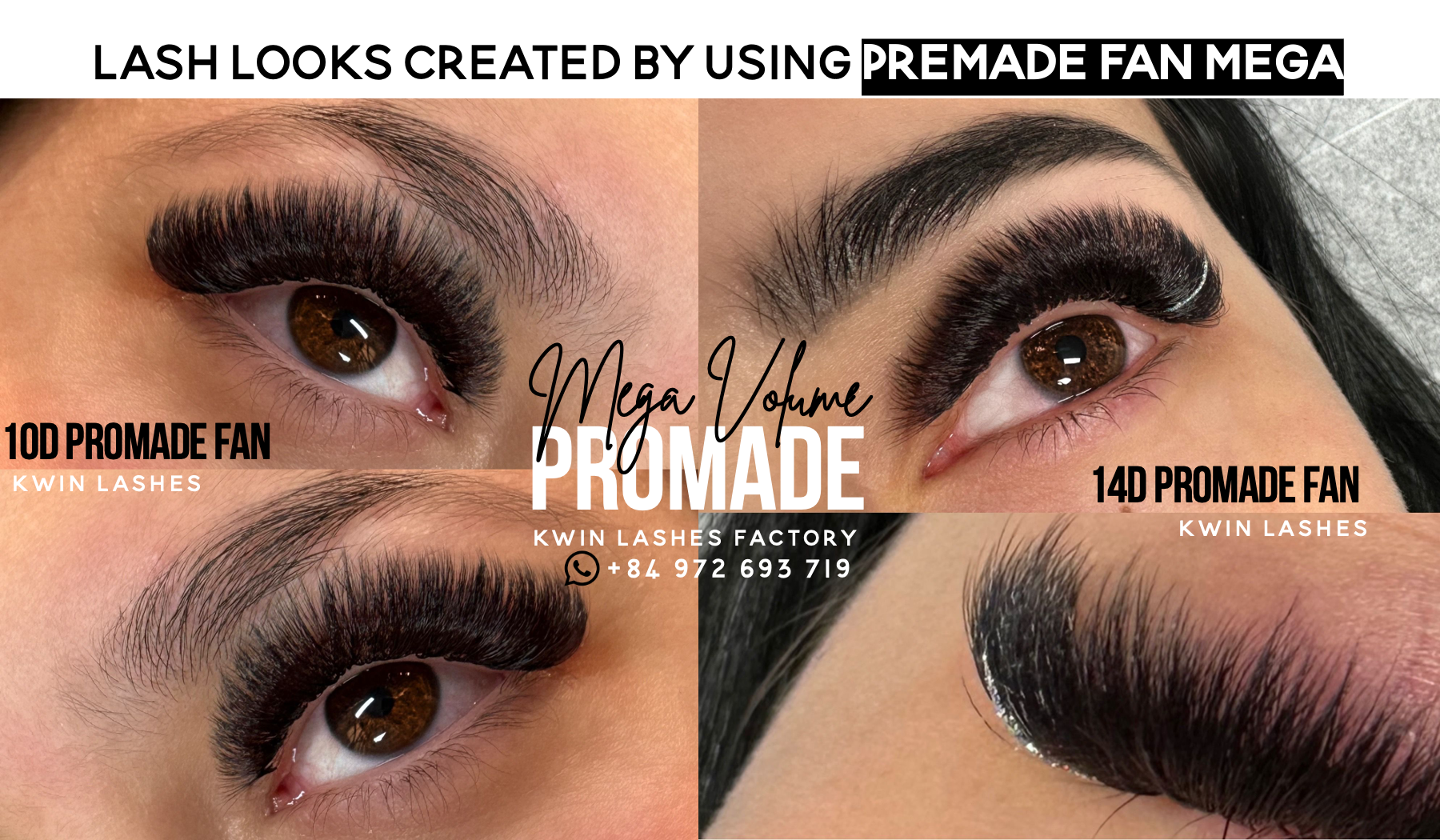 Moreover, Kwin Lashes is direct wholesale premade mega volume fan factory,

not a trading company, that is why Kwin Lashes's price is the best in the eyelash extension market. Best price is also the reason why wholesale eyelash extension sellers from the world choose Kwin Lashes as the main supplier because of

VERY GOOD WHOLESALE DIRECT PRICE.

Now Kwin Lashes Factory is having the best deal for customers who buy orders from 50 boxes above, so if you want to buy wholesale orders from 50 boxes, then you can not miss this chance!
HOT: For now, Kwin Lashes Factory is finding partners as Distributor WorldWide, So if you are interested to become a Kwin Lashes Distributor, please contact Whatsapp us to get to discuss!
Kwin Lash Co., Ltd – Wholesale eyelash supplies
The leading false eyelash manufacturer in Vietnam, a specialist in false eyelashes.
Specialized in processing eyelash extensions, eyelash strips on request from customers.
Skillful worker to manufacture lashes
Working model OEM / ODM – Eyelash private labels.
Founded by a leading specialist in eyelash manufacturing.
Experienced staff, supervised by longtime experts.
How we work:
Quality assurance
Affordable, wholesale price
Professional work
Sample support to check the quality
Global delivery
CONTACT KWIN LASHES MANAGERS FOR THE BEST DEALS, PROMOTIONS, AND FREE BUSINESS ADVICE NOW!!!