Nowaday eyelash extensions have been a trend in the beauty service and are known by more and more people.The eyelashes extension industry incessantly develops and bbecoms popularly. Eyelash extensions will give you an instant long eyelashes without having to take care or wait too long. To have a beautiful eyelash extension, besides the skill of the eyelash extension technician, the eyelash extension products also have a significant impact on your lashes. So when eyelash extensions need what eyelash extension products and how to choose to get the best quality. Therefore this article will be the answer for your question.
What is eyelash extension product?
Before learning about the details of eyelash extension products, we need to know what are eyelash extensions products and why should you choose good quality eyelash extensions products?
1.1. What is eyelashes extension product?
Eyelash extensions products include products that create eyelash extensions and support the eyelash extension technician throughout the process. Eyelash extensions are the process of using eyelash extensions products to create a beautiful new eyelash extension. The technicians will attach the lashes to your natural lashes with glue to make your lashes look longer and thicker.
Some popular and must-have eyelash extension products are:
– Lashes
– Eyelash extension glue
– Tweezers
– Gel pads for eyelash extensions
– Lash glue remover,…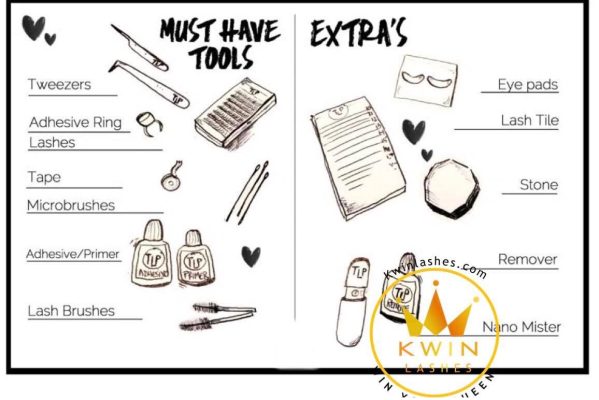 1.2. Why choose eyelash extension product to have good quality?
The quality of eyelash extensions products directly affects the quality of eyelash extensions. Therefore, choosing good quality eyelash extensions is very important. Eyelash extensions have a direct impact on eye health, if the quality of eyelash extensions product is not good, it can cause an allergic reaction to eyelash extensions which is very dangerous for your eyes.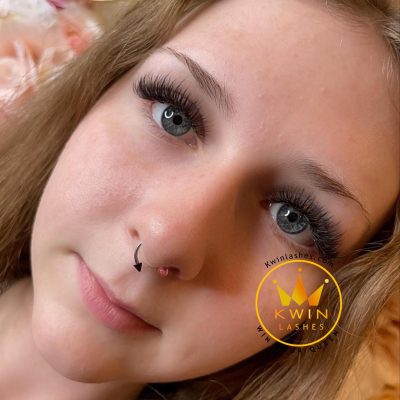 The creation of high-quality eyelash extensions has always been given special attention by professional salons and factories. Eyelash extensions at home are also not recommended. You should go to salons with professional eyelash extensions technicians for advice and eyelash extensions.
Popular eyelash extension products
Therefore to create a beautiful eyelash extension you need to use what eyelash extension products. Following are some popular and important eyelash extension products.
2.1. Lashes
Lashes are undoubtedly the main and most important product during the splicing process. With the difference of materials, curls and lengths, they will be created different effects for your eyelashes extension. The extensions are designed to improve the look of your eyelashes, such as the fullness, length and curl. They can be applied individually or as a whole row. Your eyelashes extensions can last up from four to six weeks to. When selecting the lashes to make for eyelashes of your clients, you should remember these attributes.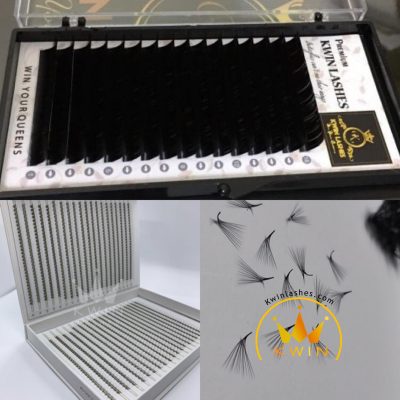 – Material: Choose lashes made from non-irritating materials. Currently PBT is a material used by many factories. PBT is also known as faux mink . The synthetic material also is used, it is cheaper. However, it can destroy your natural lashes. PBT material is softer and more natural to provide a thick, shiny appearance for your eyelash and many people never guess was anything but natural. The real mink lashes use for the silk-stocking as they are sourced from the fur of the mink and it's expensive. However the curls can not keep for a long time due to the soft luster of the lashes and real mink lashes run the risk of irritating a client's skin.
– Curl: With each different curvature, there will be different effects and suitable for different types of eyelashes. So before choosing the type of curl, you must know that the angle natural lash will make a huge impact on the end result of the design. For example, C curl are intended for customers with a slight curl in their natural lashes. L curl is suitable for customer to have hooed eyes, deep-set eyes and droopy eyelids.
– Length: Lashes of your natural eyelash are not the same length. When you are a professional eyelash extension technician, your lash tray must be filled with extensions of varying lengths to recreate a realistic and beautiful look for your customers.
2.2. Eyelash extension glue
Eyelash extension need to perform by professional technicien. Eyelash extension glue  didirely contact with eyelash so always have a sensitive glue in storage. Your client's healthy safety is of utmost priority. Having a client with high sensitivity to fumes and allergic reaction to adhesive is inevitable. It is recommended to use a latex-free glue to deter irritation.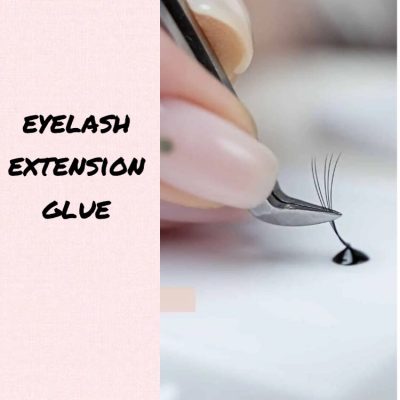 When you apply the eyelash extension glue within a limited time frame, the lashes must be correctly placed onto the natural lashes. Pick a glue that is suitable to your pace. The ideal drying speed of the adhesive is directly proportional to how fast your hands are. If you're a lash novice, pick a glue that allows you to have flexibility to put the lash in place efficiently. If you are professional eyelash extension technician, you can pick a faster drying time.
2.3. Tweezers
Eyelash tweezers extension are designed to support in perfecting the finest details of the lash artistry. In fact, eyelash extension tweezers are one of the few lash extension supplies that you need to use all of the session. So choosing and using professional tweezers is important step of eyelash extension. The tips of lash tweezers are what make professional eyelash extension tweezers because they are used for picking, selecting, separating eyelashes during the eyelash extension process. There are many different types of tips like straight, curved, L shape, and each tip serves a particular function. So you should choose a your lash extensions kit. When you choose eyelash tweezers, you should notice tip, size and tension of them.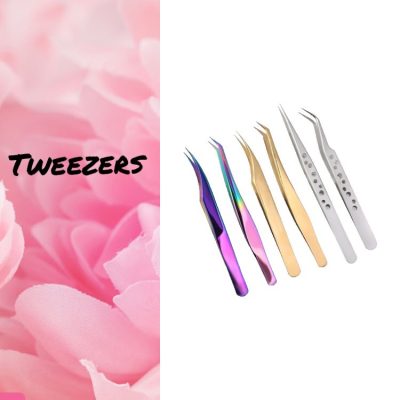 2.4. Disposable
Many products that you use during eyelashes extension process for one time. You need to replenish them permanently. Don't compromise the comfort and quality of these items for you or your client.
Eye pads: They take the shape of the lower eyelid. You need high quality eye pads to protect your client's under-eye area and can separate the upper lashes from the lower lashes. They need to remain stiff and not slide around during process you work on your eyelash of clients.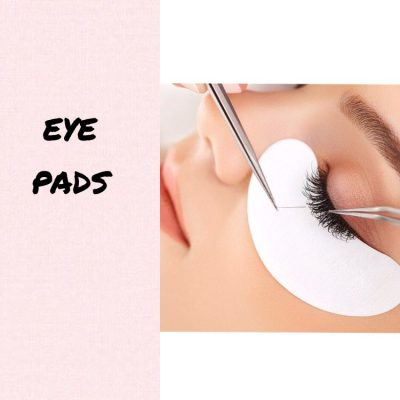 Eye tape: Some eyelash extension technician prefer using eye tape instead of eye pads. However you need to ensure that you are not risking pulling out the bottom lashes.
Lash ring: The lash ring assists in keeping the lashing products (cream, serum, or adhesive) on your hand. If you use the ring, you won't have to turn constantly towards a tray or table to take the lashing essentials.
Headbands: They help you to keep your client's hair from bothering you or your client, you will have to use headbands to keep them in place in eyelash extension process.
Sponges: They keep the lash area clean and are of great help in removing any makeup before you apply for lash extensions.
How to choose the best eyelash extension products
Choosing the good eyelashes extension products supplier company
Currently there are many supplier company to provide eyelash extension products. However not all eyelash extensions products suppliers are the same so those involved in the beauty business must be careful in choosing their lash supplies.
You should choose the famous company to have high quality product about eyelash extension. The company that makes the products you use and the brand listed on the label are important. Some manufacturers of lash extension supplies sell related products like tweezers, lash glue, etc. These products are completely different. Customers always have a lot of questions about your products. If you have a good understanding of the product and are professional when advising, you can easily convince customers. You might have to dig deeper into the manufacturer's product line to unravel some truths.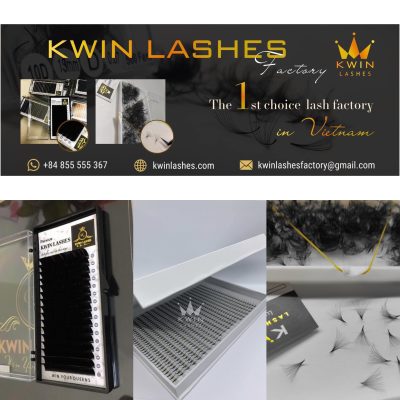 To have a beautiful and safe eyelash extension for a long time, it is necessary to use quality lashes. At Kwin Lashes factory, lashes are made in our factory under a strict inspection system by skilled technicians using high quality Korean PBT material. You would like to know more information about eyelashes, please do not hesitate to let us.
Contact us for more detail about price and good offers.
Intagram: https://instagram.com/kwin_lashes_krystal
Whatsap: wa.me/84364625589
Website: https://kwinlashes.com/