When it comes to eyelash extensions, choosing the right products is crucial for achieving stunning results and ensuring client satisfaction. With a plethora of eyelash extensions products available in the market, it can be overwhelming to determine which ones are the best fit for your needs. In this blog post, we will provide you with a comprehensive guide on how to choose the best eyelash extensions products that will elevate your lash game. So let's dive in!
Before learning about the details of eyelash extension products, we need to know what eyelash extensions products you need to buy.
1. WHAT EYELASH EXTENSIONS PRODUCTS DO I NEED?
Eyelash extensions products encompass a range of essential items used by eyelash extension technicians to create stunning lash enhancements. These products work harmoniously throughout the eyelash extension process, ensuring beautiful and long-lasting results. By skillfully applying these products, technicians attach individual lash extensions to natural lashes, resulting in the appearance of longer and fuller lashes.
There are several must-have eyelash extension products that every technician relies on:
Lashes:

High-quality lash extensions

come in various materials, lengths, and styles. They are meticulously crafted to blend seamlessly with natural lashes, offering options for both natural and dramatic looks.
Eyelash Extension Glue: Specially formulated adhesive is used to securely bond the lash extensions to the natural lashes. The glue should have a strong and durable hold, ensuring the extensions stay in place throughout the lash cycle.
Tweezers: Precision tweezers are indispensable tools for lash technicians. They enable the careful handling and precise placement of individual lash extensions during the application process.
Gel Pads for Eyelash Extensions: Gel pads are placed under the lower lashes to protect the delicate skin during the application. They also help to keep the lower lashes separated from the upper lashes, facilitating a smooth and efficient process. You need high quality eye pads to protect your client's under-eye area and can separate the upper lashes from the lower lashes.
Lash Glue Remover: Lash glue remover is used to safely dissolve and remove lash extensions when maintenance or removal is required. It should be gentle on natural lashes while effectively dissolving the adhesive bond.
Lash Cleanser: A lash cleanser is used to maintain lash hygiene and remove debris, oils, and makeup residue from the lashes. Regular cleansing helps to extend the lifespan of lash extensions and promotes overall lash health.
Application Tools: Additional tools such as lash brushes, micro brushes, and adhesive rings are essential for precise application and maintenance of lash extensions.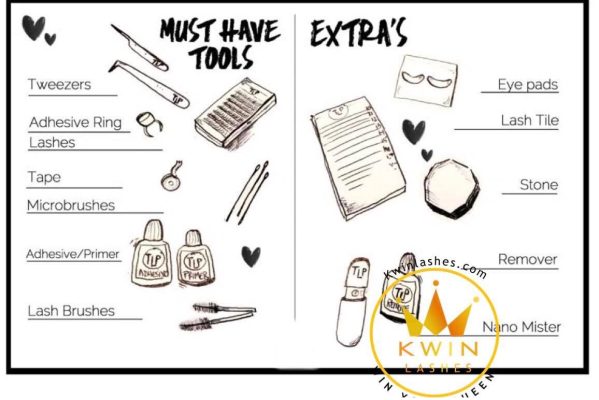 2. FACTORS TO CONSIDER WHEN CHOOSING EYELASH EXTENSIONS PRODUCTS
2.1. QUALITY IS KEY
When selecting eyelash extensions products, prioritize quality above all else. Look for reputable brands that are known for their high-quality products. Quality lashes are made from premium materials that are lightweight, soft, and comfortable to wear. They should also be durable and able to maintain their shape and curl over time. Our recommended material is Korean PBT Fiber.
👉Read more: Korean PBT Lashes: Best Material For False Eyelashes
2.2. CONSIDER LASH TYPES
Different clients have different preferences and needs when it comes to lash types. Choose eyelash extensions products that offer a variety of lash types, such as classic, volume, or hybrid lashes. This ensures that you can cater to a wide range of client demands and create customized lash sets.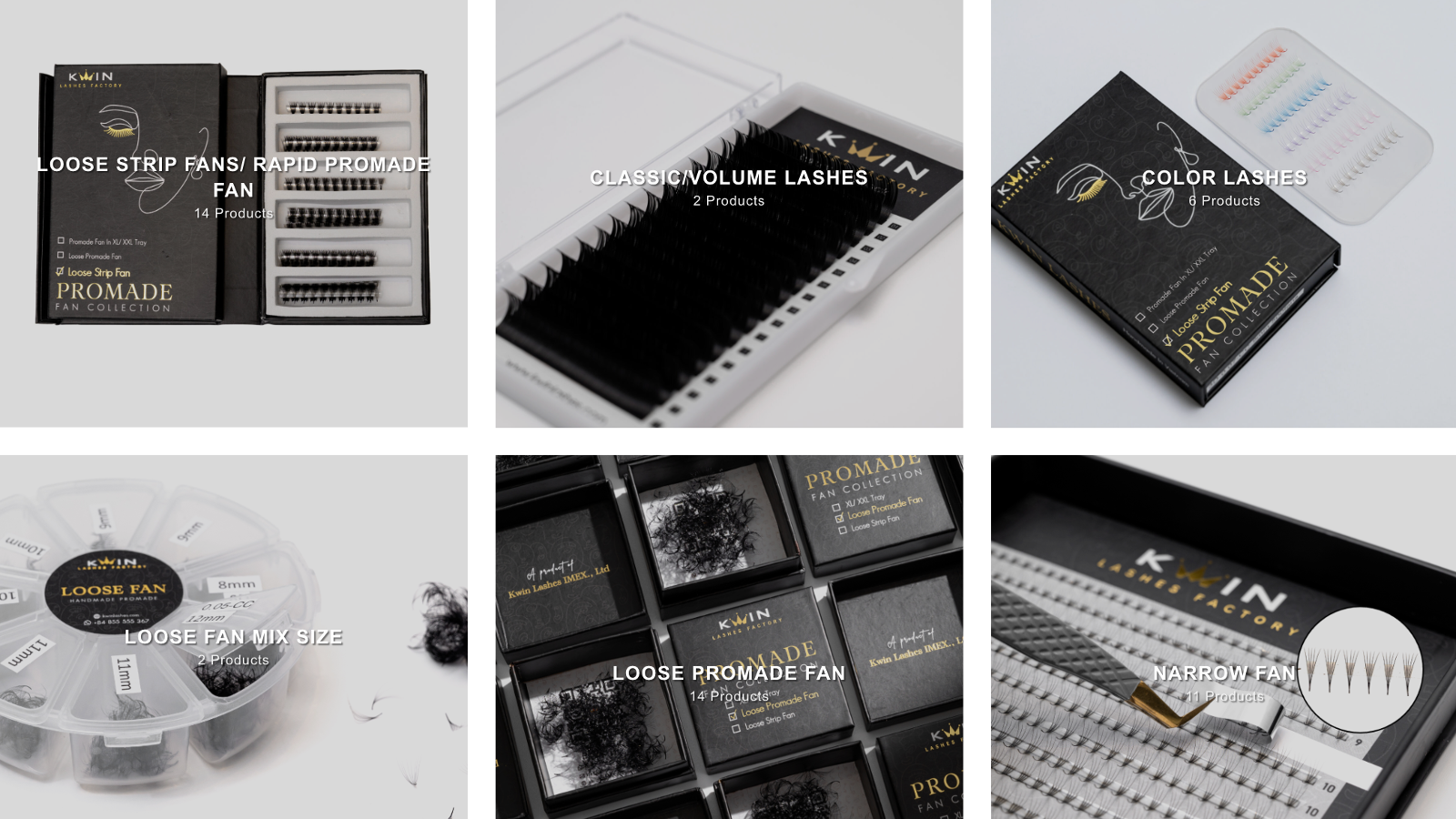 2.3. ADHESIVE MATTERS
The adhesive used in eyelash extensions plays a crucial role in their longevity and retention. Opt for a reliable adhesive that offers a strong bond, dries quickly, and has a good retention rate. Look for adhesives that are specifically formulated for lash extensions and have been tested for safety.
2.3.
SAFETY AND HYPOALLERGENIC FORMULAS
Ensure that the eyelash extensions products you choose are hypoallergenic and safe for your clients. Check for products that are latex-free and have been tested for sensitivity. This is especially important for clients with sensitive eyes or those prone to allergies.
👉Read More: All Knowledge About Eyelash Extensions Allergies You Never Know
2.4. REVIEWS & RECOMMENDATIONS
Read customer reviews and seek recommendations from experienced lash artists. Their insights can provide valuable guidance on which eyelash extensions products are reliable and deliver exceptional results. Consider joining lash artist communities or forums to connect with professionals who can share their experiences and recommendations.
You should also choose a vendor who has many good feedbacks to buy from.

2.5. TRAINING AND SUPPORT
Choose a brand that offers comprehensive training and ongoing support for lash artists. Look for companies that provide educational resources, tutorials, and guidance to help you master your lash techniques and stay updated with industry trends.
KWIN LASHES – THE BEST WHOLESALE FACTORY FOR EYELASH EXTENSIONS PRODUCTS
Kwin Lashes Factory, a comprehensive OEM manufacturer, specializes in providing exceptional eyelash extensions products such as volume/classic lash, promade fan lash, color lash, wispy lash. With over a decade of experience in the lash industry, Kwin Lashes deeply understands the challenges faced by customers and strives to offer the finest products and services.
"We don't sell eyelashes, we sell solutions."
Adhering to the philosophy of selling solutions rather than mere products, the Kwin Lashes Team is dedicated to not only producing high-quality Promade fans but also delivering outstanding private label solutions to lash business owners. Trusted by renowned cosmetic companies, Kwin Lashes Factory stands out not only for its excellent quality but also for its professional OEM service. With complimentary packaging design service and low minimum quantity requirements for private label, Kwin Lashes becomes the ideal partner for emerging lash supply brands. Our team consistently generates fresh ideas for lashes and packaging.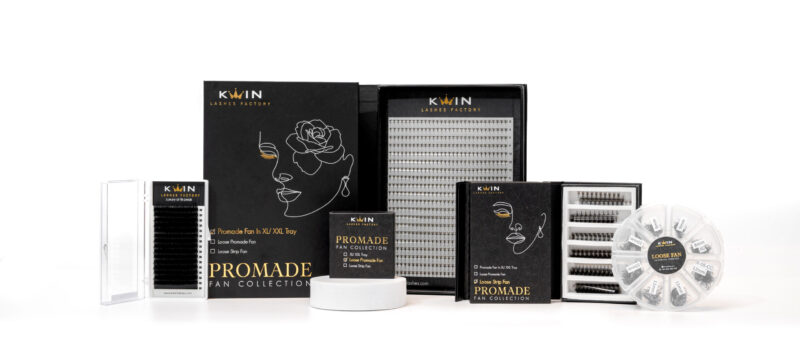 If you already own a lash brand, let us elevate your business with our top-notch products and efficient service. Take the next step today by reaching out to us via the contact information provided below!
CONTACT INFORMATION:
Whatsapp: +84 855 555 367
Instagram: @kwin_lashes_premade 
Website: kwinlashes.com