Are lash extension allergies dangerous? What are the symptoms? As a professional lash artist, it is crucial to know proper knowledge and procedures to deal with these issues because your clients will come to you looking for advice and eyelash extension services. Here, Kwin lashes will answer your questions about lash extension allergies, how they react and how to prevent them from developing.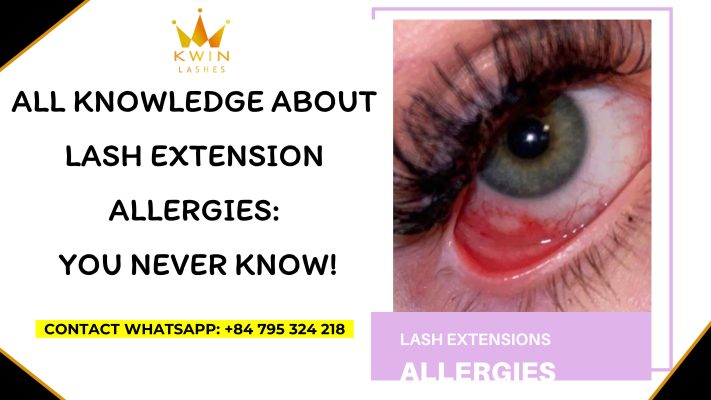 1. Basic knowledge about lash extension allergies.
Let's find out some useful knowledge about lash extension allergies
1.1. What are lash extension allergies?
Lash extension allergies are hypersensitive responses of the immune system to an allergen. These hypersensitive responses (allergies) can cause a variety of adverse reactions. Especially, lash clients may be allergic to the adhesive itself or ingredients in the adhesive. Although a client's allergy to carbon black or another cyanoacrylate is possible, it is highly uncommon.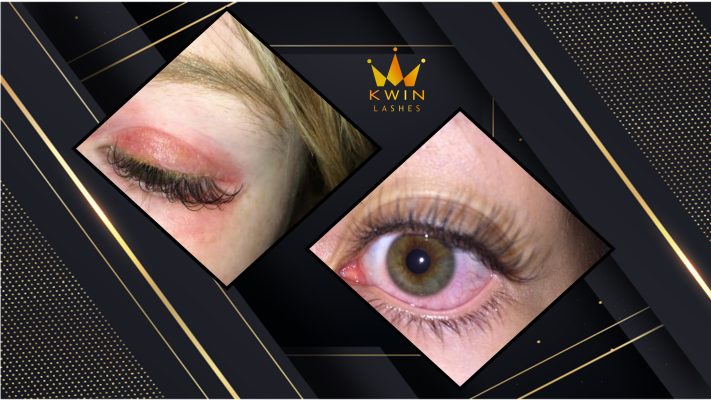 1.2. Reaction to lash extension allergies
Lash extension allergies symptoms are similar to other contact allergies, so don't misunderstand. Symptoms can show up within the first 3 days (72 hours) of completion of a lash service. Below is 2 kinds of reaction when you have allergic to lash extension.
1.2.1.Lash extension allergies reaction in the eyelids
A person with an allergic reaction in the eyelids may experience: tearing, irritation, redness, itchiness, swelling. Blepharitis is another infection that is common in clients who don't practice proper hygiene and aftercare. This condition is caused by an overgrowth of bacteria in the lash line and is characterized by visible crusties throughout the lash line, redness, itchiness, and a gritty feeling, like sand in the eye, when blinking.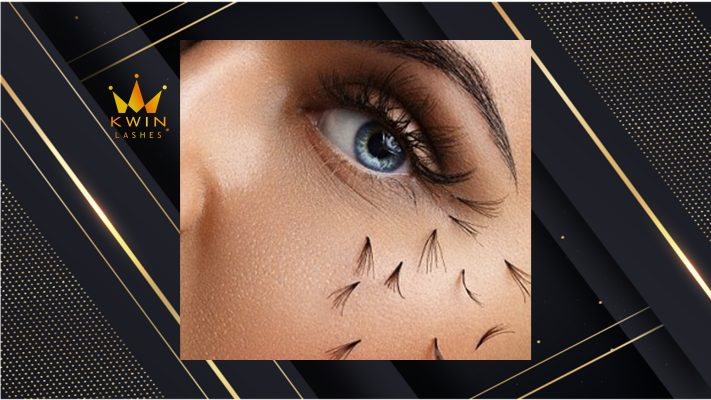 1.2.2. Lash extension allergies reaction in the eyes
Allergic reactions in the eyes can manifest themselves in a variety of ways, such as redness, irritation, itchiness, watery eyes.
The allergic reaction can develop right after you apply it, or it can take anything from a few hours to a few days. An allergic reaction might occur as a result of direct contact with the glue or as a result of the glue's fumes
2. Cause to lash extension allergies
While you never make sure 100% what kind of allergy you are encountering without further investigation, 3 main culprits cause clients to undergo lash extension allergies.
2.1. Latex is a reason to lash extension allergies
Quite often, the clients will be difficult to aware that they have a sensitivity to latex. This is because it commonly develops over time as a result of repeated exposure to the material. Latex is one of the main lash extension allergies culprits. 
Fortunately, if you have a latex allergy, you can still get lash extensions because there is a latex-free glue available on the market
However, do remember to tell your clients that latex-free glue will reduce the lifespan of lash extensions by about a week.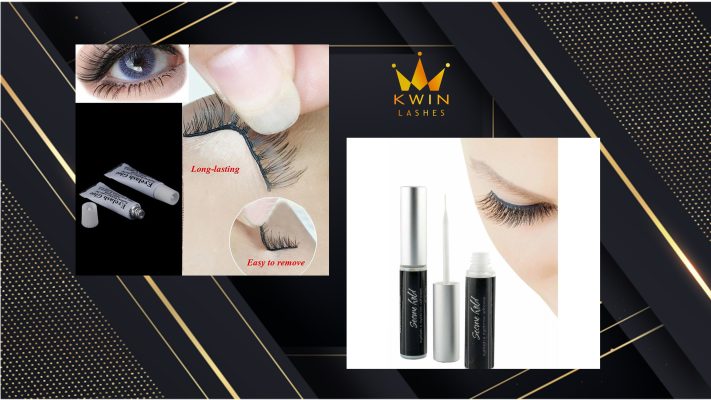 2.2. Carbon black is at the root of lash extension allergies
Carbon black is the pigment in black lash glue, which makes it so dark.
Even though the black adhesive is great for blending the lash extensions into the natural lash line, some people are allergic to carbon black and will need to have their lashes applied with clear glue instead. Lash extension glue for allergies are quite dangerous. 
Clear glue takes longer to dry and only lasts around five weeks, but it's necessary for delicate eyes.
2.3. Cyanoacrylate adhesive causes lash extension allergies
The key element in the lash adhesive is cyanoacrylate, which ensures that eyelash extensions endure as long as possible. Because there is no substitute for cyanoacrylate, people with a cyanoacrylate allergy are unable to utilize eyelash extensions.
Fortunately, cyanoacrylate allergies are uncommon, affecting just approximately 1% of the population, according to the FDA.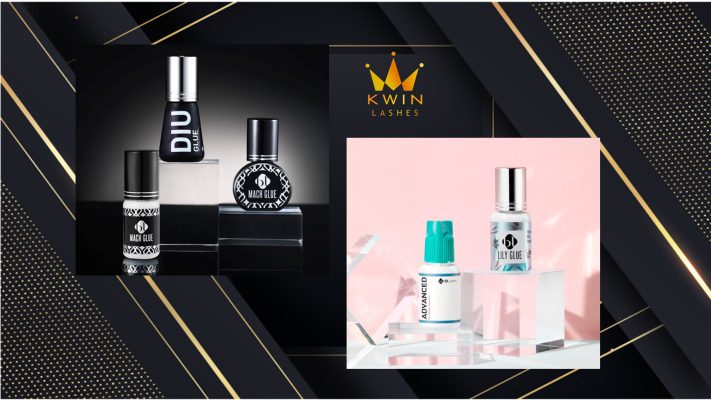 2.4. Quality of lashes
The lashes you bought from vendors are very important. If the material is not safe and secure, your lash extensions can be damaged and cause lash extension allergies such as redness, itchiness, and a gritty feeling. Be noted that lashes that are made from PBT material are robust and have a natural glossy sheen. Moreover, they keep their curls better. When you buy the lashes, you need to ask the seller about the quality and material of the lashes
But how do you know whether or not lash companies use PBT material? Kwin lashes will reveal some tips for you. You can ask this lashes supplier what materials they often make a lashes tray and show a clear picture or video when they manufacture these lashes.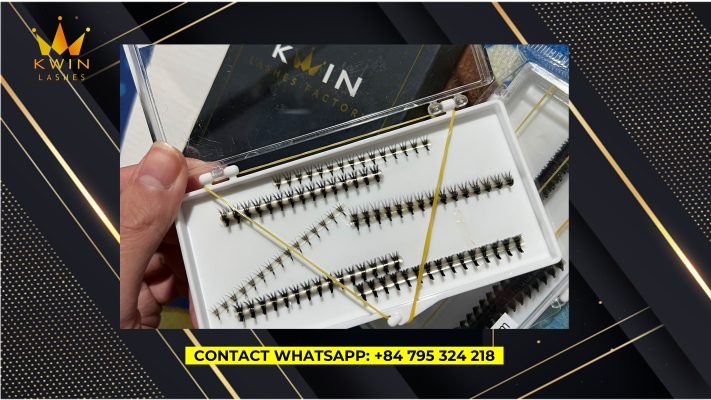 Read more:
3. How to prevent lash extension allergies from developing
Start with a little amount of glue when applying for the extensions, If necessary, you can always add more. Make sure you're not getting too close to the lash line with each lash; a distance of at least 1 mm is a decent rule of thumb.

Always consult your clients before the appointment: The health state of the lash client is one of the primary causes of adhesive allergy that many professionals miss. If the client's immune system is weak, she is more likely than most people to get infections more frequently and severely. A weakened immune system can be caused by a variety of factors, including disease, stress, alcohol, smoking, or poor diet. As a result, before the appointment, speak with your client thoroughly about her health state, including any noticeable illness, medication, stress, and changes in sleep pattern, and make sure to advise her of the risk of allergy development, which is dependent on her condition.

Review proper aftercare practices with your client, including the use of the proper lash wash and brushes, as well as proper brushing techniques to keep extensions detangled and fluffy. Cleaning your lashes will not only help you avoid an allergic reaction but will also help you maintain healthy eyes and lashes in the long run.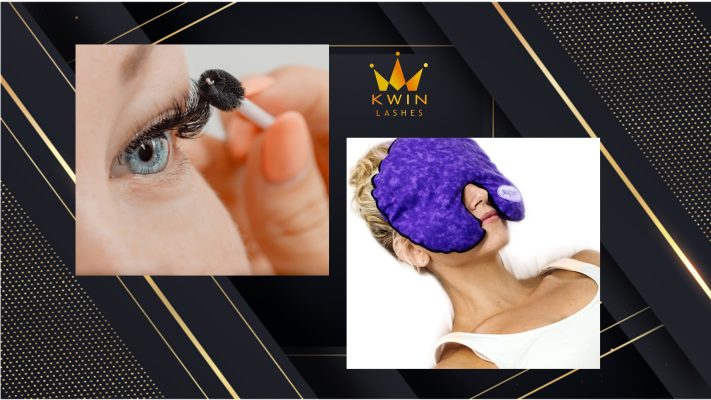 4. Kwin lashes – where to buy lashes that help you to guarantee the quality and keep your lash longer.
Kwin Lashes which are located in VietNam guarantees to provide you with high-quality false eyelashes made from the best PBT synthetic materials. Not only do we provide excellent products, but we also offer lower prices than other factories because we have our own production facilities staffed by lash manufacturing experts. The lashes allow you to enter the water and prevent you and your clients from lash extension allergies.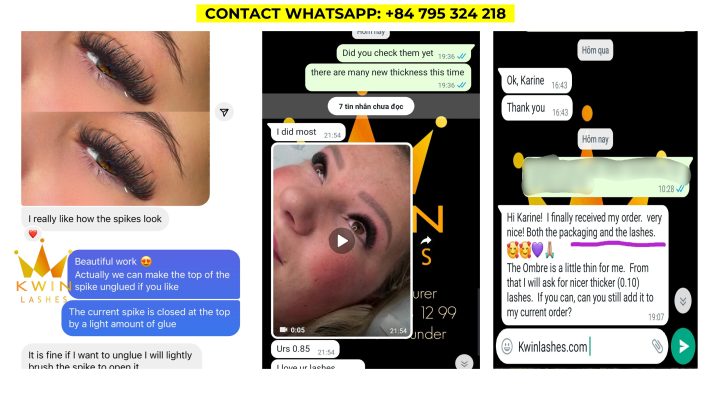 CONTACT MS. SUNNY – SALE MANAGERS FOR THE BEST DEALS, PROMOTION AND FREE BUSINESS ADVICE NOW!