Do you like  buying loose fan lashes because the price is more competitive, but you find them difficult to use? Do you prefer premade fans in lines because they are easier to use but  you are concerned about international shipping costs? Rapid premade lashes will be the best choice for you to solve the above problems. Kwin lashes is honored to be the trend leader with the launch of this product. We believe that rapid premade lashes are one of the hottest keywords right now. If you have never heard and used rapid premade lashes, this article is for you. In this article, I will help you understand best about rapid premade lashes and how to trade it most effectively.
1. All information about rapid premade lashes
In this section, I will gather all of the fundamental information about rapid premade lashes for you.
1.1.What are rapid premade lashes?
Rapid premade lashes which are made by PBT material directly exported from Korea become the market leader in worldwide lashes. With the same quality, the base and the thickness, but rapid premade lashes mix the merits between loose fan and fan in lines. Therefore, rapid premade lashes have a lot of advantages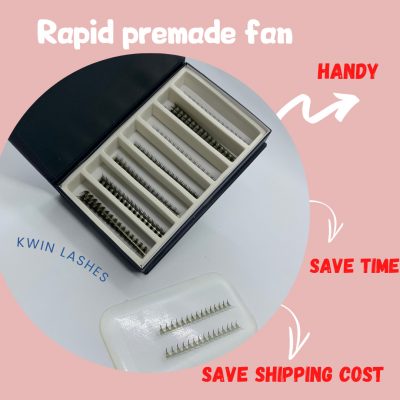 1.2. Characteristics of rapid premade lashes
Rapid premade lashes  are said to be a special lashes tray item, and be monopoly in Kwin Lashes, so they have the following characteristics: 
Handy and convenient: Rapid premade has a new design

that can contain 1000-2000 fans, making it convenient to transport and handy every time we use it.

Outweigh of rapid premade lashes
Lower Shipping cost and user-friendly: Specially designed to be as small as your hand, our speedy promade tray can hold 1000-2000 fans, yet handy. It's only 70g (compared to XL tray 200g ).

– To lash artist: More convenient, enable space efficiency

– To lash wholesaler/lash supplier: Cut down on 1/3 the cost for international shipping (which is always expensive!) ~ Higher profit margin

No need to sort out fans like loose fan as the fans is already aligned on the strip.
2. Rapid premade lashes and other types of lashes comparison.
2.1. Rapid premade lashes compared to loose fan
Rapid premade lashes 

Loose fan lashes 

Features

Each fan is sorted in lines by heat-bonded. This makes easier to pick up fans when eyelash extensions

However, you need to use silicon pads to keep fan in lines fixed

The price of loose fan lashes is competitive

than other lashes because manufacturer process is simple

However, fans are mixed in the boxes. To lash artists beginner, it wastes a lot of time to pick up lash and eyelash extensions

Shipping 

Because fans are still arranged in lines, fans maybe limitedly bunch and are damaged  

The weight of the loose fan package is light and saves shipping costs . However, during transportation, fan is damaged and close up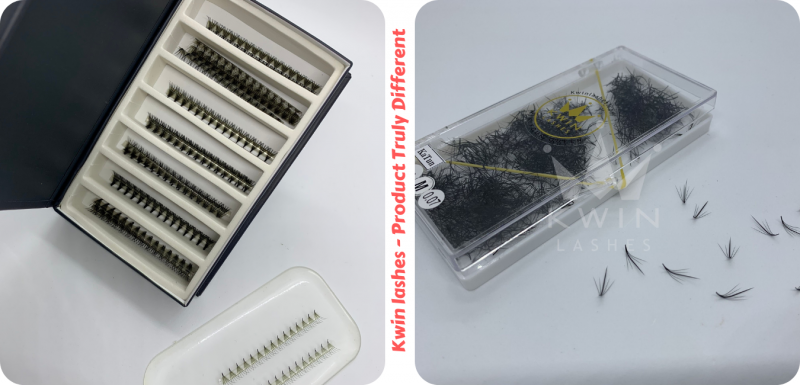 2.2. Rapid premade lashes compared to fan in lines
Rapid premade lashes

Fan in lines

Features

Fan  is still arranged in lines, but  it is placed in each container and can consists 1000 – 2000 lines 

All lashes in fan in lines is sharp and 100% high standard  

Each lines is stuck fixed in each trays and tray need to big size

Shipping

Rapid premade lashes are lighter ⅓ than fan in lines. This helps to save shipping cost remarkably than fan in lines  and increase profit margin. 

The only disadvantage of having a fan in line is the extra weight. As a result, shipping prices rise.
Both fan in lines, loose fan lashes and rapid premade lashes also have advantages and disadvantages. However, Rapid premade lashes are clearly a blend of the advantages of loose fan and fan in lines.  To satisfy and help customers, rapid premade lashes will be the best choice for all vendors and businesses to increase profit margin, save shipping cost and no more hours sorting out loose fans. So there's no reason why we shouldn't adopt this new product line as a new money-saving tool that's also easy to use.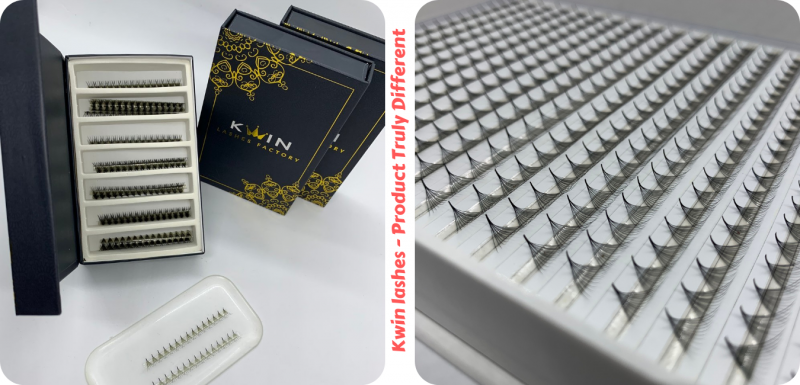 3. Review of customers when using rapid premade lashes
Before launching this product officially, a lot of my customers used it and sent a lot of good feedback after using rapid premade lashes. 
Customer feedback can turn a small company into a big company in a short time and vice versa. And our company is the first case. Read our customer reviews below. If you do not believe, you can purchase our samples and feel! We never let our customers down.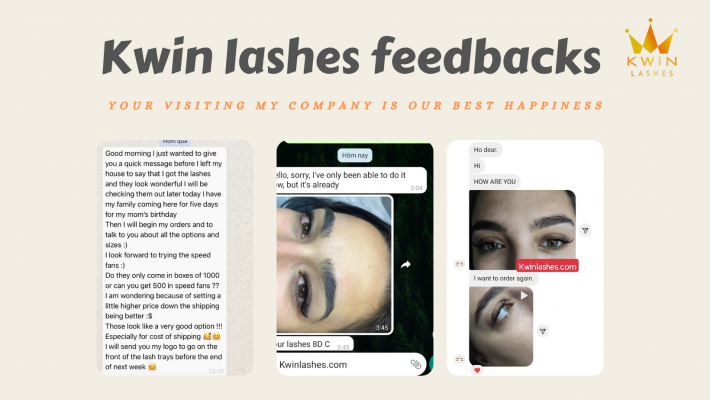 The first customer said: " The lashes look wonderful. Those look like very good options, especially for costs of shipping  " and she could resell rapid premade lashes quickly after receiving our product
The second customer said: "I want to order again and the picture is very sharp" 
The third customer loves lashes as much as "I super love it and the lashes are super dark and curl ". That sounds surprised when she saw my lashes for the first time.
And, we have such a lot of good reviews like that but we can not show all of them in this article. 
If you want to see more, you can contact me – Ms. Sunny Sales Manager at Kwin lashes:
Whatsapp number: +84942967054
4. Why you should choose Kwin lashes to buy rapid premade lashes
Founded in 2010, Kwin lashes is now one of the longest standing manufacturers of false lash extensions in Vietnam.  We export to a lot of customers in the world  and now we are a partner of  many big customers/ vendors worldwide such as Australia, UK, US,.. Kwin lashes, as a pioneer in the lash industry VietNam, always ensures that we have extensive experience and a high level of expertise in the false lash selling field. We are confident that you will be completely satisfied with our products and services.
4.1. Kwin lashes is pioneer for making rapid premade lashes
With millions of satisfied customers worldwide, Kwin Lashes guarantees to provide you with high-quality false eyelashes made from the best PBT synthetic materials. Not only do we provide excellent products, but we also offer lower prices than other factories because we have our own production facilities staffed by lash manufacturing experts.
Kwin lashes are confident to be the trend market with the new product – rapid premade lashes. All my products are made with 100% materials imported directly from Korea to create a stunning blackness and curve, providing a natural sensation while yet appealing. The durability of PBT material is the primary focus, making eyelash extensions far more robust than those manufactured of other materials. 
Rapid premade lashes are controlled about the quality and guarantee 100% high standard. All lashes are sharp pointy base and satisfy your demands.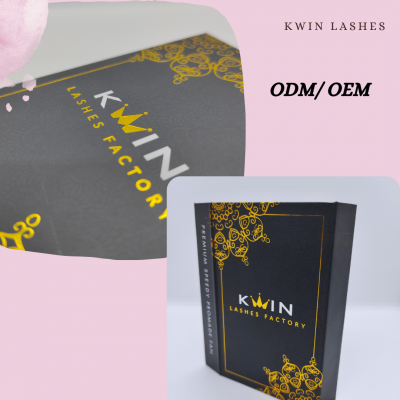 Read more:
4.2. Kwin lashes provide perfect  OEM/ODM services for rapid premade lashes
In VietNam, Kwin lashes are known as the best company to do OEM/ODM service in the lashes market. With Kwin Lashes , we are not just a manufacturer, we are your partners. We not only supply premium lashes but also support you in branding. We will take you to the pinnacle of success in this lashes industry.  
Besides, our factory especially offers OEM service for our wholesaler customers. We support customers free designing for all customers who use our OEM services. Just send your logo and request, our designer team will do the rest. 
Kwin Lashes with the high-skill designer will help you to design a beautiful and luxurious tray. If you have any other special requests, don't worry. Kwin lashes can be customized for you. Please contact us to get the best support from our sales staff. 
CONTACT MS. SUNNY – SALE MANAGERS FOR THE BEST DEALS, PROMOTION AND FREE BUSINESS ADVICE NOW!

Kwin lashes is the biggest suppliers in Viet Nam

WhatsApp: +84 942 967 054 (Ms. Sunny)

Instagram: kwin_lashes_ms_sunny

Gmail: sunny.kwinlashes@gmail.com
Let Kwin Lashes give you the most high-quality and attractive eyelash extensions. If you have any questions, do not hesitate to contact our company immediately with the information below.