On the lash market today, volume eyelash extensions with a private label are the most popular lashes. However, not every country in the lash industry can produce high-quality volume eyelashes extensions with a private label. Therefore, in this article, I will help you understand best about Volume eyelash extensions and where to buy them with a private table effectively.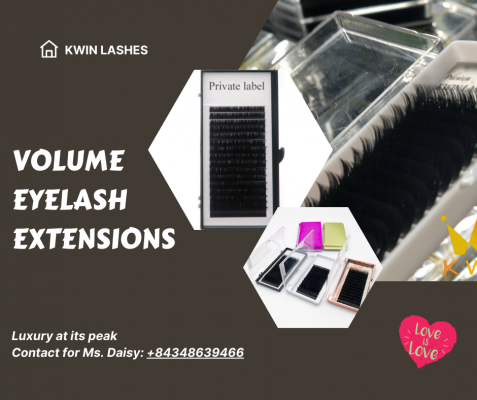 1. What are volume eyelash extensions with a private label?
In this part, I will provide full information about volume eyelash extensions with a private label for you.
1.1. Definition of volume eyelash extensions and private label
Volume eyelash extensions are lashes that have  0.07 thickness and under. This is considered thin enough for safe volume lashes. However, that depends on your client's natural lash health. They are super fine extensions made into fans. 
Private label products are goods created by one company to be sold and branded by another company. Volume eyelash extensions with a private label became the most popular lashes in Vietnam.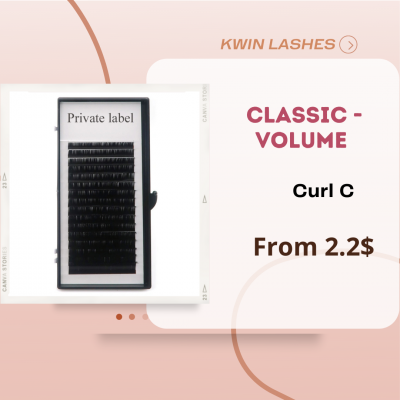 1.2.  Characteristics of volume eyelash extensions
Volume eyelash extensions with private labels are said to be special lashes, so they have the following characteristics
1.2.1. What Size Lashes Do You Use For Volume?

Almost the diameter of the volume lashes ranges from 0.05mm to 0.07mm. The length and thickness of your natural lashes will depend on the size you and your lash stylist choose.
For example, 0.07mm extensions with 3 lashes in a fan (3D lashes) are most frequently used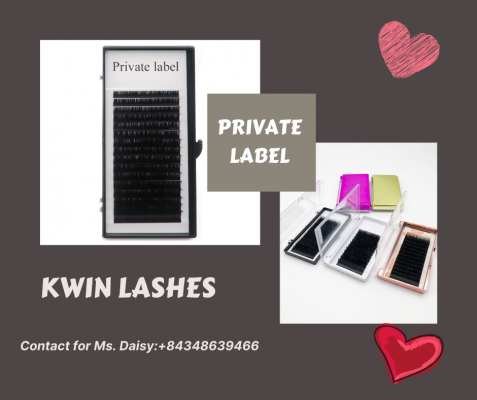 1.2.2. How Many Fans Do You Need For Volume Lashes?
Volume lashes are synthetic eyelash extensions that are shaped into a fan and applied to your natural lashes. Each eye has between 90 and 150 natural lashes, depending on the person.

On average, to achieve natural lashes with 3D lashes, 40 fans per eye will be ok. And for a glamorous look +85 fans per eye will be required.
2. What are the differences between volume lashes and classic lashes?
Classic lashes are lash that has a thickness from 0,1 and up
The difference between these is the weight of the extensions. Classic lashes look more natural and lighter than volume lashes. Depending on the look your client is going for, you can choose whether they want Classic or Volume style.


Biggest differences between classic and volume eyelash extensions
3. Why should you choose Kwin Lash to buy?
As I said before, the Kwin lashes manufacturer has some outstanding advantages over other manufacturers.
3.1. Problems that customers faced
During chatting and consulting with my customers, I realize that many customers faced some problems below:
Hard to make a fan

Many uneven lengths: it's really hard to make 

Blue/ Purple hue: black lashes are the best idea for all customers. 

Gap: volume eyelash extensions can have many gaps and this makes lashes worse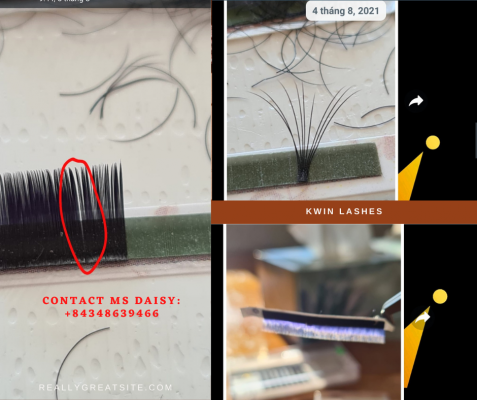 Read more on:
– VOLUME LASH EXTENSIONS
– HYBRID EYELASH EXTENSIONS 
3.2. Kwin Lashes – the best choice for buying volume eyelash extensions
Understanding the demands and pain points of our customers, Kwin Lash is one of the leading manufacturers to produce volume eyelash extensions for many reasons:
Material:

T

he lashes are made of Korean black PBT makes the easy fan lashes ultra-soft and light, no-harmless to human skins or eyes. Perfect for professional, makeup salon and etc.

Easy Fan Lashes:

not premade fans, special production craft that make you can do fans from 2D to 10D easily without any professional skilled technology, even as a beginning lash artist.

Private label:

We will offer premium trays for you and helps you with designing labels. We have many years of experience in making ODM/ OEM service and all customer's information is kept secret. 
Customer feedback is evidence that our company is one of the leading manufacturers in Vietnam about volume eyelash extensions with private labels. Read our customer reviews below. If you do not believe it, you can purchase our samples and feel! We never disappoint our customers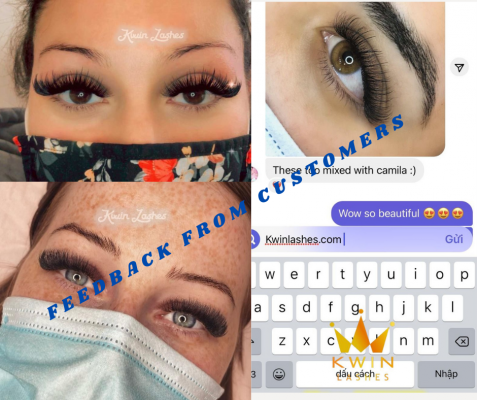 The first person said that: " These fans are amazing and I'm so excited. I would like to place an order" 
The second customer sent a picture as feedback for us.
….Many customers gave feedback for us that we can't show all in this article. If you want to see more, please contact us Whatsapp:  +84 972693719 (Ms. Daisy)
Kwin Lash Co., Ltd – Wholesale eyelash supplies
The leading false eyelash manufacturer in Vietnam, a specialist in false eyelashes.

Specialized in processing eyelash extensions, eyelash strips on request from customers.

Working model OEM / ODM –

Eyelash private labels.

Founded by a leading specialist in eyelash manufacturing.

Experienced staff, supervised by longtime experts.
How we work:
Quality assurance

Affordable, wholesale price

Commitment to completion time

Professional work

Sample support to check the quality

Global delivery

Diverse payment methods
CONTACT VIETNAM LASH MANAGERS FOR THE BEST DEALS, PROMOTIONS, AND FREE BUSINESS ADVICE NOW!!!
WhatsApp: +84348639466 (Ms. Daisy)
Instagram: kwin_lashes_daisy