You are a lash wholesaler, a lash retailer, or a lash reseller! And you are in pain searching for high-quality lash for your business? Are you buying from China but now China is always out of stock because of the border embargo imposed by North Korea? Then this article is definitely for you! In this article, Daisy Expert (from Kwin Lashes) is willing to share with you all about Vietnam eyelashes extension and how to import eyelash extensions from reliable and trustworthy factories!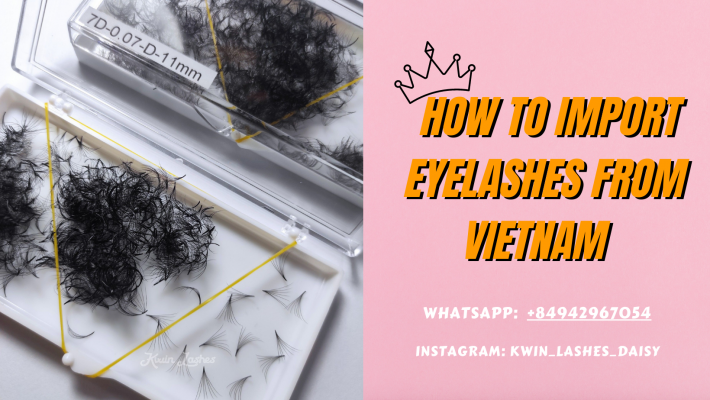 1. Why is Vietnam a potential supply market to import eyelashes extension from Vietnam?

In recent years, the eyelashes extension industry has become a piece of cake all over the world. Besides, there are also long-standing businesses such as Kwin Lashes, which has provided a large number of eyelashes to developed countries desiring to import eyelashes extension from Vietnam.
1.1. Data of importing eyelashes extension from Vietnam in recent years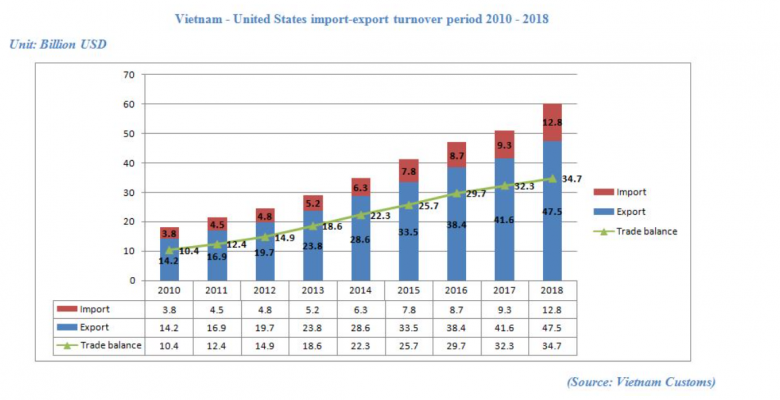 According to the statistics of eyelashes extension imported from Vietnam, the number of nations importing eyelashes from Vietnam has dramatically expanded in recent years. The importers include not only big companies but also small salons. As you can see, Vietnam's eyelash industry is building a reputation in the import market. Also, Vietnam has become a trusted name for all domestic customers as well as international customers.
1.2. What types do they prefer when people import eyelashes from Vietnam?
In Vietnam, there are usually 2 main types of eyelashes: pair of eyelashes (pair of false eyelashes attached to the eyes) and eyelash extensions (lash extension). In general, eyelash extensions are preferred when importing eyelashes from Vietnam. 
There are two types of lash extensions that are commonly used. 
Individual fanning lashes, a long strip of eyelashes used to make pomade fans and pro-made fans, are frequently used in salons to attach directly to a client's eyelash.

Fan lashes

are very popular in importing countries, known as fans. There are two types of fan lashes: pre-made and pro-made. Both are manufactured by hand – made 100% with workers who have received extensive training.
1.3. Outstanding characteristics of Vietnam's eyelashes
Buying and choosing high-quality eyelashes is extremely important. 
Quality:

Vietnam's eyelashes extensions are manufactured and checked carefully before delivering. Moreover, manufacturing skill is high so Vietnam's eyelashes extension will catch glue and open beautifully

Price: Our price list is wholesale price.

For customers who only import eyelashes extension in small quantities, we will apply the retail price available and have the most suitable delivery. Furthermore, with large wholesales, we will make private labels according to your order and will make you satisfied the most. 

Shipping methods: We have a variety of shipping methods that are proper for specific customers. With customers that import eyelashes extension samples, we will have Cargo/ DHL Savers,… Besides, with wholesale, we will give advice to them.
2. Step by step to import eyelashes extension from Vietnam
During the consultation process, we heard a lot of stories about my client being crammed when importing Vietnam eyelashes extension. They said that: " They were forced to pay money fast and not to be paid by Paypal). So, from our experience we have some specific experiences below:
2.1. Define a trustworthy eyelashes extension manufacture
2.1.1. Verified Brand Name
A reliable eyelashes factory to import Vietnamese eyelashes extension must have a well-verified brand name. The brand name is the most simple way to tell the vendors to import eyelashes extension from VietNam apart. With trusted vendors, you can see all images and videos uploaded on social media have a trademark, watermark, logo label tag to authorize the products. Meanwhile, with lashes vendors havi

ng unverified brand names or no logo on products,

They have the ability to scam.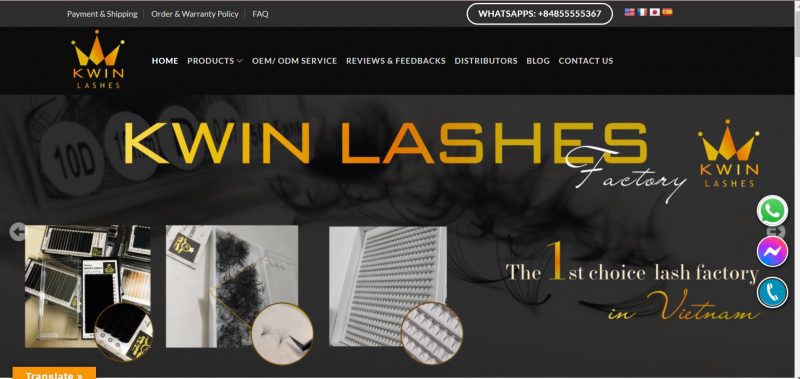 2.1.2.  Virtual Proofs
A lashes vendor for importing Vietnam is considered reliable if it is available on multiple trusted social networking platforms such as Facebook, Twitter, Instagram, Amazon, Alibaba, etc. This wide coverage shows how reliable the company is and also its scale. A reliable and large-scale lash vendor is proudly appearing on all social client platforms, with verified brand names and photos to work with their potential customers.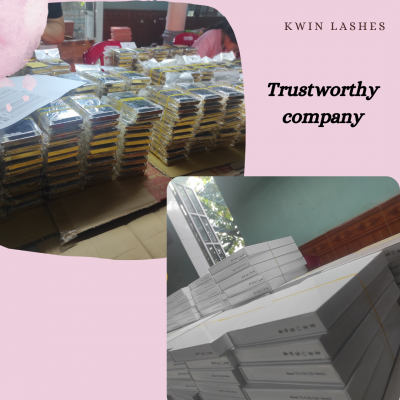 KWIN FACTORY IS KNOWN AS THE BEST SUPPLIER IN THE LASH MARKET!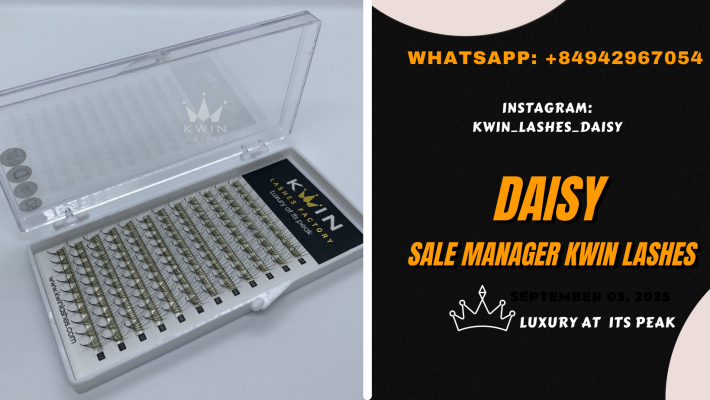 Quality: 100% Natural, ???% ????????? ?? ????, heat- bonded 
The lashes are manufactured by hand and used PBT material. All our products are pointy base, not square base 
Market: salons, retailers, wholesalers, and other factories worldwide
70% customers are Australia, USA, Russian

Ecuador, England,……
Contact: Dealing wholesale through Whatsapp, Instagram Chat.
2.2. To import eyelashes extension – Prove the quality
One of the most effective ways to do this is that you should request pictures as many as possible with consultants,

 then ask them to make a video so you can closely and carefully check it. The factory which is willing to do this for you can certainly be considered as a trustworthy and high-quality factory, not a scammer company. 

Moreover, you should buy samples before buying wholesale. This will help you to avoid risks and check the quality.
2.3. Choose a factory that makes ODM – OEM well
OEM (original equipment manufacturer) is made according to the buyer's product specification. For example, a customized design, material, dimensions, functionality, or even colors can be classified as OEM.

ODM (Original Design Manufacturing) is based on an existing design, which is often called 'private label products and can be branded with the buyer's logo.

You should choose a factory that not only supplies premium lashes but also supports you in branding. Moreover, you can see a lot of feedback about OEM/ ODM that manufacture designs for customers before. Feedback is the best way to prove their ODM – OEM service with high-skilled designers. 
Contact me Kwin Lashes Factory to get the consultation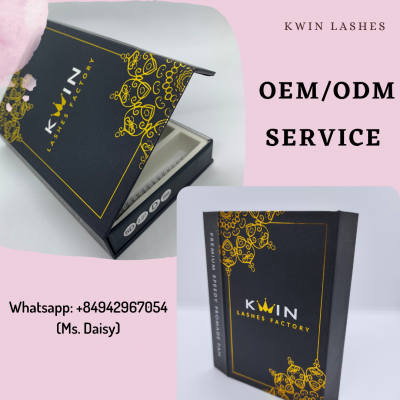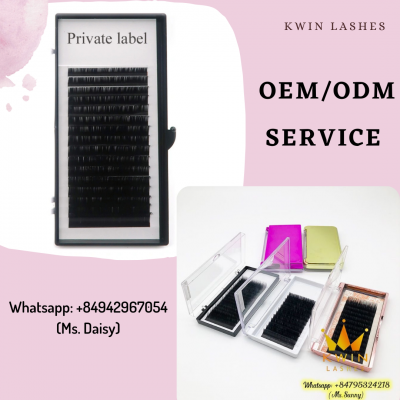 Read more on:
– RAPID PREMADE LASHES – THE NEW TRENDY LASHES IN THE MARKET
-Volume eyelash extensions with a private label – where to buy
3. What are other ways to stay safe to import eyelashes extension from Vietnam?
3.1. What do you need to avoid risks to import eyelashes extension?
It's clear that even when you choose a preferred brand, the trading market is always full of unexpected threats. So, to become a smarter client, you should equip yourself with

profound knowledge about lashes.

More importantly, you can ask many questions with sales that prove their knowledge. 

Moreover, choosing a famous vendor and only buying from experts in the field can minimize the risk for you. A famous supplier of the best Vietnam eyelashes will have a clear website, feedback that verifies it. 
3.2. KWIN LASH – the most trustworthy Vietnam eyelashes brand
Founded in 2010,

Kwin Lashes

is now one of the leading manufacturers of

false Lash extensions

in Vietnam. As one of the first lash companies created, KWIN LASH always ensures that we have major experience and a high level of expertise in the false lash selling field. We are confident that you have the highest satisfaction with our products and services.

This is shown through many good feedbacks from our customers.


Kwin Lash Co., Ltd – Wholesale eyelash supplies
The leading false eyelash manufacturer in Vietnam, a specialist in false eyelashes.

Specialized in processing eyelash extensions, eyelash strips on request from customers.

Working model OEM / ODM –

Eyelash private labels.

Founded by a leading specialist in eyelash manufacturing.

Experienced staff, supervised by longtime experts.
How we work:
Quality assurance

Affordable, wholesale price

Commitment to completion time

Professional work

Sample support to check the quality

Global delivery

Diverse payment methods
CONTACT VIETNAM LASH MANAGERS FOR THE BEST DEALS, PROMOTIONS, AND FREE BUSINESS ADVICE NOW!!!
WhatsApp: +84348639466 (Ms. Daisy)
Instagram: kwin_lashes_daisy