Currently, there are many styles of eyelash extensions, but each style of eyelash extensions is suitable for different eye shapes and gives different effects. However the wet look lashes are one of the hottest eyelash extension styles lately. The trend of wet look lashes is not new but it is increasing in popularity right now. So what are the wet look lashes and why do wet lashes look to become the trend of eyelashes extension style?
What is the wet look  lashes? Why do wet look lashes a trend?
1.1. What is the wet look lashes?
Wet look lashes are created essentially from using lighter lashes to create narrow and almost closed volume fans so they should be applied to individual lashes to achieve the effect that you desire for your eyelashes or eyelashes's your customer. The wet look lashes brings for you the light, fluttery feel. This is a lash trend and certainly your client will like them. It's great for a wide eye.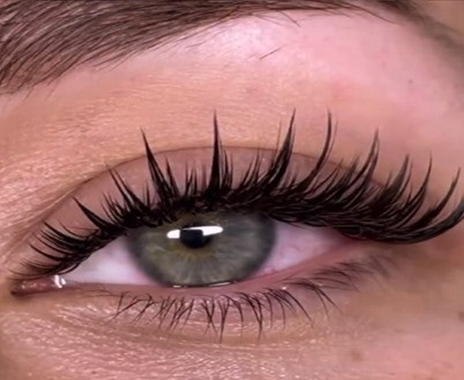 In the way that is easy to understand, the wet look lashes style resembles the wet volume lashes when they get wet before they have been dried and fluffed up. The overall effect is somewhat similar to classic lashes. The biggest difference is that wet look lashes will appear visually thicker and more bold.
1.2. Why do wet look lashes a trend?
Natural makeup is gradually becoming a trend and having natural eyelashes is no exception. And when we have natural eyelashes, we will be more confident and let their natural beauty shine so the wet look lashes is perfectly suitable for this work.
Another benefit is that since it is technically a closed volume lashes, they are wrapped around the natural lashes instead of simply placed, which will have better retention than the classic lashes.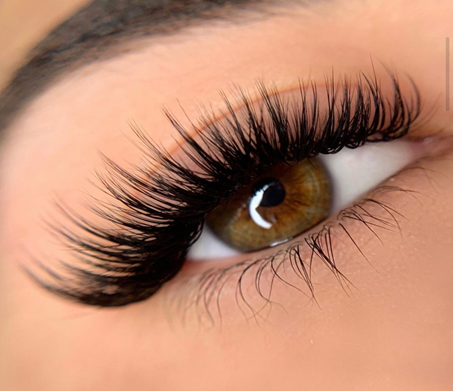 Who is suitable for the wet look lashes ?
The wet look lashes look natural and these lashes are suitable for a variety of eye shapes but they are more suitable for people with pronounced facial features or close-set eyes. The wet look lashes also are specially suitable for the client who have medium to full natural lashes. However other people also choose the wet look lashes. For example, the clients are small facial features or thin, sparse, straight, downward – looking eyelashes. The wet look lashes are suitable for the clients with short eyelashes devoid of density.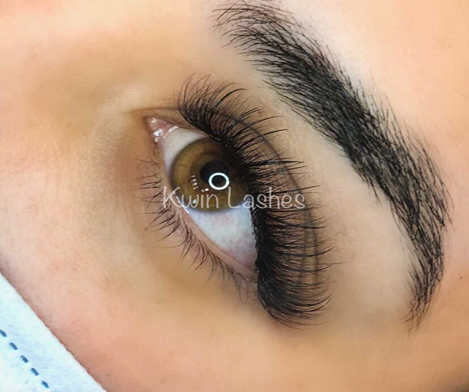 Choosing wet look lashes is worth making if you want to give the eyelashes density, volume, look like after water procedures but at the same time keep it natural.
How to create the wet look lashes.
The curl of choice for the wet look lashes is often M or L curl but if you also have another curl like CC or D curl, you can order from kwin Lashes Factory.  The spiker can be created by using 0.07 ( or 0.05 ) 2-4D fans depending on the condition of the natural lashes and how much it can hold , instead of opening it up like a wide fan, you keep the fan closed . 0.05 thickness are ideal weights for wet look lashes. Using lighter weights means you are protecting your clients'natural lashes when using a closed fan.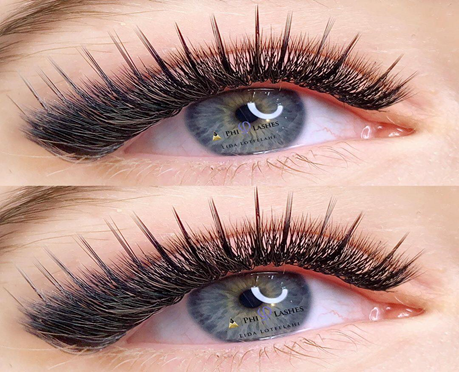 When your clients have a spaser lashes line, you are more careful because the spiker effect of wet look lashes can make people pay more attention to their spaser lashes line, which is something to keep an eye for any clients that do ask for this look.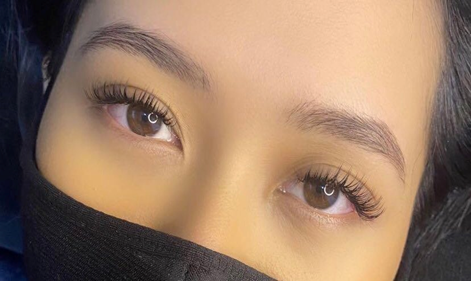 An important factor in achieving the best wet effect is the quality of the lashes. At Kwin Lashes factory, lashes are made in our factory under a strict inspection system by skilled technicians using high quality Korean PBT material. You would like to know more information about eyelashes, please do not hesitate to let us. Contact us for more details about price and good offers.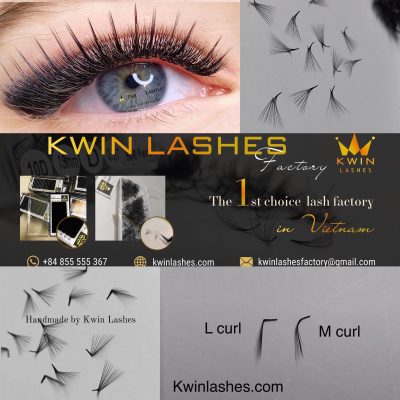 Intagram: https://instagram.com/kwin_lashes_krystal
Whatsap: wa.me/84364625589
Website: https://kwinlashes.com/