October is coming together with an exciting and colorful Halloween. If you always celebrate this occasion with outstanding costumes, it's time to come up with the styles for your colored eyelash extension this Halloween. To deal with your headache on which one to choose when you are surrounded by various lash styles, this article recommends the top 5 colored eyelash extensions for Halloween 2021.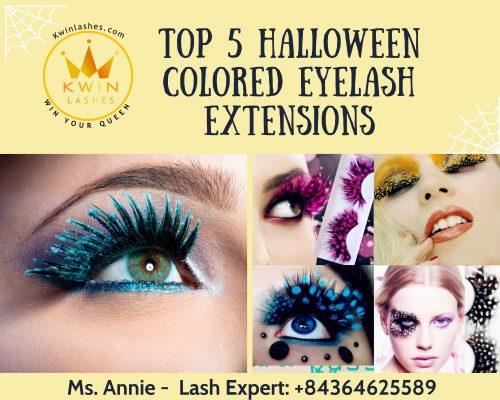 What are colored eyelash extensions?
Most women are now familiar with black false lashes due to their widespread use and benefits on every occasion including the everyday look. However, not only are black lashes produced but colored eyelash extensions are becoming more and more popular in special events, carnivals, performances, or annual occasions. This part grasps all information you need to know about colored eyelash extensions.
Read more at:
Premade fans and Promade fans – Which one is better?
How to buy lashes tray in wholesale from A to Z 
Definition of colored eyelash extensions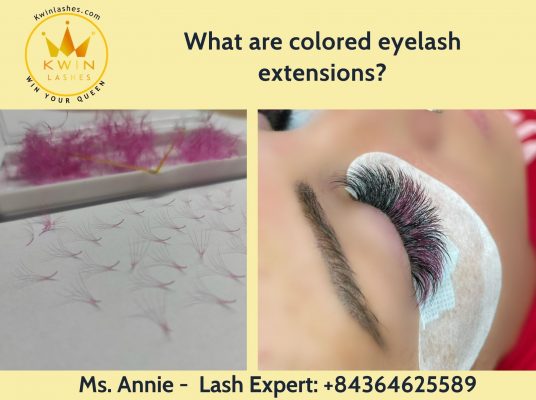 Colored eyelash extensions, sometimes known as "mermaid eyelash extensions", not only add extra volume and length but also enhance the eyes with colorful lashes for an extremely attractive look. As hair trends, colored eyelash extensions vary from day to day depends on the demands of clients and creative lash artists such as ombre, mixed with black lashes, natural hues,… Undoubtedly, the dramatic and outstanding look of colored eyelash extensions is indispensable on vibrant occasions like Halloween.
Benefits of colored eyelash extensions
Some people may worry about colorful lashes because of sometimes unnatural looks. However, colored eyelash extensions offer you more benefits than risks as followed:
Colored eyelash extensions

allow you to achieve an incredible look that you can not do with colored mascara. 

Color eyelashes enhance your natural lash colors and brighten up your eyes.

Eyelash extensions with colors attach more volume, length, and charming look to your natural lash lines.
Top 5 best-colored eyelash extensions for Halloween 2021
It's no exaggeration to compare colored eyelash extensions with accessories that not only beautify your eyes but also highlight your costumes on special occasions like Halloween. To deal with your difficulties in choosing lash styles, we suggest some colored eyelash extensions for the most trendy and impressive look in Halloween 2021.
1. Ombre colored eyelash extensions
Ombre-colored eyelash extensions are regarded as the new lash trend that women around the world are interested in. Ombre lashes often have black roots and gradually faded to other colors to make a gradient of color. The second color can be any color on the color board, most people choose blue, green, or purple. The black roots add depth to the eyes and make it stand out than ever.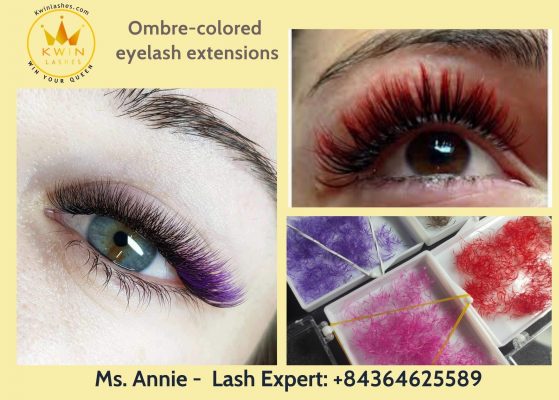 Actually, you can make an ombre look with colored mascara without any false lashes. However, ombre-colored eyelash extensions add more volume and a natural look to your eyes, as well as last longer than mascara, which is easily washed off.
2. Rainbow lashes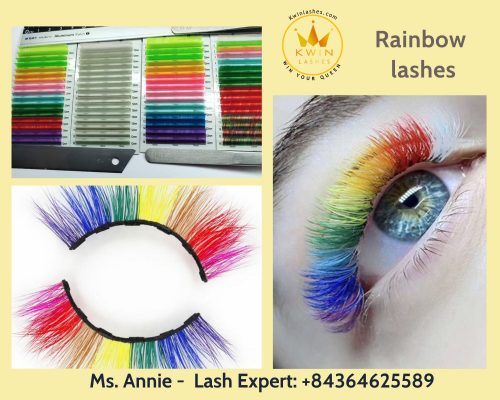 Another amazing colored eyelash extensions to consider is rainbow lashes. As the name defines, this lash style draws a rainbow lash line which not only highlights your eyes but also honors pride celebrations. Due to their meaningful and impressive looks, rainbow lashes are the everlastingly trendy lash styles that can not be defeated by any others. 
3. Mixed colored lashes and black lashes
The most popular colored eyelash extensions type is mixing colored lashes for a full and marvelous look. This technique can be described as the blend between different colored eyelash extensions. The best bold result depends on the density and the number of colored lashes.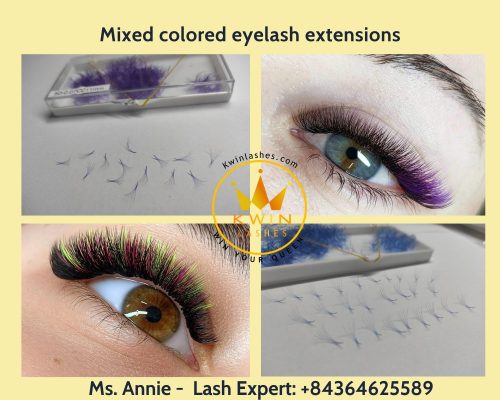 Numerous versions of this lash style have been created thanks to the creativity of lash artists worldwide. The better choice of colors and percentage to use, the more gorgeous lash line to be achieved. If you want to be the center of the crowd, these colored eyelash extensions are totally for you.
4. Snow white lashes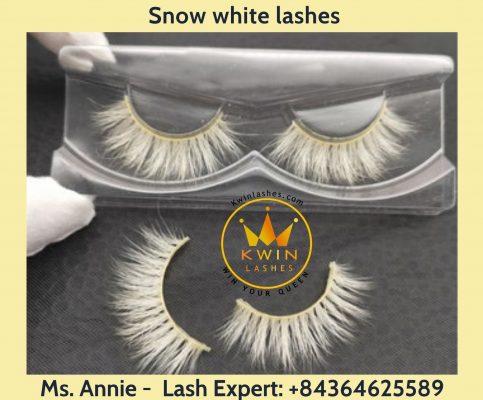 Snow white eyelashes may not be a strange term to many trendsetters in the world of lash beauty. This style refers to white-colored eyelash extensions which look exactly like beautiful snow.  Having these appealing lashes added to your real lash line will turn you into a princess with captivating eyes. Snow white lashes are the best choice if you are preparing a magnificent dress or imposing costumes for this Halloween.
5. Natural hues lash extensions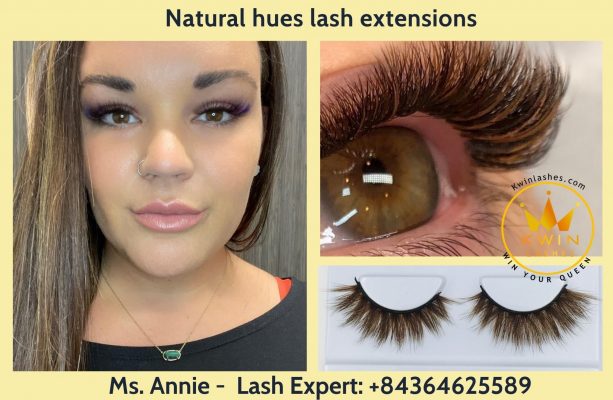 Colored eyelash extensions with natural hues will meet the demand of people expecting a less flaunty look. Brown eyelash extensions are perfect solutions for those who are fond of colored eyelash extensions but not ready for wearing too much bright colors on their eyes. Brown lashes are thought to be the subtle color that adds depth and dimension to the eyes without flashy extensions.
Notes about colored eyelash extensions
If you are lash extension lovers looking for the perfect colored eyelash extensions for Halloween 2021:
Consider your demands on costumes, styles, and colors of the outfits before getting your

colored eyelash extensions

.

Carefully choose a trusted salon and lash artist for the most satisfying

colored eyelash extensions.

Take care of eyelashes before and after the extensions for a beautiful and healthy lash line.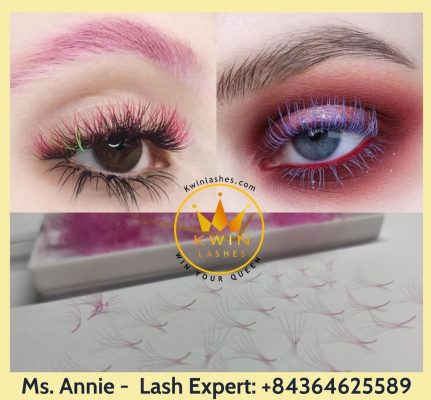 If you are a lash artist preparing for wonderful colored eyelash extensions this Halloween:
Make sure you understand how the clients want their eyelashes to be and give them your recommendations.

Use the best quality

colored eyelash extensions

to apply to your clients' real lashes.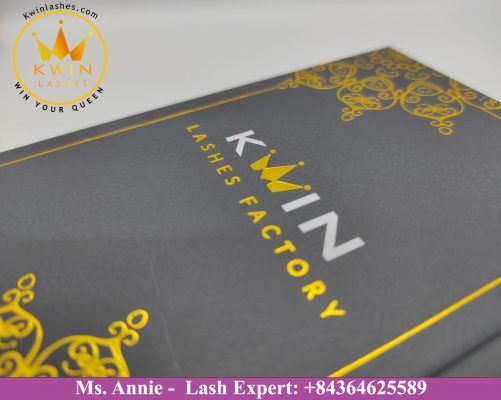 If you are wholesalers looking for a trusted brand supplying the best colored eyelash extensions, contact us via Whatsapp or the information below. Kwin Lashes ensure to provide you with the highest quality products made from premium PBT materials at a better price than any other supplier.