Eyelash extensions is a not-so-new business anymore. And Classic lash mapping is the simplest and most attractive, it is ideal for most of your clients. This is something KWIN can assure you about.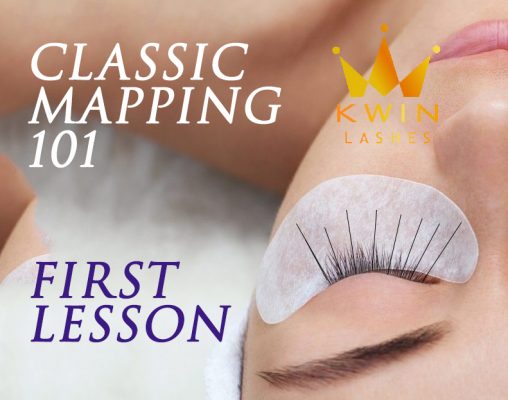 1. What is Classic lash mapping?
All lash artists have to know lash mapping like the back of their hands, if not, sorry to tell you your business can't last for long. 
1.1 Classic lash mapping is the most basic
First, lash mapping is when artists lining on pads under eyes to determine which design that we're going to do on our customers. This method requires thorough knowledge of any lash artist because Classic lash mapping is the most basic. It is nearly the first and imperative lesson to know if you want to open a lash extension business. Classic lash extension uses one false eyelash to attach it to one natural eyelash. It's quite easy to practice to improve your skills (use a mannequin)
1.2 How do know you should do Classic lash mapping for customers
When asked lash artists about difficulties they have to keep their job going, most of the complaints are customer related. "Some customers are very unpredictable, first they wanted a bold dense eyelash look, after the work they criticized my expertise in choosing the wrong style for them… It's impossible to please everyone" said J. Tina, an owner of a small lash extensions salon. Research tells that most clients going to salons don't really know exactly what service that they want in the first place, so lash artists need to step up to give out professional advice. If they've never had eyelash extensions before, simply tell them to do the Classic, and you'll be fine to go with Classic lash mapping. It's really basic for beginners, but will definitely leave your clients ecstatic with the results. Classic is an everyday look for whatever reasons you know.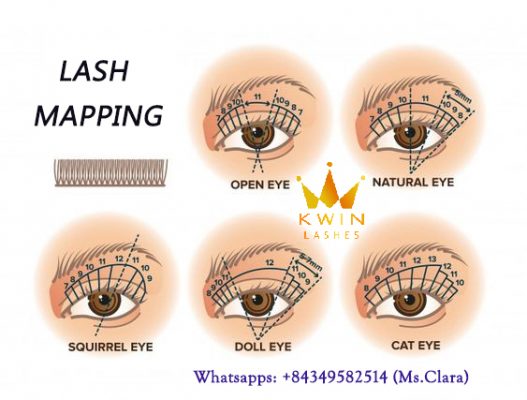 2. Tutorial to Classic lash mapping
In this part, KWIN will show you how to carefully line up a Classic lash mapping.
2.1 Full prep of all necessary utensils for Classic lash mapping
For Classic lash mapping preparation, here is a bucket shopping list to help you:
White cotton pads. You place these under your eyes

(the lower lashes) to draw on.

A color pen. Why color? Because using a black pen will match with our customer's black lashes. 

Tape. This is actually a small trick for beginners, you simply pull out a short piece of tape for the inner and outer corner to deal with struggling areas.

And other utensils for classic lash extension mapping you probably already know (tweetzers, fake lashes, lash fans..etc..)
2.2 Draw basic lines of Classic lash mapping
When doing Classic lash mapping, we must draw all three basic lines; these three lines aid us in setting the direction for later interior lines. First are two angled lines spread from the eye's base – inner and outer corners. Don't have to care about the line's length because lash mapping classic depends more on the numbers. The third vertical line starts from the center of the eyes, this will help lash artists attach spikes on more symmetrical. With right directed lines, the outcome is a perfect retention. 
Besides the three basic lines, you have to draw 2-3 lines (each side lined by center drawing) inside in the direction of the eyelash extension you want. To make it easier to imagine, you can watch a detailed tutorial on KWIN's Youtube Channel, I will leave the link down here:
How to apply classic lash sets in lash extensions?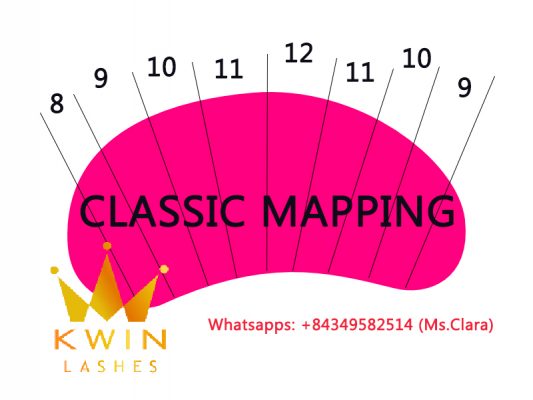 2.3 Mark important numbers
With available key lines, Classic lash mapping gets even easier. Every 2 lines mark 1 number inside, these numbers represent length of extension eyelashes in millimeters. Starting at the inner corner and working outwards, mark important numbers inside each section. Then, gradually raise the number by one as you get closer to the center. But when you really get to the middle, reduce them by one. A classic lash set mapping numbers should be like 8/9/10/11/12/11/10/9/8 (basic open eye).
Fìnd more on:
 2.4 Practice, practice and practice!
All your efforts will be rewarded at the end of the day I promise. Lash mapping is easy but for some people it's not not a day one, day two kinda thing. Beginners recommend practicing on lash mapping templates or head mannequins, feel free  to make mistakes. KWIN roots for you all the way.
3. KWIN Lashes Factory provides quality wholesale eyelashes for Classic lash mapping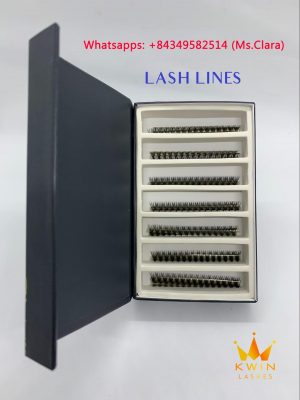 KWIN Lashes Factory is one of the leading companies providing wholesale eyelashes in Vietnam. We offer a wide range of quality false eyelashes as well as OEM packaging. Moreover, our brand is also known worldwide. KWIN's beautiful fake lashes are meticulously made from a unique plastic fiber material known as Polybutylene Terephthalate (PBT). They are extremely reasonable for Asian eyes for its gleaming and thickness. Clients all over the world love our products and have given back a lot of good reviews. It's exciting to see you guys having fun experimenting and being creative with KWIN's delicate eyelashes. We hope your classic lash extension mapping will be your best work thanks to this article. 
Looking forward to seeing your feedback on Classic lash mapping. Try KWIN Lashes to become one of our dear clients!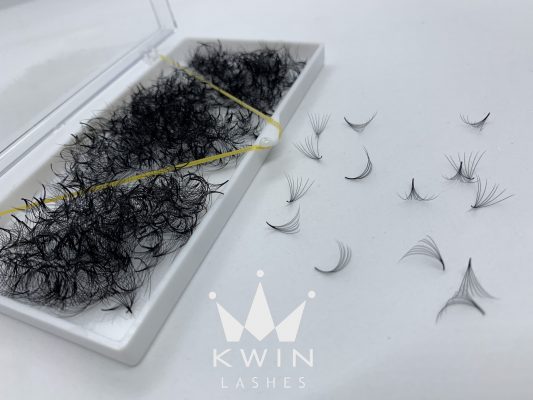 For more information, contact us via social links and media:
Ms: Clara – Lash Expert 

Whatsapps: +84349582514

Instagram: kwin_lashes_factory