More and more women worldwide fall in love with the incredibly gorgeous looks that eyelash extensions bring to their eyes in a period. However, many of them are upset when witnessing the real lashes fell off after terrible experiences on eyelash extension removal, raising the question of whether the eyelash extensions damage natural lashes or not. In fact, there is no harm to natural eyelashes if the eyelash extension removal is done correctly. So, how to remove false lashes without any risk? This article suggests 5 safe steps for eyelash extension removal.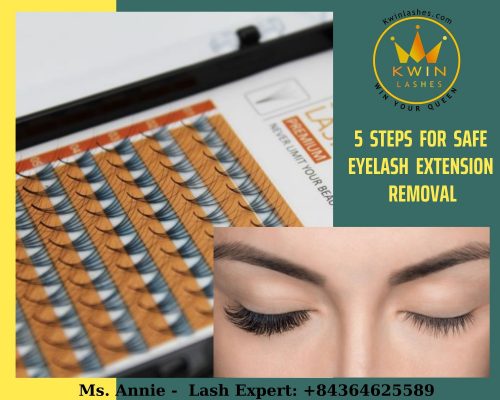 1. Why do we have to carry out eyelash extension removal?
Although eyelash extensions provide beautiful looks, they only last for some weeks and the extensions start falling off. This is because the natural lashes have grown out or the adhesive no longer works causing lost extensions and disordered lash lines. In addition, natural lashes glue-bonded to false ones for too long may be contaminated by bacterias which badly affects the lash lines. Therefore, eyelash extension removal needs to be done regularly not only for other lash styles but also to protect the real eyelashes from allergies.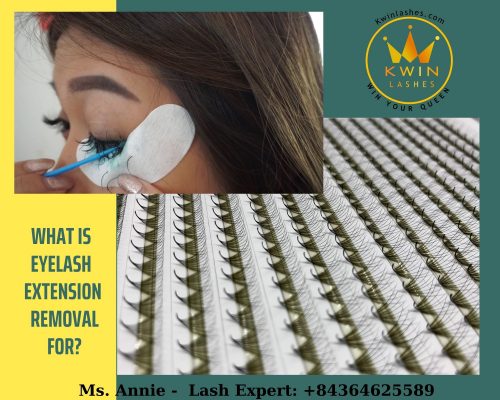 2. How to do eyelash extension removal?
Having no time coming to the salon, many people consider if eyelash extension removal can be done at home or not. The answer is YES, you absolutely can safely remove your lash extension because the 5 simple steps below can be applied both in-salon and at home.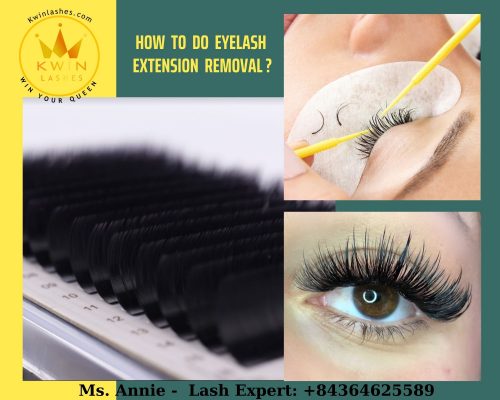 Step 1: Prepare professional tools and glue remover
First and foremost, a special lash glue remover is necessary for eyelash extension removal since the false lashes have strong glue bonding with natural ones that can not be affected by water or makeup remover. If you do eyelash extension removal at home, glue remover can be easily found at drug stores or online.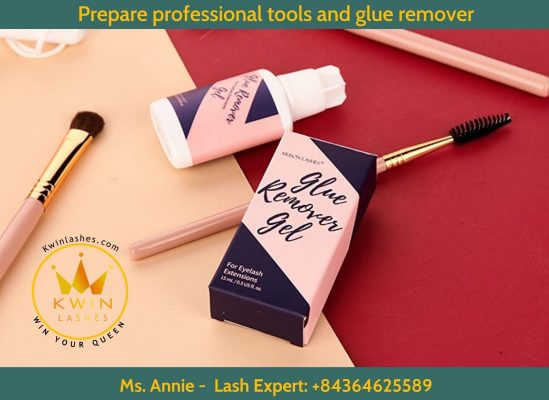 In addition, under-eye pads are needed to avoid glue attaching to the eyes and also brush applicators are indispensable to apply glue remover. For the safest eyelash extension removal, you should use clean and high-quality tools and remover to ensure your healthy eyelashes. By applying directly on the lashes, harmful or dirty things may cause allergies and diseases.
Read more at:
Premade fans and Promade fans – Which one is better?
How to buy lashes tray in wholesale from A to Z 
Step 2: Remove the eye makeup
Make sure you clean your makeup before the eyelash extension removal for a better vision of where the false lashes start. Mascara and eyeliners can become obstacles in eyelash extension removal. Avoid using pads whose cotton yards may be stuck in your eyelashes. The cleaner your eye areas are, the better eyelash extension removal you can do.
Step 3: Apply glue remover
As you already removed the makeup, set the pads under the eyes to start the eyelash extension removal. These pads take the part of the defenders to protect the skin from itching caused by glue remover.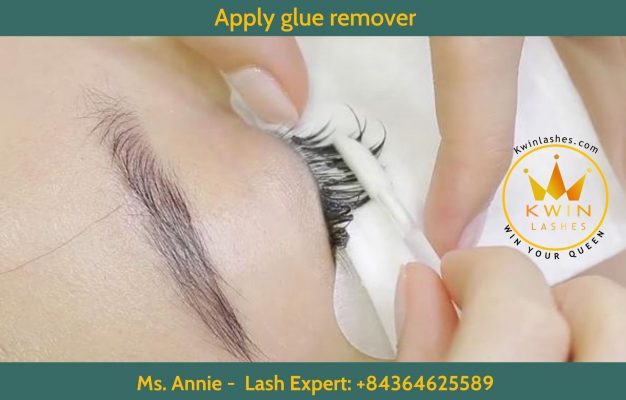 After that, it's time to apply glue remover to the brush applicators and swipes on the eyelashes. If you do eyelash extension removal yourself, close the eyes that you are working on so that the glue can not get in. You should do this step one by one carefully, swipe the glue from the midpoints to the tips of lashes but do not apply glue on the lash line. Any glue remover spilled out may cause irritation. In case the glue gets in the eyes, rinse the eyes with water until the glue is gone. This must be the most difficult stage in eyelash extension removal.
Step 4: Wait for 3-5 minutes
The remover needs 3-5 minutes to break the bonding and dissolve the glue. Thus, set a timer for 3-5 minutes, ask your clients to close their eyes, and wait for the alarm to ring. Do not wash the remover with water, we have only one more step so far to finish the eyelash extension removal.
Step 5: Remove the extensions and clean the eyelashes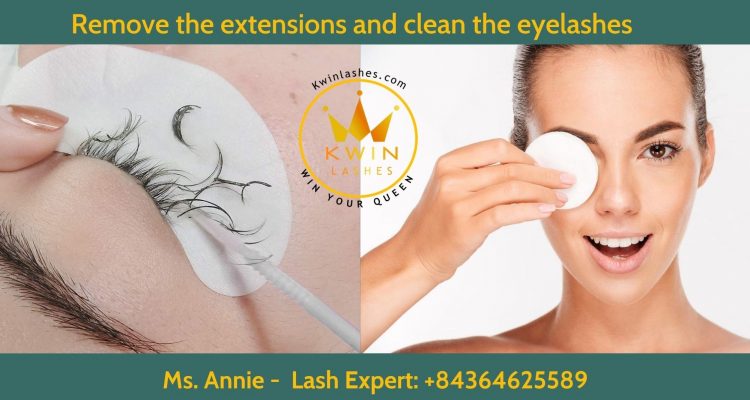 After 3-5 minutes of waiting, use another brush applicator to remove the extensions from the eyelashes gently so as not to damage the natural lashes. Continue pulling lash extensions off until all of them are gone. You should notice the differences between real and false eyelashes to ensure that no extensions remain. The eyelash extension removal should be done cautiously even by lash artists or clients themselves, especially clients with vulnerable lash lines. Once the eyelash extension removal is completed, use soft micellar water to clean away excess glue on eye areas. Then you can wash your face if you want.
3. Extra recommendations for eyelash extension removal
Everyone has different lash lines, consequently, these 5 common steps for eyelash extension removal have to be adjusted to fit the demand of each client. We have some advice for the best eyelash extension removal as followed:
If you are about doing eyelash extension removal at home:
Spend time to prepare and read the instruction carefully before you remove your lashes.

Be gentle with your lash line.
If you have a weak eyelash, we recommend going to the salon technician and getting professional eyelash extension removal.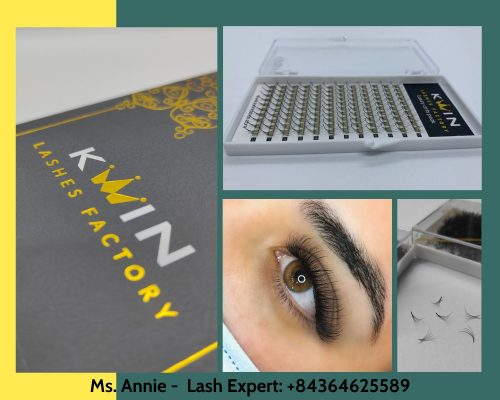 If you are a lash artist:
Keep asking your clients how they feel to make sure that they have no inconvenience during the

eyelash extension removal

.

Explain every step for your clients and calm their nerves.

The more professional and caring you are, the more loyal clients you get.
For further information, contact us via Whatsapp: +84855555367
We have wonderful products for you at:
Kwin Lashes: Best choice for false eyelashes