Aside from being overly thick, putting mascara on the bottom lashes will result in mascara clumps and stickiness, making your lashes seem like a swarm of spider legs. When putting eyelash extensions, you must do something to balance the top lash with the bottom lash. Women are now opting for bottom eyelash extension rather than mascara.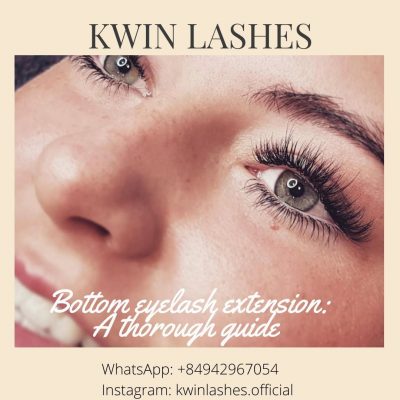 1. What is bottom eyelash extension and its benefits?
This section attempts to provide you with the required information about bottom eyelash extension and its considerable merits, so you won't have to question whether you should have it or not.
1.1. What is bottom eyelash extension?
Eyelash extensions are a popular cosmetic procedure. You can select lashes that fit you and enhance your appearance, whether you want to boost up your everyday look or make an impression on a particular occasion. If you don't possess naturally thick and long lower lashes, bottom eyelash extension is something of importance you should think about if you want to appear absolutely gorgeous.
1.2. Benefits of bottom eyelash extension
When it comes to each type of eyelash extension, everyone always desires to get as many advantages as they can and the bottom eyelash extension is not an exception.
The most noticeable benefit for the customers is that they no longer need mascara or eyeliner on their bottom lashes. Applying mascara sometimes causes undesirable clumps and sticky lashes. This will make the customers feel uncomfortable and not confident. 

Fortunately, the bottom eyelash extension helps to decrease the possibility of an imbalance with upper lashes. As a result, your eyes will seem to be more balanced and attractive.

Moreover, lower lashes, besides adding a drama look to your eyes, make them appear more alive and open. This little adjustment may even make your whole face appear slimmer.

Bottom eyelash extensions just take a quite short period of time to finish – around 15 minutes. This is due to the fact that you only need to add roughly a dozen lashes into your lash lines.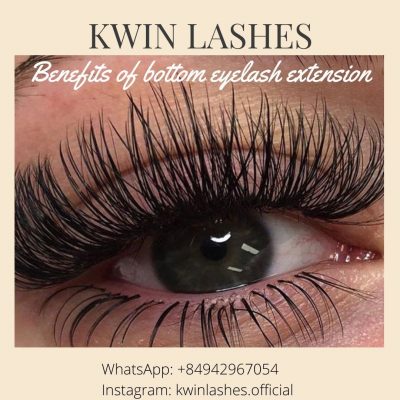 2. Who should and who should not get bottom eyelash extension?
Each form of eyelash extension is appropriate for a specific individual. The improper style might make you appear unattractive. So, let's see if the bottom eyelash extension is suitable for any sort of consumer.
2.1. Who should do bottom eyelash extension?
Clients with volume lash lines

. The bottom eyelash extension aims at balancing the lashes both on the top and bottom. If the customers believe that their lashes are somehow too dramatic, lashes may simply balance the focus point and enhance the appearance of top lashes.

Clients who are getting married

. This is a big benefit for our bride clients who need to appear nice while also having a fair possibility of weeping! Bottom lash extensions can not only enhance their appearance but also avoid awkward situations when they are so moving.

Mascara-obsessed customers

. Some clients just can't seem to get rid of their mascara-filled bottom lashes. Almost all mascaras are not suitable for lash extensions and can harm lash retention. Bottom lash extensions are a good alternative for these customers because they eliminate the possibility of mascara debris sticking with the upper lashes.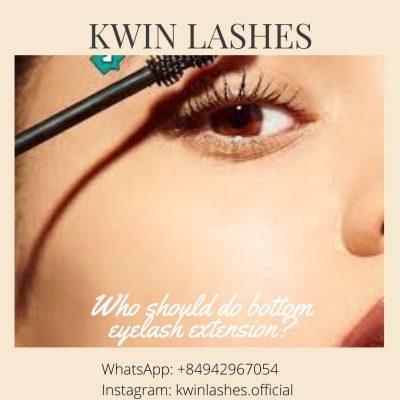 2.2. Who should not do bottom eyelash extension?
Clients with naturally straight-up lower lashes

. Bottom eyelash extension on these lashes will obstruct their eyesight and create pain. This is an undesirable result. 

Customers with excessively short lower lashes

. These clients are also unsuitable for this type of lash extension. It can provoke short retention and exaggerate facial shortcomings.
Read more on:
3. FAQs about bottom eyelash extension
There are numerous interesting questions on the topic of bottom eyelash extension. So let's see what readers are concerned about this type of lash extension.
3.1. How long does it take to do bottom eyelash extension?
There are fewer lashes on the bottom lashes, so the typical application duration is less than 30 minutes. It takes significantly less time to do the bottom eyelash extension than upper eyelash extensions. When you've perfected the technique, this is definitely a wonderful method as your customers may now have bottom lashes during their normal up lash extension without requiring much time.
3.2. How long do bottom lash extensions last?
Bottom eyelash extension, in contrast to top lash extensions, has a limited lifespan of 1-2 weeks. When clients touch their eyes, the bottom lashes are the first to fall out. Because bottom lashes have a quite short lifespan, some lash artists resort to applying new lashes again when clients come back. You must inform your clients about the retention issue prior to the application.
3.3. How much do bottom lash extensions cost?
Bottom eyelash extension, like other types of lashes, will vary in price based on a few factors, including the place, expertise level of lash artists, and the desired style. The longer it takes, the higher the cost. You'll find some online ads for $30, as well as for around $100. Use your common judgment and attempt to find a price that is suitable for your pocket. You can get affordable and high-quality lash extensions from Kwin Lashes as soon as possible.
3.4. How to maintain bottom eyelash extension?
To keep your lashes healthy as long as possible, avoid touching your under-eye region and lower lashes.

Especially, try to avoid getting them moist if you want to obtain a full bottom eyelash extension for a long time

Remember to brush the lashes on a daily basis to minimize tangles and to reposition them in the proper position.

If you get hooked on makeup around your eyes, please be careful when applying it. Try to make it simple and do everything gently, especially when removing it.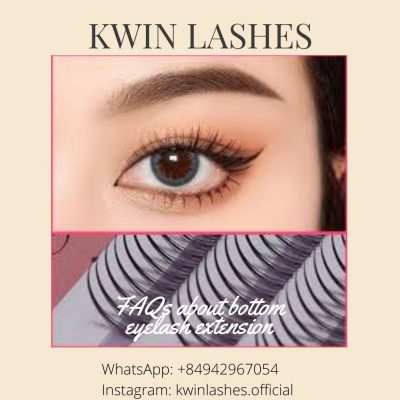 3.5. How to apply bottom lashes?
Bottom lashes, in general, should be less curled than top lashes to appear more natural. In the case you apply a C curl to the upper lashes, then a B curl should be suitable enough for the bottom ones. Applying bottom eyelash extension, on the other hand, is a more sophisticated task. This is due to the fact that lashes tend to curve upwards, and you need to learn how to make bottom lash extensions align appropriately with natural lash curvature. Moreover, bottom lash extensions necessitate more preparation than upper lash extension treatment.
4. How to buy lashes for bottom eyelash extension in Vietnam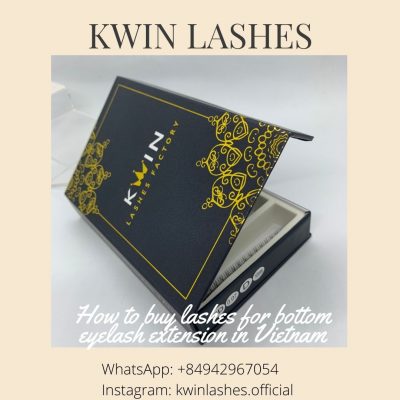 Kwin Lashes offers you a wide range of eyelash extensions with different curvatures to suit the bottom eyelash extension style. Choosing the right eyelash extensions at an affordable price has never been so easy. The best materials for lash extensions are painstakingly selected and imported from Korea to provide a high degree of black foundation, delicate texture, and retention. Kwin Lashes eyelash extensions are made of Polybutylene Terephthalate, a type of plastic fiber (PBT) that produces the perfect lash shape and natural glossy shine. Everything has been taken care of by Kwin Lashes, you just need to freely choose the products based on your own preferences.
Don't put it off any longer! If you are interested in buying such eyelash extensions, please contact us using the details provided below.
Kwin Lashes Contact:
"Ms. Wendy –  Lash Expert 
Instagram: kwinlashes.official"