Owning thick, silky and natural eyelashes, every girl should feel confident and knock out their fabulous look. Attractive eyes make everything effortless for girls like us. But life isn't always fair. One day, you wake up and glance in the mirror, you might find your eyelashes are overly curled. It's hard to accept isn't it, don't worry, KWIN will show you how to fix an over processed lash lift.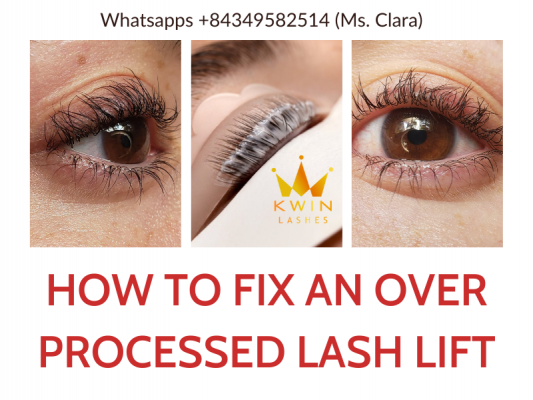 1. What is a over processed lash lift?
Just hearing the words "over processed lash lift" already makes us feel lousy and disappointed.
1.1 What is a lash lift?
A lash lift is quite similar to curling hair in that you must use harmless perm solutions to lift the lashes to the desired curl. The perfection potential is mostly dependent on the lash artist's talent, as well as a great deal of luck. Let's just hope that we never have to fall in that bad luck. But if you're unfortunately having it, there are always solutions on how to fix over processed lash lift at home.
1.2 What causes an over processed lash lift?
Every lash lift gone wrong is the result of an artist performing some incorrect steps in the eyelash curling procedure. The first thing KWIN discovered is that adhesive was not being properly applied and dissolved, leading to unevenness or an over processed lash lift. 
Second, lash lifting requires patience for both lash artists and customers have to undergo a long waiting process. When putting perm solutions on eyes, no procedures should be cut corners. Leaving the perm too long, your lashes could be broken. Leaving it there not enough time, the outcome isn't great either. KWIN's advice is not to rush the process, you can keep asking your lash artist to check constantly to be sure about it.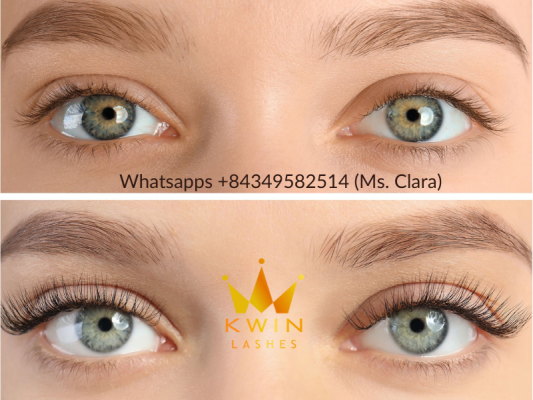 Thirdly, it might be that the lifted solutions are not quality or stored correctly altogether. They must be reserved at the right room temperature. Along with the utensils and hands, eyes that are not sanitized properly will damage the root of the eyelashes. Another reason is your lashes were picked for the wrong silicone pad shape or were placed not properly (not too close to eyes root). 
2. How to fix over processed lash lift at home
There are ways to reverse an over processed lash lift.
2.1 Using perm solutions to fix over processed lash lift
Yes, you didn't hear it wrong. To fix an over perm, you use the perm solution itself. The procedure is likely like when you lift your lashes, but this time you want to straighten it a bit. You will be needing a spoolie (a clean mascara, or it will cause you infections), perm solutions and cotton pads. Firstly, you placed a cotton pad below your upper lashes. If needed, use special tape to prevent eyes from eyelash perm. Or not, just close your eyes real tight. Next, dip your spoolie into a perm solution just enough to brush them right through the lashes. You need to brush it from the root to the end of your extreme lashes, vertically. Just keep doing that in a downward motion for a minute, and relax during the procedure. Then, you can leave it on for a bit, the desired results should be from 3 to 5 minutes. Remember never leave them longer than 6 minutes! When the outcome is in your wish, cleanse them and you're done. That is how to fix an over processed lash lift.
2.2 Using a tweezer to fix over processed lash lift
This way is less common and recommended in fixing an over processed lash lift but if your eyelashes are too stubborn and have weird L-shaped look, there's nothing much to lose but trying out right? It's easy, you use a tweezer to choose out one lash, grab it from the root and just kinda pull it out. But don't really draw it out you get what I mean, you are straightening it out gently and slowly. Though it takes a lot of time, this method is safer, as long as you don't break or tug out any lashes. Provided that you own a lash lift and tint and your lashes still remain chunky from extra tint, using a tweezer can fix that over processed lash lift.
3. What if fixing hack of over processed lash lift do not work
Unfortunately, we can't always fix an over processed lash lift at home. If any of the ways KWIN shows you don't work, there is no choice but to go to the salon looking for special help.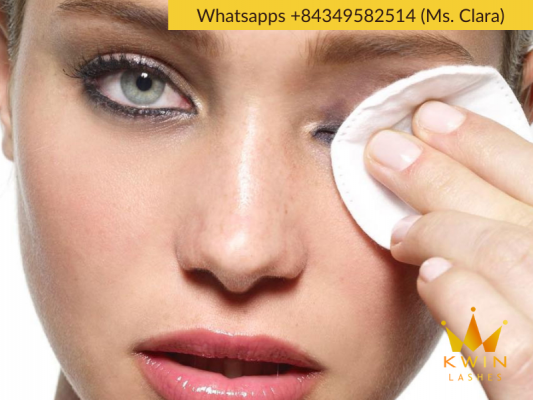 4. Valuable experience for the next lash lift
Next time heading to salons or doing it yourself, you can rely on our useful information to remind yourself. There is no beauty method 100-percent-effective, it's just us girls who are informed and invest ourselves with great deal of insight. 
Over processed lash lifts or any bad lash lift can't scare us anymore. Remember these tips and you will be just fine. Choose a reputable salon that has quality perm incubation, read reviews of former customers to find out. Along with that, a lash artist's technique must meet the standards and be proficient.
Specialised will know how to incubate your eyelashes in just the right timing. If you use poor quality eyelash perm as well as incubate for too little time too long, it may damage them all. At the same time, curlings that are not cleaned properly and improper application techniques will affect the root of the eyelashes.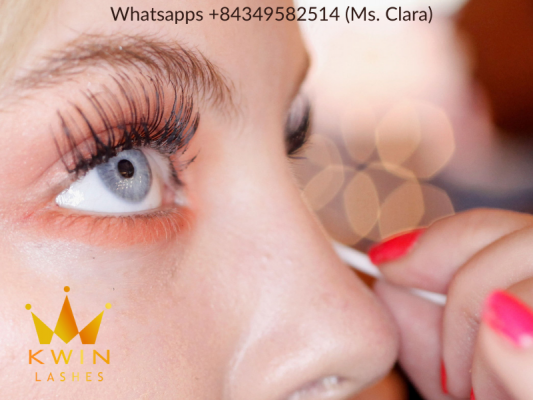 Most people are too hasty and eager to get good results, they rush the process badly and that's when over processing lash lift happens. Your perfect eyelashes looking at any angle should be beautifully curved, without bending and or double looping. Good luck girls! Love from KWIN.
Read more on:
Premade fans misconception most lash artists have
For more information, contact us via social links and media:
Ms: Clara – Lash Expert 

Whatsapps +84349582514 (Ms. Clara)

Instagram: kwin_lashes_factory