False lashes are now compared to indispensable accessories of women worldwide. Most people witness the great achievements of eyelash extensions and regard fake eyelashes as an amazing invention that changed the world of beauty. However, they may be shocked to know about the history of fake eyelashes that are not so bright as they imagined. So, what is the origin of fake eyelashes? Here you can find out many interesting facts about this wonderful beautifier.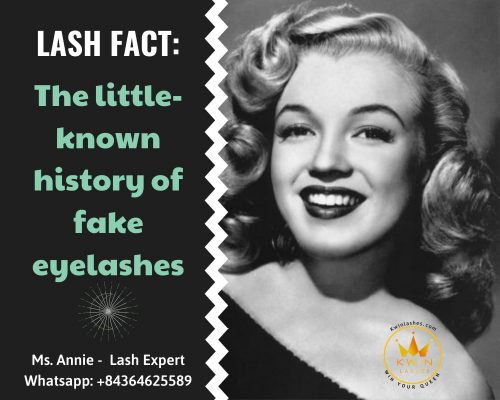 1. The history of fake eyelashes
That women highly desire beauty is a constant fact in every period of time despite various ways they apply it. As demand for eye beauty, fake eyelashes have a long and rich history to discover. If you are a big fan of fake eyelashes, do not skip this interesting part.
Read more at:
Hybrid lash extension – How to make a perfect hybrid look?
Premade fans and Promade fans – Which one is better?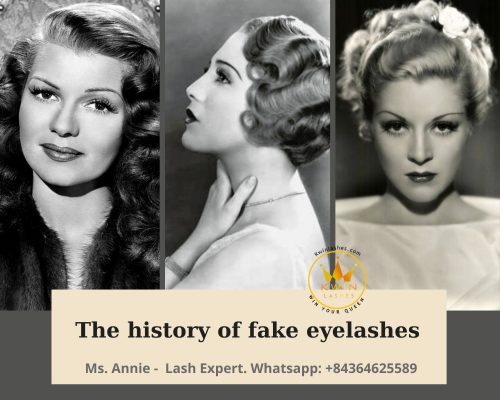 1.1. Fake eyelashes in the Ancient beginning
Many people misunderstand that fake eyelashes are modern products due to their beautifying purpose. However, a dark and long lash line is the desired thing from Ancient times. It is said that Ancient Egyptians achieve voluminous lashes by using brushes and salve. Not only women, but Egyptian men also use various tools to make dark and thick eyelashes with the aim of sun protection.
Later, the Romans began trying to enhance their eyelashes after a claim of an ancient philosopher emphasizing that short lashes mean aging.
1.2. Fake eyelashes in the Middle Ages and 19th Century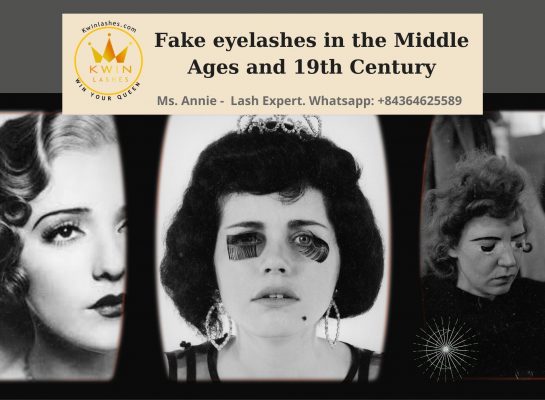 The Middle Ages seemed to be the darkest period of eyelashes when people blame hairy appearance for erotic. Women remove their natural lashes and eyebrows by dangerous methods regardless of their crucial role in protecting the eyes from dust and debris. Fortunately, this faulty trend ended in the late 19th Century.
In the 1800s, it is reported that women started sewing hair on the eyelids for beautifying purposes. Instead, some people who can not suffer this terrifying method tried to glue hair to their lash line for thicker lashes. Nevertheless, this did not work because the hair kept falling off. These could be considered the first attempt to apply fake eyelashes to the eyelids.
1.3. Fake eyelashes in the 20th Century and their first patent
The 20th Century marked the turning point of fake eyelashes thanks to a Canadian inventor named Anna Taylor, who invented glue-on lashes and got the first patent on fake eyelashes. This was followed by Karl Nessler, a famous hairdresser, as she created a making process of fake eyelashes.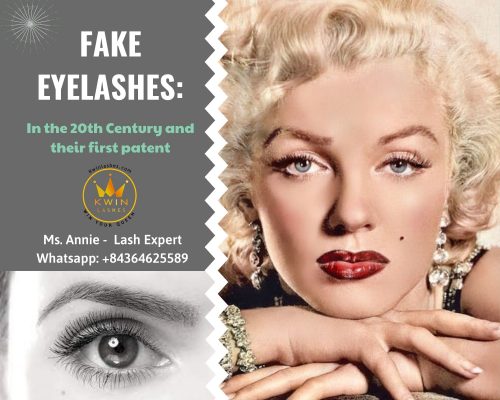 Not until the 1920s and 30s when occurred the story of a picky director, who required larger eyelashes by gluing lashes made from hair onto the eyelids of his actress, Seena Owen for the best scenes. The appearance of Owen's attractive fake eyelashes raised a trend of bigger eyelashes, better look. Pictures of women with huge eyelashes appeared on Vogue and celebrities and stars such as Marilyn Monroe, Rita Hayworth showed their voluminous fake eyelashes following this trend. As a result, the demand for fake eyelashes rapidly grew and manufacturers found out more advanced materials to produce fake eyelashes.
Step by step, fake eyelashes made influential waves and there was born the lash industry.
2. Modern fake eyelashes to now
Turn to the 21st Century, the heat of fake eyelashes did not reduce but incredibly increased with numerous modern and fancy lash inventions. Many glorious lashes worn by famous women like Paris Hilton, Jenifer Lopez, Madonna… in the early 2000s made fake eyelashes mainstream. And eyelash extension also developed from there.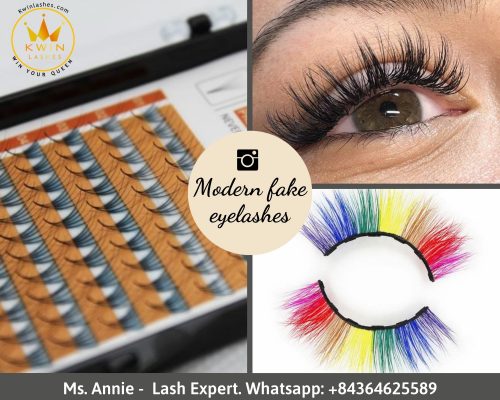 A variety of fake eyelashes products for not only lash extensions but also for makeup appears in every market, marts to provide anyone who desires a glamorous look for their eyes. The materials to produce fake eyelashes vary from synthetic hair to PBT, silk lashes, mink lashes… Classic lash extension is no longer the only style but there are volume fans, hybrid lashes, wispy lashes… invented meeting the requirements of women all around the world. In addition, colored fake eyelashes are made for special events or outstanding purposes such as Halloween, carnivals. 
Overall, fake eyelashes go through their long and interesting history to gain popularity today. With the high demand and speedy development of the lash industry, it is no wonder that fake eyelashes have a bright future ahead to beautify people even more.
3. The best address to buy fake eyelashes
Fake eyelashes are amazing accessories that can be found in plenty of lash factories around the world. However, not every manufacturer supplies you with the best quality of fake eyelashes and choosing the wrong suppliers could turn your lash career into a disaster. To deal with your headache of where to buy fake eyelashes, Kwin Lashes is the best choice rather than any others.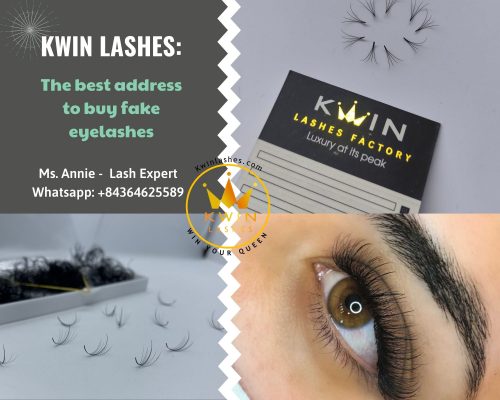 3.1. About Kwin Lashes
Kwin Lashes is the leading manufacturer of eyelash extensions in Vietnam with a large number of customers worldwide. Founded in 2010, we have 10 years of experience in the lash industry with many lash experts and well-qualified technicians to produce the best fake eyelashes. Kwin Lashes receives thousands of satisfying feedbacks from Europe, Africa, Russian,… that evidence our reputation in many countries around the world.
3.2. Fake eyelashes from Kwin Lashes
Kwin Lashes goes against the animals' cruelty to supply you with false eyelashes made from friendly and healthy materials. Our variety of products meet all of your demands for clients in any part of the world including classic lashes, volume fans, premade fans, wispy lashes… Fake eyelashes from Kwin Lashes ensure the requirements of softness, thickness, perfect curls, lightweight lashes, and an extremely pointy base that you can not find in any other suppliers.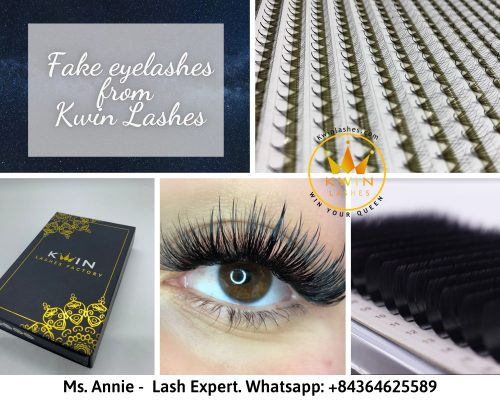 Furthermore, Kwin Lashes supply you both fan-in-line and loose fans for specific purposes. Not only high-quality products, but we also support you with rebranding service and offer a better price than any others in the market. 
If you are looking for a trusted brand for the best fake eyelashes, Kwin Lashes will never let you down. Contact us right now via Whatsapp: +84855555367
We have wonderful products for you at:
Kwin Lashes: Best choice for false eyelashes