There are numerous cosmetic treatments available nowadays that may make ladies appear beautiful with little effort. Women who use eyelash extensions save not just time but also money on make-up. This blog focuses on demonstrating the key characteristics of doll eyelash extensions while also providing readers with pertinent information about the doll eye lash map. As a result, readers can get more insights into this style.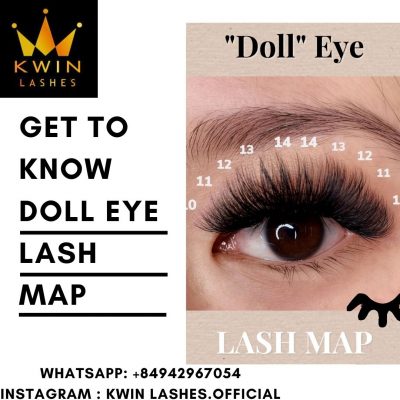 1. Doll eye lash map. What are doll eyelash extensions?
Before we go into particular recommendations for an efficient doll eye lash map, let's define what doll eye eyelash extension is and its connected elements in the industry of eyelash extensions.
1.1. Doll eye lash map. Definition of doll eyelash extensions
Eyelashes may be grown long and gorgeous with this method of extension, much like those on attractive eyes of barbie dolls. People call this style "doll eye" because it resembles doll lashes. A doll eye lash map is great for customers with small eyes since it makes them appear larger. If a client has a broader pair of eyes, a dolly lash map will provide the effect that the eyes are closer.
1.2. Doll eye lash map: Advantages of doll eyelash extensions
Doll eyelash extensions provide undeniable aesthetic benefits. This is what has contributed to the increasing popularity of this style. As a result, there is a greater demand for the doll eye lash map for novices in this sector.
Doll eye eyelash extensions create an attractive look. It makes the lash lines appear fuller while remaining lightweight. 

It is possible to correct certain eye shapes. Thanks to the outstanding features of this style, which are very smooth and cute, clients' lash lines become brighter and more lovely. In some ways, the eye shapes seem to be neater.

There are several volume eyelash methods to choose from. As doll eyelashes are so soft and lightweight that they support diverse types of extensions without adding too much weight to customers' eyes. If the eyelashes are properly connected, the clients do not feel them.

They provide an open-eye effect. For customers who own small eye shapes, this kind of lash extension creates an open effect. In other words, your eyes will look bigger and rounder. Especially, with the support of a doll eye lash map, lash artists can design even more unique and precise eyelash styles.

No need for make-up. Since the lash lines are already so full and thick, customers will need no additional make-up at all, keeping the eyes feel comfortable. 

Customers trying doll eyelash extensions for the first time leave feeling like queens. They produce a dense look, appearing gorgeous and luxurious.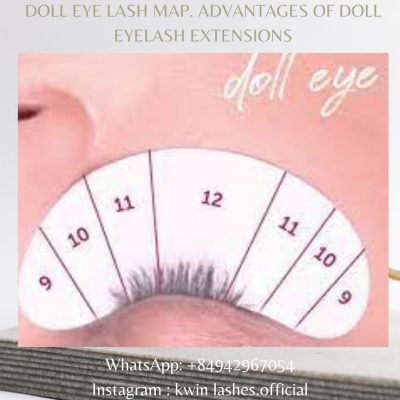 2. Doll eye lash map: Who is most appropriate to doll eyelash extensions? 
When modeling a doll eye lash map, the stylist begins by examining the form of the client's eyes. Everything matters, especially the depth and the angles of the eyes. Doll eyelash extensions are best suited to the following customers
This kind of lash extension is ideal for customers with wide-set eyes. They contribute to the eyes seeming more originally attractive.

In addition, numerous people choose to have such eyelash styles before going on vacation. Thanks to it,  they don't have to waste time on make-up and cosmetics throughout their vacation.

Pretty doll lashes with a lively curvature will look great on youthful customers, highlighting the confidence in each individual.

Moreover, doll eyelash extensions are ideal for parties and special occasions. If you want to be outstanding and attractive among the crowd, this style will most facilitate your luxurious beauty.

Doll eyelash extension style also takes celebrities by storm. For this reason, lash artists continuously promote planning the most perfect doll eye lash map to satisfy high-demanding clients.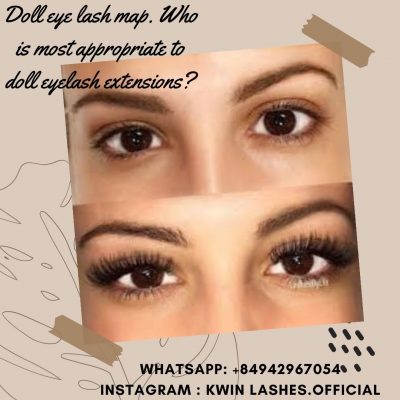 3. Doll eye lash map for beginners
Did you just learn about doll eyelash extensions recently? Do not worry. The detailed description below will give you a more accurate view of the doll eye lash map.
3.1. The best materials for doll eyelash extensions
To perform the approach successfully, you will, without a doubt, need to empower yourself with the necessary tools and materials. Here are the essential kinds of materials for doll eye lash map preparation.
Silk lashes have a gleaming shine to them. The extensions, therefore, appear to be natural. Almost all lash artists prefer this type of eyelash due to its distinct deep appearance.

Mink Lashes are artificial hairs that are light and fine. Their density and shape are extremely similar to genuine eyelashes.

Cashmere lashes are one of the most luxurious materials available. They increasingly gain popularity in the industry of lash extensions.

These three sorts of lashes are ideal materials for a doll eye lash map. Synthetic strands are used to create doll eyelash extensions since they are much safer. To get a fluffy doll look, concentrate on the eyelash extensions ingredients specified above. They add a sense of naturalness and expressiveness to your face.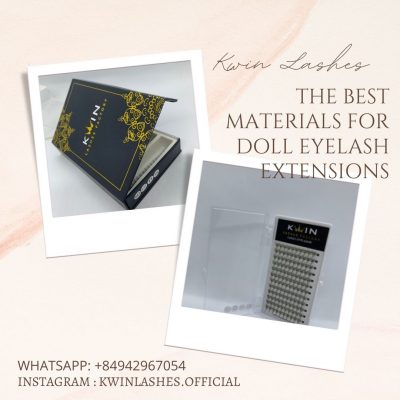 Read more on:
3.2. How to do doll eye lash map
Doll eye lash map is an excellent approach since it allows you to create a look that is completely unique to your customer while following the key characteristics of doll eyelash extensions. 
 A doll eyelash extension technique accentuates the expressiveness of the face. A skilled eyelash stylist who uses high-quality eyelash extensions may achieve a clean, unobtrusive finish.

Lash artists have a tendency to split the eye into five zones. The most basic method is to sketch the zones on the eye pads.

The procedure begins from the inner corner of the eye and progresses to the outer corner. This section is filled with the shortest eyelash extensions. The eyelashes' length will gradually rise to the center of the eye. A number of skilled eyelash technicians work with lengths ranging from 8 mm to 12 mm.

To the center of the eye, the lengths rise to 12 mm. The lengths of lash extensions are always dependent on those of the client's natural eyelashes.

The final portion is critical for tidy work. The same eyelash lengths are employed here as in the inside corner (the shortest length is from 8mm). It should be a seamless transition so that the lash lines appear completely natural and gorgeous.

After lash stylists complete the task, there should be a neat eyelash row with a rise in length towards the center of the eye and a little reduction towards the margins. This is the last step for a doll eye lash map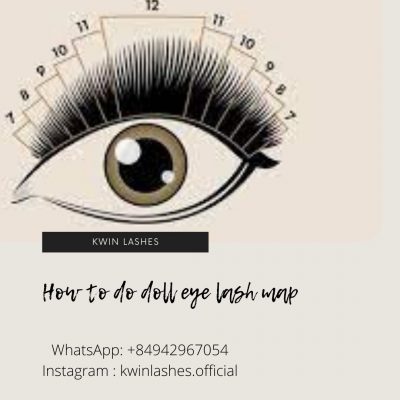 Kwin Lashes offers high-quality eyelash extensions with prolonged lash retention as well as a variety of eyelash styles for various lash mapping. For example, you can apply our products for a doll eye lash map, cat eye lash map, and so on. We are always confident in our ability to deliver the best products and services to our clients. Make the most of this once-in-a-lifetime chance to enhance the appearance of your eyes. Please contact us as soon as possible using the information provided below.
Kwin Lashes Contact:
"Ms. Wendy –  Lash Expert 
Instagram: kwinlashes.official"