Along with the increasing demand for beauty worldwide, eyelash extension seems to be a modern and extremely potential field that more and more people are expecting to master. If you are newbies to this, you may be looking for lash mapping guides helping you design perfect eyelash extensions that totally bespoke your clients. So, what are lash mapping, and how to be proficient at lash mapping? This article aims to provide you with all useful information about lash mapping for your lash career.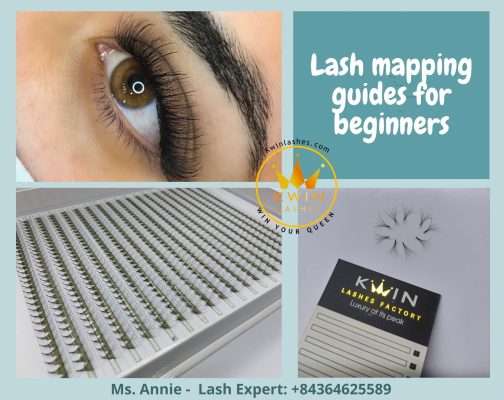 1. What is lash mapping?
Professional lash technicians are familiar with the term "lash mapping" due to their jobs in creating unique and outstanding eyelash extensions. However, many beginners consider lash mapping as an unnecessary step because only by applying suitable false lashes, they can add volume and length to the eyes without drawing anything. In fact, lash mapping is an advanced technique that enhances the lash extensions even more for much better lash looks. Let's get to know more about this method. 
Read more at:
Premade fans and Promade fans – Which one is better?
Interesting facts you should know about promade fans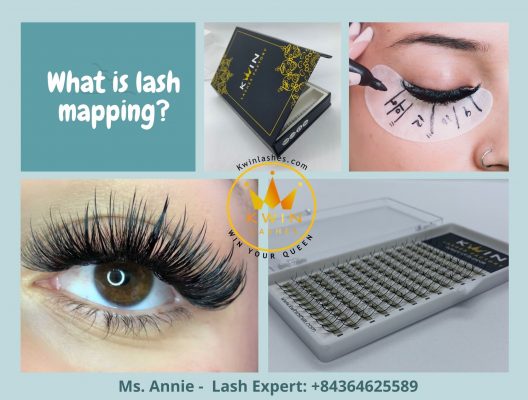 1.1. Definition of lash mapping
Lash mapping is a lash technique in which lash artists analyze the natural lashes and consider which lengths and positions to apply different types of false lashes before the extensions. Some people say lash mapping is like mathematics because lash artists need to divide the lash line into different zones and deal with the numbers of lashes and lengths. To map lash extensions, technicians need eye pads and a pen to draw an ideal lash line that their client expects to get. Each lash mapping can not be reused because every eye is different which needs individual design.
1.2. Why does lash mapping affect the success of lash extension?
As mentioned above, lash mapping is an indispensable lash skill for artists to create the perfect look. This consideration is evidenced by their advantages for not only the clients but also the artists as follows: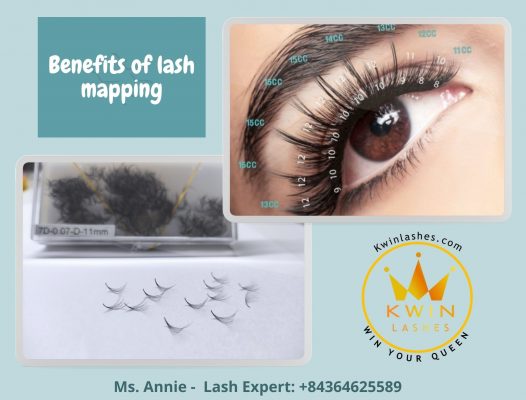 For perfect lash extensions that completely suit your clients: By taking natural lashes into careful consideration before

lash mapping

, you can figure out how to improve your clients' lashes.

For the right lengths, thicknesses, and curl extensions: Carrying out comprehensive

lash mapping

helps you select the right types of false lashes to reduce the burden on your client's eyes but maintain the beautiful look.

For no mistakes during lash extensions: Once you plan out detailed

lash mapping

and strictly follow it when doing extension, you can avoid unexpected mistakes on wrong positions, wrong lengths…
With the amazing benefits lash mapping offers, every lash techs must know about lash mapping and use it on every client for the best quality extensions.
2. How many lash mapping styles are there?
As the lash extension market has developed rapidly, various lash mapping styles are invented to meet the demand of people around the world. Commonly, there are 7 main types of lash mapping becoming popular up to now.
2.1. Classic lash mapping
First and foremost, classic lash extensions are supposed to be the most widespread lash mapping learned by every lash artist. Classic lash mapping is also called natural one as it applies a ratio of 1:1 false lashes to the real lashes. To map a perfect classic look, you should decide the suitable lengths that are not too long to remain the best natural look.
2.2. Cat-eye lash mapping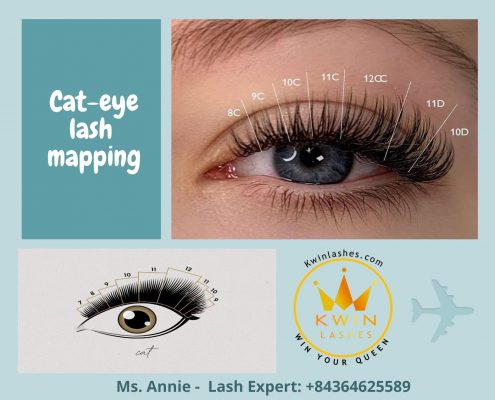 Cat-eye lashes are trendy styles due to the attractive effect they provide to the eyes. In cat-eye lash mapping, the artists apply short lashes at the inner corners and long ones at the outer corners. As the name defined, cat-eye lashes reshape the round eyes and create a charming cat-eye look.
2.3. Doll-eye lash mapping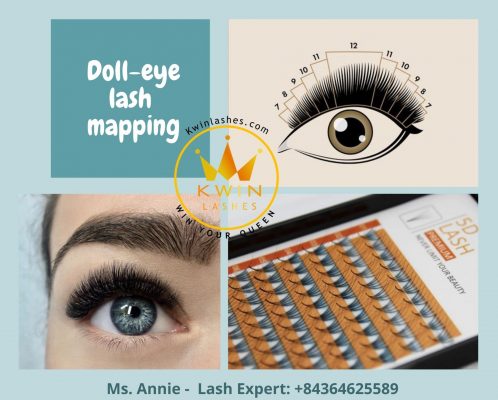 Dolly lash style offers your clients a beautiful appearance of large and open eyes. To create a doll-eye lash mapping, lash artists use the longest lashes at the zones including the iris to open up the clients' eyes.
2.4. Kitten lash mapping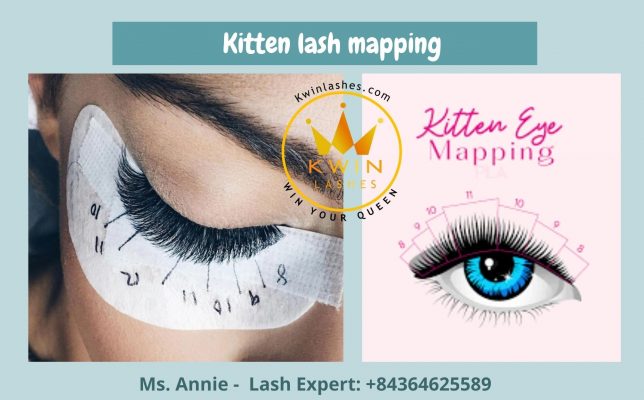 You may get confused between cat-eye and kitten lash mapping due to their similar name. These two lash styles are mostly distinct from the other based on the length difference of lash extensions. While false lashes used for cat-eye lash mapping vary at a range of 5, the one for kitten look is only 3 or 4. For instance, if the shortest lashes in kitten-eye lash mapping are 6mm, the longest ones are 9 or 7mm.
2.5. Kim-K lash mapping
The Kim-K lash mapping may sound familiar with most lash techs since Kim Kardashian, an influential celebrity, wore marvelous lash lines which every girl crave for. The Kim-K lash extension can be described as the zig-zag technique applying numerous lengths of false lashes to complete the lash lines. This lash mapping style requires skills in determining the lengths of natural lashes to select the most suitable lash extensions.
2.6. Squirrel lash mapping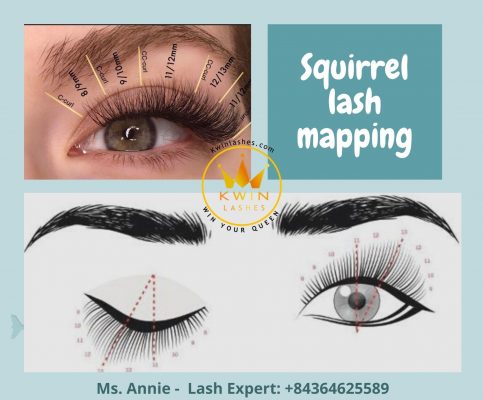 Squirrel look is created by using the shortest lashes at the inner corners of the eyes and gradually rising the lengths until reaching the highest point of the eyes, and then getting shorter again. Squirrel lash mapping is partly similar to cat-eye lash mapping, except for the drastic length differences. This style may become a headache to beginners in this field but nothing is impossible.
2.7. Dramatic lash mapping
Dramatic eyelashes must be the most favorite style for celebrities and influencers due to their stunning and outstanding effect. The impressive lengths, thicknesses, and curvatures added to dramatic extension sometimes make people mistake it for volume lashes, but they are different. Many artists tend to increase the intensity to form a dramatic look. We suggest drawing dramatic lash mapping based on the shape and texture of your clients' eyes for the best result.
3. How to determine the eye shape to choose lash mapping?
Apart from drawing lash mapping, determining the shape of clients' eyes to recommend the most appropriate lash style to each client is a difficult task for many beginners. There are some main eye shapes that you should keep in mind to master in lash mapping.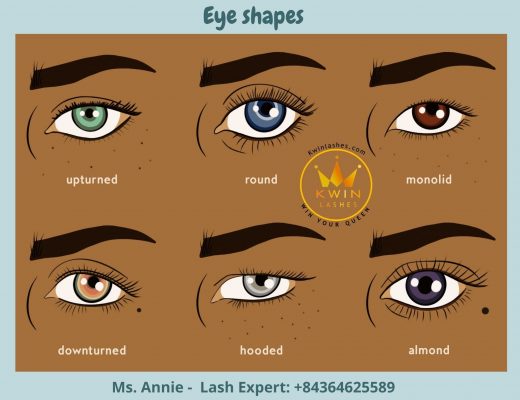 Almond eyes: Clients with almond eyes have smaller eyelids that create an oval shape. This eye shape looks wonderful with almost every lash style: Squirrel, Cat-eye, Doll-eye, Kim-K…

Round eyes: namely "big eyes" with clear double eyelids.

Lash mapping

for round eyes should use medium curls for a natural look. Classic, Squirrel, Cat-eye, and Kim-K styles will suit this eye shape.

Close-set eyes: Squirrel and cat-eye lash styles are the perfect choices to improve the space between close-set eyes.

Downturned eyes: in contrast with the upward almond eyes. The best styles for downward eyes are squirrel and doll-eye.
These eye shapes are some common ones among a variety of eye shapes. Successful determination of eye shapes is the first step leading you to great lash mapping and finally wonderful lash extension.
4. Further recommendations for lash mapping
Eyelash extension, as well as lash mapping, is always a challenging job requiring laboriousness and meticulousness because we are working on the most vulnerable and important part of the body – the eyes. Therefore, we have some advice for beginners on lash mapping as follows:
Do not fear failures. Failure teaches success. Keep practicing and you will do it.

Remember that

lash mapping

is essential in every extension for the best result.

Stick to your client's requirements to create the most suitable lash lines.

Make sure you carefully determine the natural lashes to recommend your client the best style.

Be creative and confident to design your lash styles.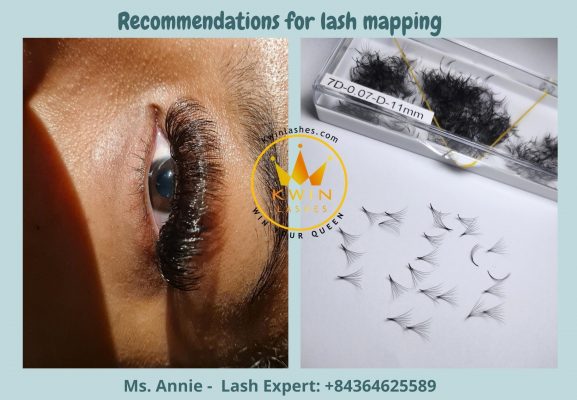 Once you become proficient at lash mapping, you are skilled to create various lash styles that satisfy different clients. We hope you gain some helpful information from this article. For more instructions and wonderful products, please contact us via Whatsapp: +84855555367.
Read Kwin Lashes feedback at:
Reviews and feedback from Kwin Lashes customers
We have wonderful products for you at:
Kwin Lashes: Best choice for false eyelashes