In the years to come, eyelash extensions are becoming more popular and a real trending deal. It's far simpler to have spot-on eyelashes than to say bye-bye to them. Trust me, we've all been there. Vaseline is known as one of the most useful items to carry around to our ladies for its numerous special uses. Have you ever considered the idea of how to remove eyelash extensions with Vaseline? KWIN has just the right answer here for you.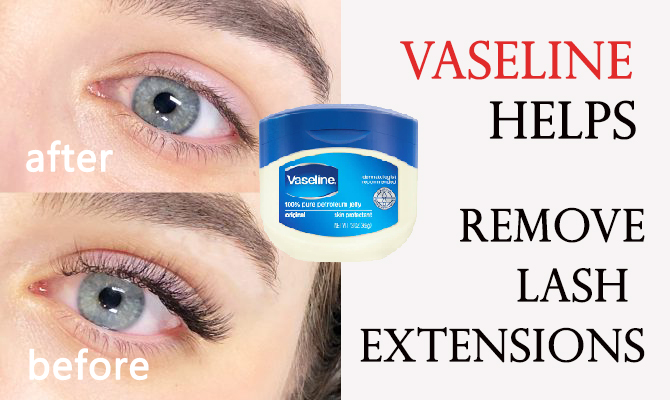 1. Learn how to remove eyelash extensions with Vaseline
The eyes are the windows of the soul and your lash is a powerful shield upon. We must treat them with extra care and caution, especially when removing eyelash extensions with Vaseline.
1.1 What do we know about "Vaseline"?
I bet you have heard rumors like "Vaseline cures chapped heels", "Moisturizer of the decade belongs to Vaseline!!"… Well I can assure you they aren't just myths or seedings, Vaseline has always stayed in the hearts of customers. In fact, some lash and surgery professions even recommend their clients on using Vaseline throughout the healing process. Of course, it works! And you'll be hearing new information now about how to remove eyelash extensions with Vaseline.
1.2 How remove eyelash extensions: Is Vaseline safe?
Vaseline is mainly produced of pure petroleum jelly, also known as petrolatum. You might think it is made from raw oil or petrol, which is not safe for you. Actually this product of Unilever has gone through many distillation and purifying processes in order to achieve its pureness like dozens of products being purchased every day out there. Besides, Vaseline also contains very natural ingredients such as honey, vitamin E, almond oil… As more and more lip care products are being offered, to gain a good place in this competitive cosmetics industry, it has to be completely safe. Now your only concern is how to remove eyelash extensions with Vaseline in the easiest way possible.
1.3 How remove eyelash extensions: Can I use expired Vaseline?
Vaseline is a natural product so it usually has about a 3 year shelf life. In fact, it can be used longer as long as you keep it maintained at room temperature. For your own wellbeing and health, go ask a doctor, your intimate lash artist or an expert used to remove eyelash extensions with Vaseline… No matter what, stay safe and stay informed. And make sure you don't use fake Vaseline products.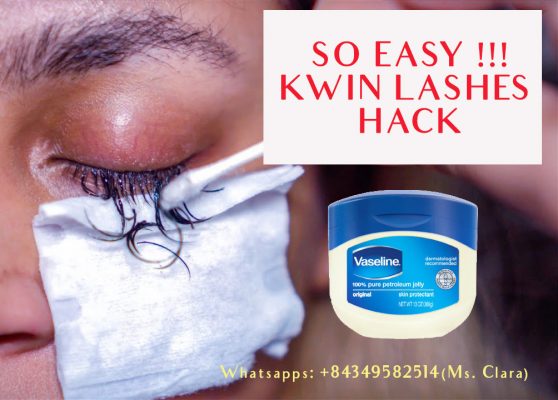 2. Instructions on how to remove eyelash extensions with Vaseline
Since Covid-19 appears to cause us being locked down, we can't go to the lash artists to ask them how to remove eyelash extensions for you. It's okay, KWIN LASHES will guide you in the right direction.
2.1 Get ready on how to remove eyelash extensions with Vaseline
Before jumping into business, decide whether you need a partner to help you or whether you can do it yourself. For the best results, follow these basic rules:
First and foremost, no make-up would be allowed on your face, particularly around the eyes. Washing your face with warm water is highly recommended by pros. It helps increase blood circulation that can loosen your face muscles. If you're picky and want to be more careful, prepare a steaming hot water bowl and chill in 7 to 9 minutes. In some ways, heat will soften the glue a little bit.

Warm Vaseline before you remove eyelash extensions is a nice tip too!

Wash your hands and

disinfect all needed supplies.

On how to remove eyelash extensions with Vaseline, we'll need cotton pads, a q-tip, a towel, and a tweezer (optional)…

Finally, your setting must have good lighting and view.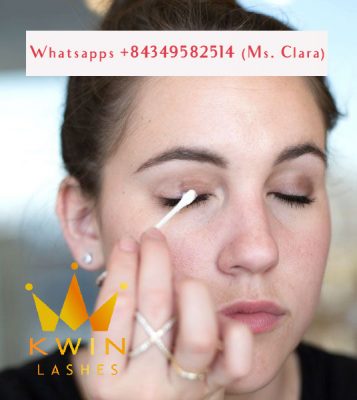 2.2 Safe steps on how to remove eyelash extensions with Vaseline
Remove eyelash extensions with Vaseline is easier than you could imagine because at home, we are doing it all by ourselves. Follow this step by step, you will see:
Take a cotton pad and put it under your upper eyelashes, this will avoid Vaseline getting into your eyes.

Using a q-tip, gently apply a fair amount of Vaseline on your eyelashes. Leave it there for 2 to 3 minutes for dissolving.

Continue to smooth them downwards (swipe down motion) until the fake lashes are no longer present. and If they weren't that disconnected, keep waiting instead of pulling them out. It's possible that you'll feel itchy and irritated, which is why we need to proceed slowly. We know it's both difficult to apply or remove semi-permanent lash adhesive from your eyes.

Tweezer is optional, however they come in handy for removing little false lashes and dry glue remains.

When you have finally got the false eyelashes completely out, clean your eyes with a wet towel or just wash your face again. Voilá! The outcome is faultless.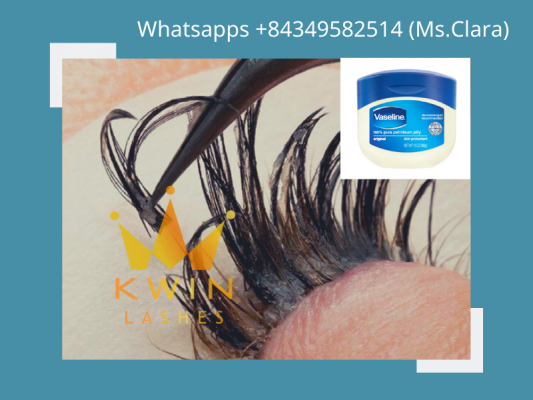 3. Which Vaseline is the best to remove eyelash extensions with?
Vaseline is a widely known item to many of us, so there are many versions of it and varieties such as cream, ointment, lotion…
3.1 How to emove eyelash extensions with Vaseline Original
Vaseline Original is the first and bestseller product. This petro jelly has no fragrance, no color. Vaseline's contents are all natural therefore it's perfectly safe to use. Original version has a blue color. You can get it in almost any supermarket.
3.2 How to remove eyelash extensions with Vaseline Rosy Lips
Vaseline Rosy Lips is basically nothing different from Vaseline Original. The only difference between Rosy Lips is that it has a pink-red kinda color. Don't worry, it's not a fragrance. In bad circumstances when there is no Original version, experts don't really advise using this version. If you are likely to have problems with your eyes like infections, choose another method. Search how to take off eyelash extensions with Vaseline, coconut oil, baby oil on Google. Remember to protect your beautiful eyes at all costs girls, a charming look means charming life. Love from KWIN.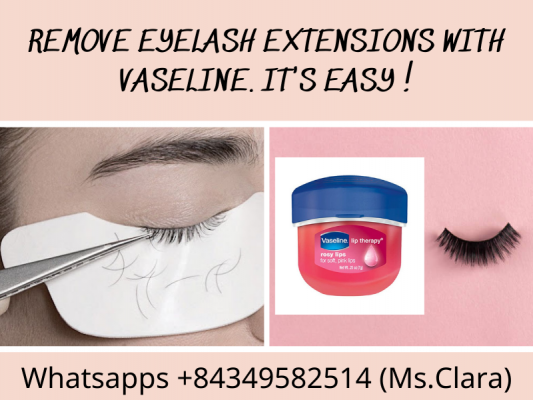 Read more on:
For more information, contact us via social links and media:
Ms: Clara – Lash Expert 
Whatsapps: +84349582514
Instagram: kwin_lashes_factory