The importance of a package to the product within is undeniable. Choosing a private label eyelash packaging plays an important for anyone to supply and start a business. How can you choose a good packaging manufacturer? In this article, Daisy expert will give you all! Let's go!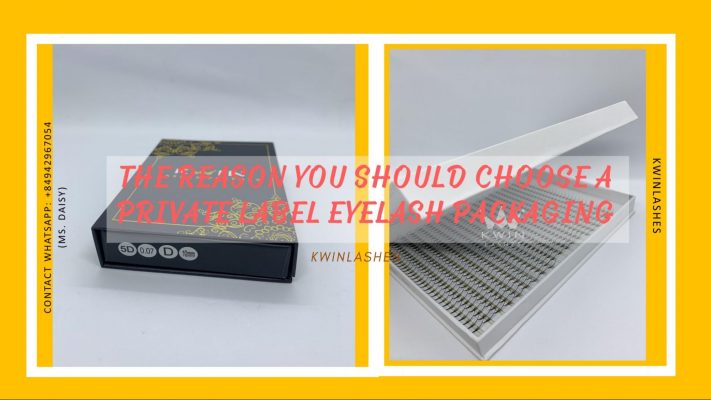 1. Why do you need to have a private label eyelash packaging?
Here are some reasons that you need to know:
1.1. A private label eyelash packaging can protect your products.
It is undeniable that a private label eyelash packaging has an important role in keeping its contents and consumers safe. With a quality packaging, your eyelashes will be better preserved, thus keeping them newer and lasting longer. Moreover, when delivering internationally to you, packaging also keeps the eyelashes completely safe.
1.2. Customer's impression of a private label eyelash packaging
Domestic goods like eyelashes also need packaging than any other goods. Private label allows you to make a distinct character of your eyelash brand. Besides hundreds of packages of famous brands, a private label will be the best point of your false eyelashes for customers. When it comes to selling products, using a private Label allows your company to stand out from the competition. Because you are the only supplier of the product, good marketing will create demand for it, which is tremendously profitable.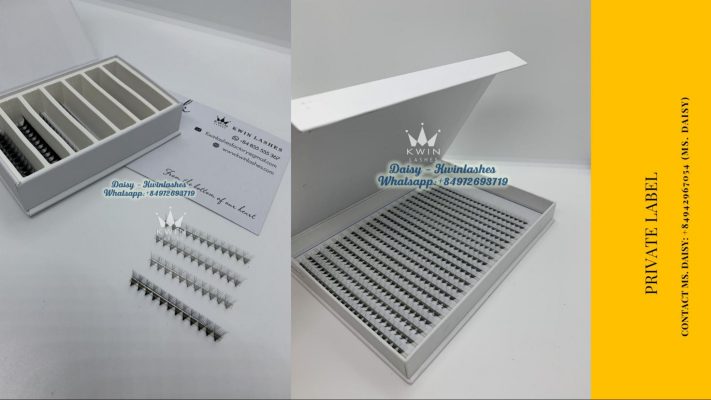 1.3. A private label eyelash packaging helps you to create your brand
Personalization is the best choice that every company has chosen to create their packaging more far-reaching. Eyelash boxes wholesale; are manufacture according to the style, size, shape, and color of the product. Name your custom boxes with your eyelash brand name and logo. You can make a distinct character of your eyelash brand with your completely designed custom boxes. Name your custom boxes with your eyelash brand name and logo. Not only will your company's brand be noticeable in such labeled boxes, but consumer trust in your brand will also rise. Because of your unique product presentation, your product will be distinguished from others on the market. This thing improves consumer experience and comfort.
2. Benefits of working with Vietnamese private label eyelash packaging manufacturer
Nowadays, Vietnamese manufacturer is a potential market and brings outstanding benefits:
2.1. Quality and Price
One of the best things you will receive from working with Vietnam private label eyelashes packaging manufacturer is high quality and good service. The eyelash extension in VietNam is the super pointy base that helps you to create a fan easily. Moreover, Private label eyelash packaging manufacturer in Vietnam has good service and a variety of labels and experience. This will allow you to have more choice. 
2.2. Save time and money
If your eyelash wholesale is also your private label eyelash packaging manufacturer, this is the biggest advantage in the eyelash business. Because whenever you cooperate with a certain supplier, you will have to spend a lot of time and effort to learn about them, research their products. So what's better than when your eyelash supplier will also produce private label packaging for you.
Because they are familiar with your products and selling styles, providing the appropriate packaging is easier and less expensive. It allows you to save both time and money. At the same time, this assists you in avoiding management risks associated with dealing with a large number of third parties.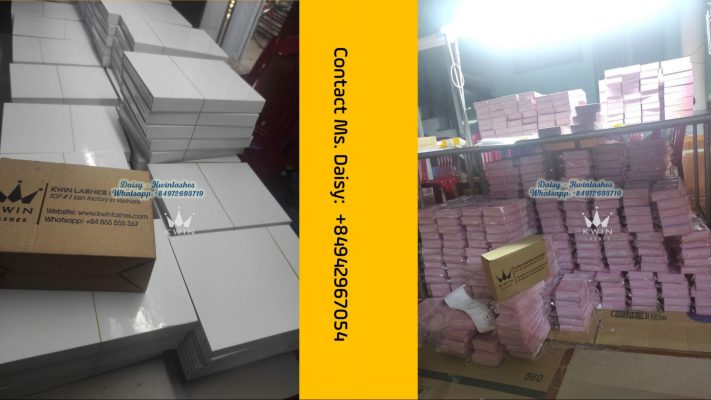 2.3. Design as your own idea
With high-quality wholesale, you can offer your own custom design. Most normally a private label eyelash packaging wholesalers will offer the available models or give some suggestions for you to choose. However, the price per shipment of their packaging is still a problem. In fact, during consulting my customers, a lot of retailers often share with me about suffering broken packaging or unpleasant plastic odor. That reduces the reputation of their brand. 
By contrast, Vietnamese high-end wholesale always has an active team of designers. They design new packaging and make it trendy. Besides, we will find the best way to reduce the price and solve your problem before. 
3. Steps to choose right a private label eyelash packaging
Below are  3 steps that definitely help you to choose the right manufacturer 
3.1. Searching
Don't undervalue the importance of the search process. Investing a little extra time in your search, as well as conducting a wholesale analysis, will help you avoid a lot of risk in the future. Besides, you also need to combine searches on different platforms such as Facebook, Instagram, websites to get a more specific view about the private label eyelash packaging manufacturer. One thing not to be missed is reading real customer reviews about the eyelash packaging manufacturer you're aiming for. These are the most realistic materials to support your choice.
3.2. Contact the trustworthy suppliers
The next step you need to do after searching is that contact trustworthy private label eyelash packaging suppliers in Vietnam. The attitude and knowledge of sales staff and consultants also partly reflects the way of working and quality of wholesale. A famous supplier always has full knowledge about lash products and has an enthusiastic customer care team.
3.3. Order sample for testing when buying from eyelash extension supplier
After you have your first trust that this private label eyelash packaging supplier is real, then ask them to show their samples and price lists for you to compare with another wholesale lash vendor. The eyelash wholesale distributor on our list is always willing to buy the sample. Then, you should ask the eyelash extension supplier one of the most effective shipping ways because the international shipping costs are quite high. Then, you should close the deal, choose a payment method and wait for the best quality eyelashes to come to you.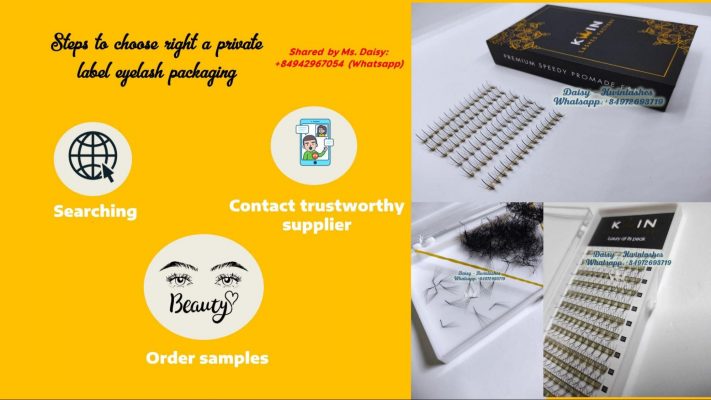 Read more on: 
4. Top 3 best premium private label eyelash packaging
Here is the list of the 3 best wholesale lashes factories based on high quality, good reviews, and reasonable price.
Kwin Lashes 

Rose girl Lash 

Vina Lash
4.1. Kwin Lashes
Kwin Lash is one of the leading manufacturers to produce private label eyelash packaging for many reasons:
Material:

The lashes are made of Korean black PBT and make the easy fan lashes ultra-soft and light, no-harmless to human skins or eyes. Perfect for professionals, makeup salons, etc.

Easy Fan Lashes:

premade fans, special production craft that make you can do fans from 2D to 10D easily without any professional skilled technology, even as a beginning lash artist.

Private label eyelash packaging:

At Kwin Lashes we will always offer premium trays for you and helps you with designing eyelash manufacturer private labels from A to Z. Moreover, at Kwin Lashes for those who are large distributors with wholesale purchases, they can try samples first before buying in bulk and doing the private label. Checking the quality of eyelashes is important to get exactly what you want without any regrets. Kwin Lashes had many years of experience in making ODM/ OEM service and all customers' information is kept secret.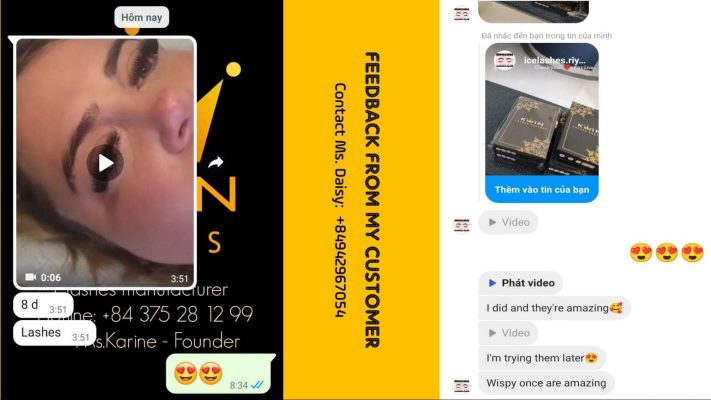 4.2.  Rosegirl Lash
Almost all products of Rose girl lash are trendy lashes. This eyelash extension supplier has many experiences of making eyelash private labels packaging.
Rose girl Lash is specializing in manufacturing high-quality eyelashes in Vietnam with materials of Super Mink, Mink, and Silk. However, the price at Rosegirl Lash is higher than any supplier in VietNam.
4.3. Vinalash
 They are an eyelash extension supplier with a variety of products. They provide clients and retailers with a wide range of choices at a suitable price.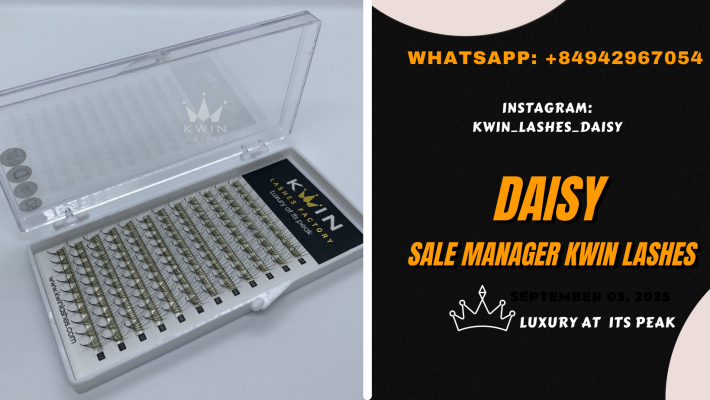 Kwin Lash Co., Ltd – Wholesale eyelash supplies
The leading false eyelash manufacturer in Vietnam, a specialist in false eyelashes.

Specialized in processing eyelash extensions, eyelash strips on request from customers.

Working model OEM / ODM –

Eyelash private labels.

Founded by a leading specialist in eyelash manufacturing.

Experienced staff, supervised by longtime experts.
How we work:
Quality assurance

Affordable, wholesale price

Commitment to completion time

Professional work

Sample support to check the quality

Global delivery

Diverse payment methods
CONTACT VIETNAM LASH MANAGERS FOR THE BEST DEALS, PROMOTIONS, AND FREE BUSINESS ADVICE NOW!!!
WhatsApp: +84348639466 (Ms. Daisy)
Instagram: kwin_lashes_daisy