The lash market is a very potential market in the world. You are eyelash companies and want to change to better manufactures, or you are newbies in the eyelash manufacturer and want to find a good lash factory for your business at a reasonable price and the best quality? Then Daisy experts from Kwin lashes factory will help you to find out the top 5 best eyelash manufacturer private label.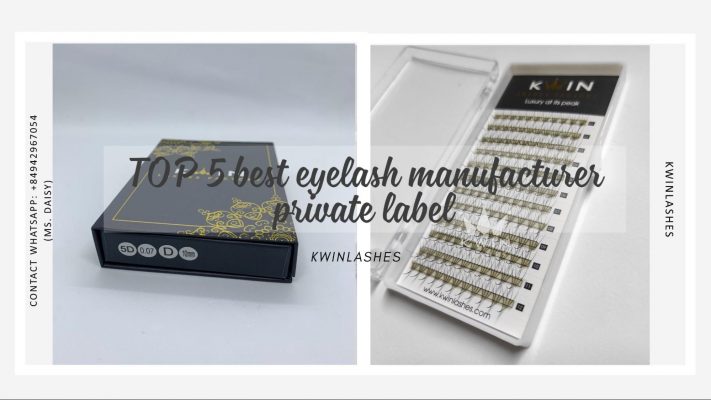 1. How is THE BEST eyelash manufacturer private label?
Before we go into the top best eyelash manufacturer private label, let's go over the fundamental knowledge needed to know:
1.1. What is a private label?
A private label product

is manufactured by a contract or third-party manufacturer and sold under a retailer's brand name. As the retailer, you specify everything about the product – what goes in it, how it's packaged, what the label looks like – and pay to have it produced and delivered to your store. This is in contrast to buying products from other companies with their brand names on them.

I introduced private label so now I will talk about the popular eyelash manufacture private label.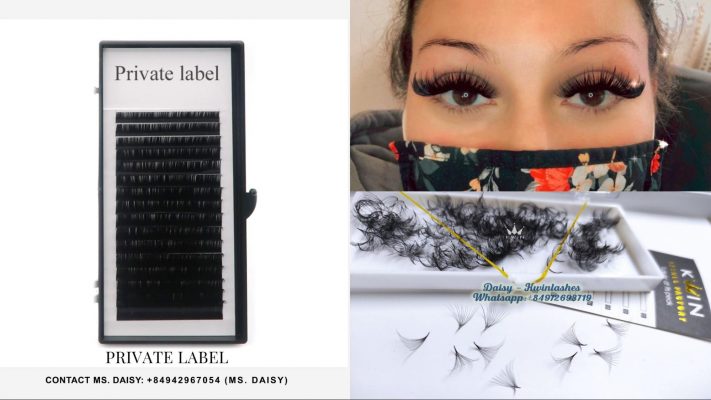 1.2. Types of popular eyelash manufacturer private label 
. Here are 2 kinds of the popular private label now
1.2.1. Normal paper label
Also known as a normal label, a normal paper label is glued by paper. The eyelashes will be attached to the paper label directly. However, there is one significant disadvantage that when peeling the eyelashes from the label, it is easy to tear
1.2.2. Foil backing label
This can be a better and more popular choice than a foil backing label. With outstanding features, this eyelash manufacturer private label is easy to pick up and peel. Moreover, the foil backing label doesn't have any more dirty lash tiles. However, the price is more expensive than the normal paper label.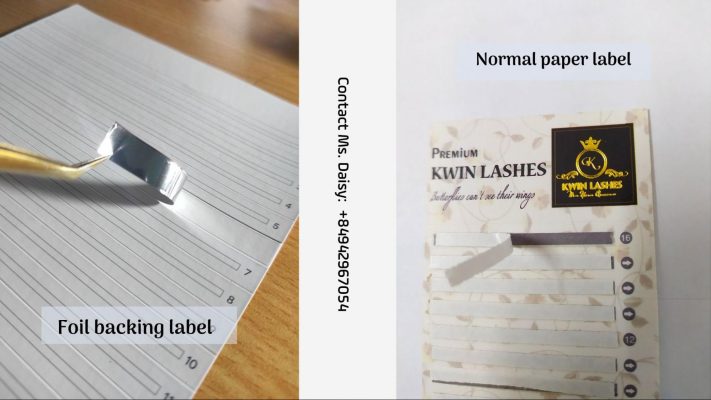 2. Signs Showing That You Are Dealing With A Fraud eyelash manufacturer private label. Be Alert!!!
In recent days, the business of false eyelashes is attracting great attention from many businesses. This potential eyelashes market is the target of many scammers to fraud customers. Therefore, please be alert to notice whether they are real or not. Here are some signs showing that this is a fraudulent Vietnamese eyelash manufacturer private label
2.1 No website – Not available in many social media
With many ghost companies or scammers, if they don't have an official website or are not available on many social media, you must consider eyelash manufacturer private label 

A reliable company means that they will have many testimonials, reviews on social media like websites, Facebook, Instagram, Tiktok, and so on.
2.2 No profound knowledge about lash
They are not professional lash experts or eyelash manufacturer private label, they don't often know about the eyelashes manufacturer extensions clearly 

When you chat and receive a consultant from them, try to ask them some specific questions in eyelash manufacture private label. Moreover, some eyelash companies don't have factories and are often a middle person 

Through their answers, you can decide which levels they belong to and whether they are trustful or not.
2.3. Always rush you to pay money
The thing scammers care about is money so they always rush customers to pay money as soon as possible. Be alert if you see this sign from your eyelash manufacturer private label

Fraud signs
3. Top 5 best eyelash manufacturer private label
Here is the list of the 5 best wholesale lashes factories based on high quality, good reviews, and reasonable prices.
Kwin Lashes – the first choice for eyelash manufacturer private label

Rosegirl lash

HeHeary Girl Eyelash Factory

Vinalash 

Eunice Lashes
3.1. Kwin Lashes – the best choice for eyelash manufacturer private label
Kwin Lash is one of the leading manufacturers to produce eyelash extensions private label  for many reasons:
Material:

The lashes are made of Korean black PBT and make the easy fan lashes ultra-soft and light, no-harmless to human skins or eyes. Perfect for professionals, makeup salons, etc.

Easy Fan Lashes:

premade fans, special production craft that make you can do fans from 2D to 10D easily without any professional skilled technology, even as a beginning lash artist.

Private label:

At Kwin Lashes we will always offer premium trays for you and helps you with designing eyelash manufacturer private label from A to Z. Moreover, at Kwin Lashes for those who are large distributors with wholesale purchases, they can try samples first before buying in bulk and doing the private label. Checking the quality of eyelashes is important to get exactly what you want without any regrets. Kwin Lashes had many years of experience in making ODM/ OEM service and all customers' information is kept secret.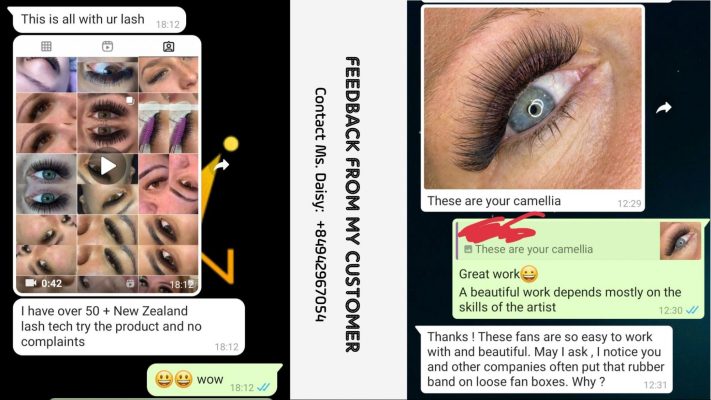 3.2. Rosegirl Lash
Almost all products of Rose girl lash are trendy lashes. This eyelash extension supplier has many experiences of making eyelash manufacturer private label. 
Rosegirl Lash is specializing in manufacturing high-quality eyelashes in Vietnam with materials of Super Mink, Mink, and Silk. However, the price at Rosegirl Lash is higher than any supplier in VietNam.
3.3. KTV eyelash factory
This is one of the

suppliers

in China. This eyelash extension supplier has a variety of different kinds and especially China's private label is more beautiful and diverse than Vietnam's eyelash manufacturer private label. However, China's eyelash extension is square base and hard to make a fan. Besides, the price in China is much bigger than in Vietnam.
3.4. Vinalash
They are an eyelash extension supplier with a variety of products. They provide clients and retailers with a wide range of choices at a suitable price. 
3.5. Eunice Lashes
This is one of the biggest Chinese factories.

This eyelash extension supplier is mainly focused on manufacturing 3D mink lashes and 3D chemical fiber eyelashes. Besides, they also do OEM/ODM service.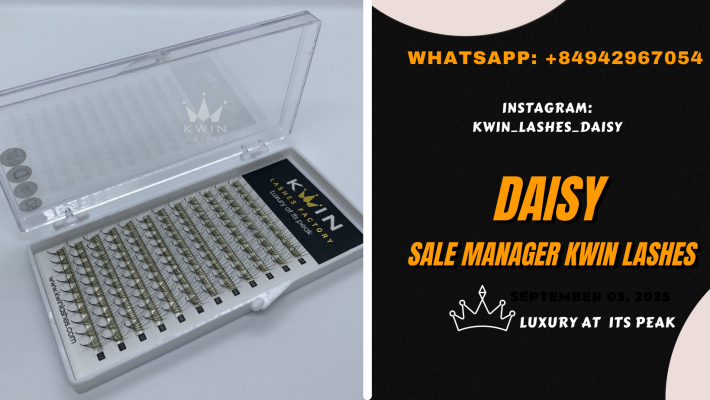 "Focus on your brand, and we will make your product quality at a suitable price and popular."
Kwin Lash Co., Ltd – Wholesale eyelash supplies
The leading false eyelash manufacturer in Vietnam, a specialist in false eyelashes.

Specialized in processing eyelash extensions, eyelash strips on request from customers.

Working model OEM / ODM –

Eyelash private labels.

Founded by a leading specialist in eyelash manufacturing.

Experienced staff, supervised by longtime experts.
How we work:
Quality assurance

Affordable, wholesale price

Commitment to completion time

Professional work

Sample support to check the quality

Global delivery

Diverse payment methods
CONTACT KWIN LASH MANAGERS FOR THE BEST DEALS, PROMOTIONS, AND FREE BUSINESS ADVICE NOW!!!
WhatsApp: +84942967054 (Ms. Daisy)
Instagram: kwin_lashes_daisy