If you want to make your eyes look more outstanding, regular eyelash extensions are the ideal method. But they don't really go far. To give you a much more attractive appearance, lash artists design colored lashes to draw people's attention to your eyes. So you are definitely the center of the crowd. Numerous trendsetters now use it, so don't hesitate anymore. Let's learn about this kind of lash before it becomes something mainstream.
1. What are colored lashes?
This section aims at providing you with general information on colored lashes.
1.1. Definition of colored lashes 
Colored eyelash extensions are available in a wide range of tones, which can act similarly to eyeshadow in that they bring out the color of your eyes. Colored lashes do more than just enhance your eye color. They also allow you to show your personality. Having all of the benefits of traditional extensions including enhancing the volume and length of your lash line and removing the need for eye makeup. As a result, colored lashes are definitely the secret weapon for your beautiful eyes.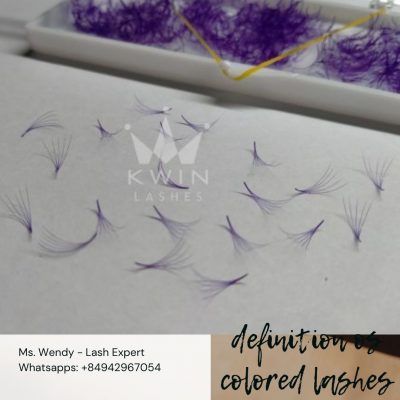 1.2. Merits of colored lashes
Colored lashes have a variety of features that are meant to satisfy the demands of practical applications, such as the ones listed below.
The use of suitable colored lashes can contribute to boosting your newly dyed hair color better. Whether your hair is in bright or deep color, consider choosing the right ones to be more fashionable and outstanding. For some people, this really puts you at the forefront of the trend.

The most noticeable advantage of colored lashes is from mixing a proportion of themselves with a slightly larger percentage of conventional lashes. It means that the higher the percentage of colored lashes, the bolder the final appearance you get. This produces an effect that mascara cannot replicate.

For those who are fond of using color lenses, choosing additional colored lashes is really a clever selection. A set of these lashes which share the same color with the lenses can make your eyes bigger and more stunning.

Colored lashes are suitable and perfect for various occasions. If you have a special occasion or event coming up, color lashes appear to be the ideal accessories. Color lashes that can complete your style can help you glam up your eyes for the big day. Create a glamorous effect on your eyes by using any color and pattern you like.

In this day and age, there are more and more choices in a range of colors and diameters that are becoming accessible in the eyelash extension industry. As a result, lash artists can make the most of colored lashes to make both subtle and dramatic styles. It can be a pop of color to highlight the eye or a full set of color lashes.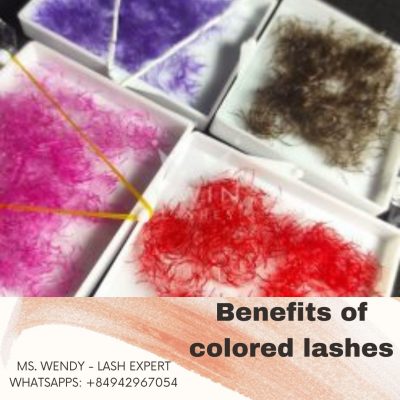 2. Top five trending colored lashes in 2021
Red seems to be the color of luck and happiness. Not to mention its popularity in the eyelash extension industry, bright red colored lashes in real life are the ideal addition for displaying team support. Furthermore, it also demonstrates to friends and family what is the true holiday and festival spirit.
It is widely understood that not every customer is ready for a dramatic red lash! Brown eyelash extensions are the ideal option in this scenario. This subtly colored eyelash extension will give considerable depth and dimension without attracting too much attention from strangers. Overall, it is an excellent 'entry-level' lash into the realm of colored lashes.
Blue-colored lashes will brighten the face of blue-eyed women, which match best with piercing blue eyes. In addition, the brown and amber-eyed beautiful eyes will be able to benefit from these eyelash extensions as well. It enables customers to get flawlessly detailed eye looks.
Mermaid-colored lashes are made in an ombré design by mixing royal purple, green, and marine blue lashes or a rainbow-hued effect. They have a bright, lively appearance that is great for cute girls.
Rainbow-colored lashes are perfect for avant-garde clientele who aren't scared to be different from the crowd. Blend these vibrant lashes with black eyelash extensions. Alternatively, a complete pair of rainbow eyelash extensions will amp up the sass. In either case, it will make a great impression with these eye-catching embellishments.
3. Eyelash extension styles that can be created from colored lashes
There are three main lash extension styles from colored lashes named natural, sexy, and dramatic styles. These styles differ from the length of the lashes. Be aware of choosing what style you are suitable for because the mismatched eyelash extension style can make you look less young.
Being interested in a natural look, you should opt for medium-colored lashes. This style has lashes of average length, which implies that the lash extensions utilized are 1.5 times as long as your natural lashes. This helps to improve the appearance of your eyes without making you feel overwhelmed.

Besides, sexy style alters the appearance of your eye shape by focusing on making these lashes appear longer. It is particularly in the outer corner of the eye, giving a sense of womansome beauty. This style can make you look more mature and attractive.

 Dramatic eyelash extension gains much popularity due to its thicker, darker, and bolder extension style, especially appearing better than ever before. This style gives customers the feeling that their lash lines are always thick, glossy, and dramatic. 
Read more on:
4. Where to buy the most trending colored lashes in Vietnam
Today, you may find a plethora of businesses providing colored lashes. Kwin Lashes, on the other hand, is an excellent alternative for you since we are one of the leading wholesale eyelash extensions suppliers in Vietnam for the following reasons.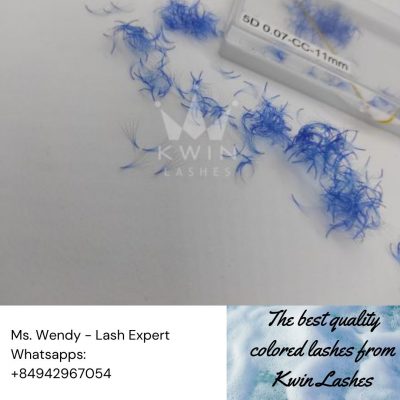 To ensure a high degree of colored foundation, delicate texture, and retention, the best materials for colored lashes are meticulously selected and imported from Korea.

The company chooses semi-finished goods with caution and refuses faulty flat lashes.

Moreover, the main material of Kwin Lashes colored lashes is Polybutylene Terephthalate, a kind of plastic fiber (PBT) that creates the ideal lash form and natural glossy sheen.

In addition, the colored lashes of the company vary in different designs so that you could choose to buy a full set of colors or just a set making a pop of color. 

Above all, the quality standard is of the top priority. Kwin Lashes always puts in a lot of effort in checking and selecting high-quality products which set our company apart from our rivals.
5. Customer's reviews when using Kwin's colored lashes
We, each day, receive countless positive feedback from our clients. Their delight and contentment after wearing Kwin's colored lashes are the major driving force behind our ongoing growth. Moreover, the fact that international consumers choose our items demonstrates that they believe in the quality that we provide. Our clients' support gives us greater confidence that we are on the right route. Therefore, Kwin Lashes will continue to promote the benefits and trending aspects of colored lashes in order to fulfill the expectations of the increasingly competitive eyelash extension industry.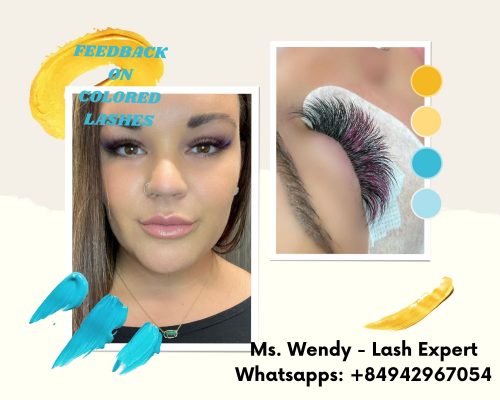 It's far too simple to obtain an amazing set of colored lashes. Contact us right away!
Kwin Lashes Contact:
"Ms. Wendy –  Lash Expert 
Instagram: kwinlashes.official"