Brown eyelash extensions are becoming a new trend in the lashing market due to their beauty and benefits. It is predicted to be a favorite lash style of the majority of customers and the hottest colored eyelash extensions around the world. So, why do brown eyelash extensions gain that amazing reputation? This article will grasp everything you need to know about this lash style and provide you with the best advice before getting brown eyelash extensions.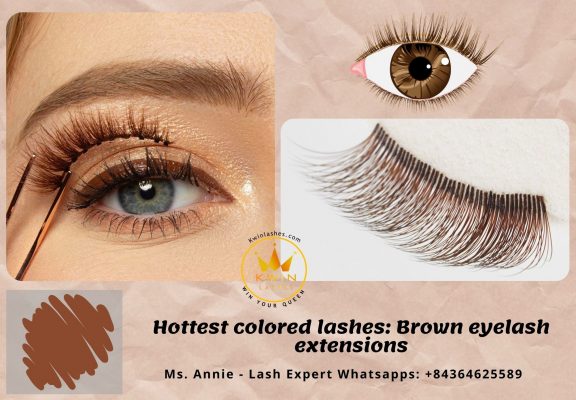 1. Why have brown eyelash extensions become popular?
As defined by the name, brown eyelash extensions are false lashes in many levels of brown color. The characteristics, curls, lengths, and types of brown lashes are no different from black eyelashes. However, the neutral color – brown – is the biggest competitive advantage that makes brown eyelash extensions be the second popular lash style in the lashing world.
Clients often come to brown lashes when they love natural-looking beauty and fullness for their eyes. Sometimes, they find dark black lashes a bit more dramatic and obviously, colorful lashes are too out-standing. Therefore, brown eyelash extensions gain great attention with a harmonious color meeting the demand of many clients.
Read more at:
5 steps for safe eyelash extension removal
Top 5 Halloween colored eyelash extensions 2021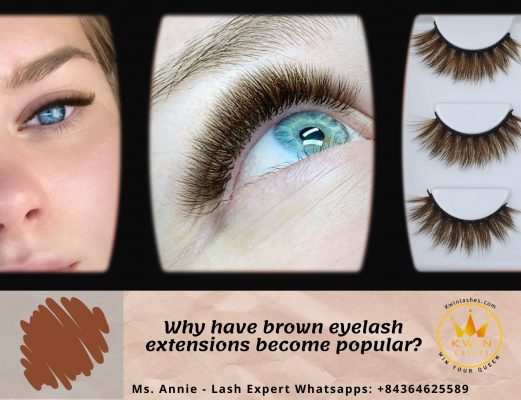 In terms of their increasing popularity, brown false lashes are not only widespread for clients and lash salons, but also a potential investment for wholesalers in the eyelash extension market.
2. Who fits brown eyelash extensions the best?
As common as black eyelashes, brown eyelash extensions are suitable for everyone with any kind of natural eyelashes. However, there are some customers who will benefit the most from brown eyelash extensions.
2.1. Blonde and redhead customers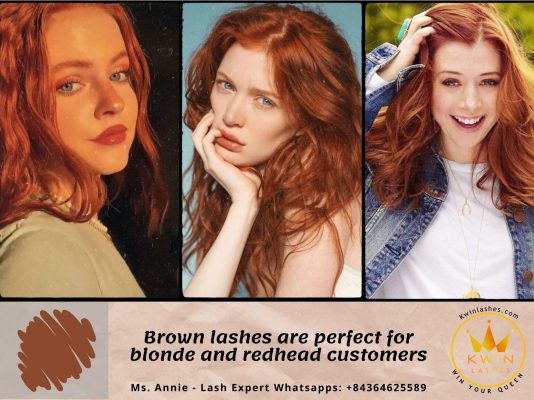 Depending on the natural features, customers with blonde or red hair often have lighter color lash lines than usual. As a result, using black lashes causes eyelashes of two different colors. In this situation, brown eyelash extensions are the better choice. 
In addition, redhead women tend to have a brighter tone of skin than others and brown color enhances their beauty the best. For these clients, any level of brown eyelash extensions from light to dark brown can be considered to offer glorious lash lines.
2.2. Mature customers
Along with aging, natural lashes become thinner when people get older. Consequently, the lash lines of mature clients, especially those are over 50, witness lost natural lashes and many bald spots. Brown eyelash extensions are the best solution for this. Further advice for these women is brown volume lashes which fill in the blank subtly and create gorgeous eyelashes. Volume fans are lightweight and have pointy bases that reduce the burden on the natural lashes, as well as protect their health. Many people think black lashes can cover the spots without knowing that adding jet-black extensions only highlights the shortcomings of sparse eyelashes and make them worse.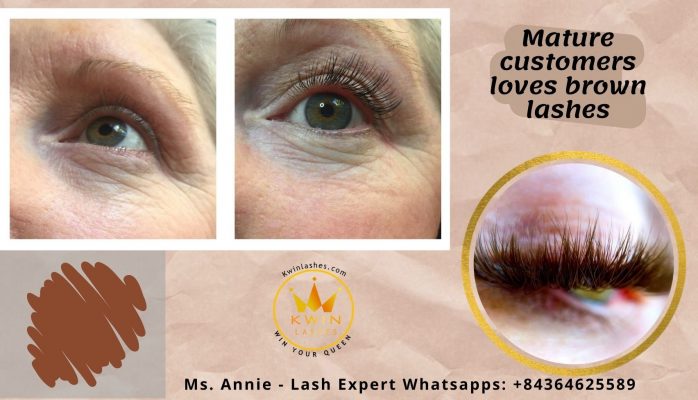 2.3. Newbie customers
If clients are newbies to lashing, brown eyelash extensions are the safest option for their first experience with eyelash extensions. As mentioned before, brown false lashes are neutral, they are not so flashy as colored ones and not too formal as dark black ones. Thus, they meet the requirements of clients wanting natural-looking lashes that do not stand out.
3. What are the best lash mapping for brown eyelash extensions?
Every amazing lash design that artists can do with black lashes, they can apply with brown eyelash extensions. Brown lashes look perfect in any lash style as classic, volume, hybrid, wispy lash extension… Nevertheless, if the natural effect is the intention of lashing, some recommendations should be noted as follows:
Choose shorter lashes for inner corners and longer ones for the outers

Do not use too long

brown eyelash extensions

because they cause cumbersome lash lines.

Natural lashes require different lengths, so use various lengths for

brown eyelash extensions

.

Take the color into consideration (which level of brown) for the most satisfying brown lashes.
4. Some interesting ideas for brown eyelash extensions
Collecting cool ideas for brown eyelash extensions, we offer 4 fascinating brown lash styles that many clients may be interested in.
4.1. One tone of brown for the whole lash line
100% one tone of brown eyelash extensions offer the extremely natural and beautiful lash lines that every woman desire. This effect enhances the skin color and also adds depth and dimension to the eyes of clients.
4.2. Half black and half brown
It sounds strange but the lashing technique mixing between black and brown eyelash extensions may provide a fascinating effect that brightens up the eyes. Especially when the lights shine on the eyes, the volume look made from both black and dark brown eyelash extensions can satisfy the fastidious customers.
4.3. Mixture of different levels of brown
Along with the demand, various shades of brown eyelash extensions are produced for different clients. This allows lash artists to come up with a creative design of mixing different tones of brown from light to dark, for an intriguing look. Although not everyone loves this technique, it is still an interesting idea and worth trying.
4.4. Ombre brown eyelash extensions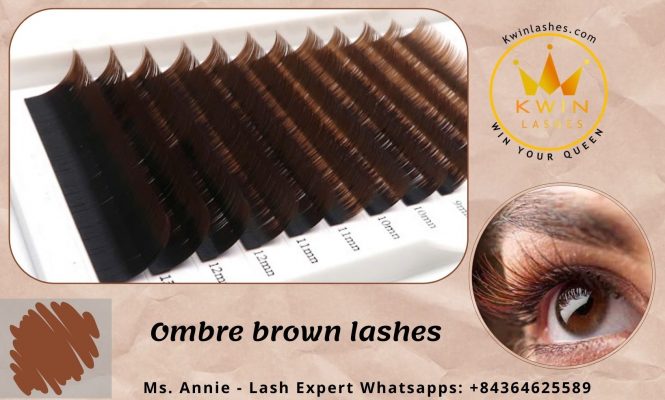 Big fans of colored lashes are familiar with ombre brown eyelash extensions due to the attractive look they offer. The ombre method means the changing tones and colors of eyelashes from the base to the top. Lash professionals often use a darker brown or black root and ombre lashes are gradually faded to lighter color on the top. This is an amazing technique that makes the eyes stand out than ever.
5. Where to buy high-quality brown eyelash extensions?
No matter how beautiful and marvelous look brown eyelash extensions offer, not only the appearance but also the quality of false lashes need to be considered before applying on the natural lash lines. The better false lashes you choose, the healthier, more durable, and more attractive look you achieve.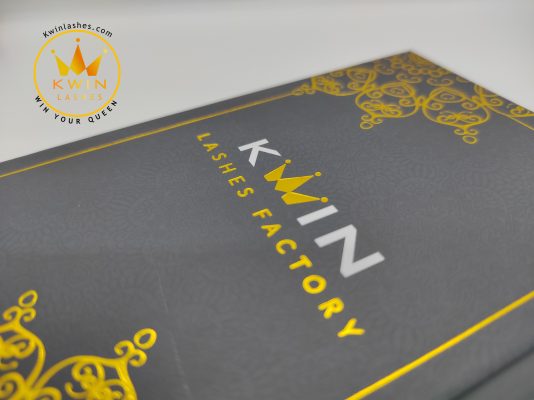 As a professional and famous manufacturer in the eyelash extension market in Vietnam, Kwin Lashes is the best choice for brown eyelash extensions and many other lash products. With 100% of products being handmade by skillful technicians and from premium synthetic materials, we ensure you the best quality of false lashes at a better price than any other factory. Contact us right now for your lash booking via Whatsapp: +84855555367
We have wonderful products for you at:
Kwin Lashes: Best choice for false eyelashes