RAPID PROMADE FAN (

LOOSE STRIP FAN

) INTRODUCTION
Discover the Kwin Lashes Rapid Promade Fan, the ultimate fusion of convenience and organization for your lash extension needs. This innovative product combines the best features of the Loose Promade Fan and the XL Tray Promade Fan, resulting in a perfectly balanced solution that offers both compact packaging and neatly organized fans.
Unlike the Loose Promade Fan, which typically comes in small, unorganized packaging, the Rapid Promade Fan takes it up a notch by arranging the fans in a row. This arrangement allows for easy access and selection, ensuring a smooth and efficient application process. Say goodbye to searching for the right fan amidst a jumble of lashes, as this new product keeps everything neatly organized and within reach.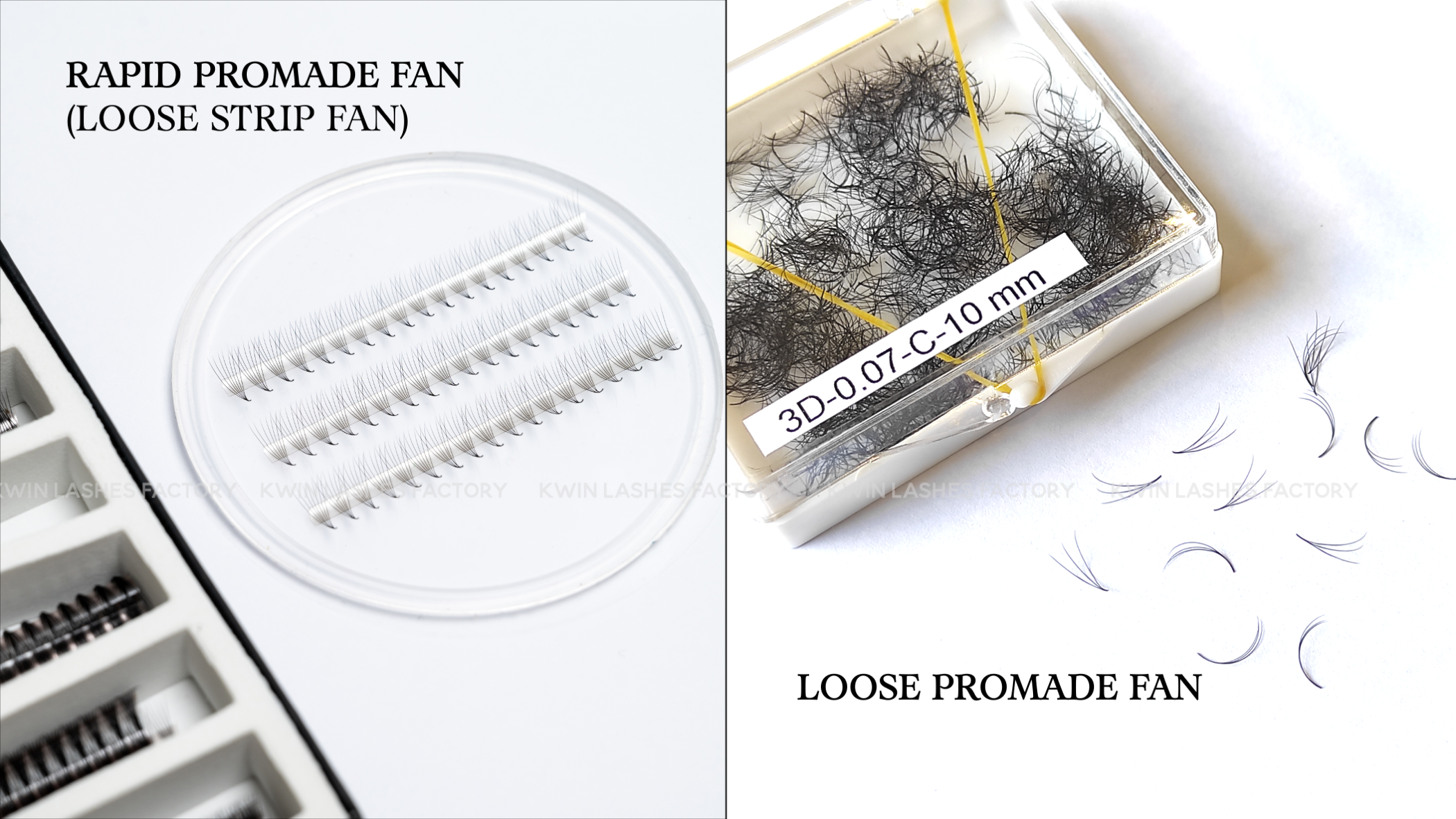 On the other hand, the Rapid Promade Fan also addresses the size concern of the XL Tray Promade Fan. While the XL Tray offers organized fans, it tends to occupy a significant amount of space, making it less practical for those with limited storage capacity. Loose Strip Fan comes in compact packaging, efficiently holding 500-1000 fans. This smart design not only saves you valuable storage space but also helps reduce international shipping costs, making it a cost-effective choice for lash professionals and enthusiasts alike.
KWIN LASHES 3D NARROW PROMADE FAN
Kwin Lashes Narrow Promade Fan is specifically designed to meet the high standards of Russian Volume Fans. Their extra tight openness are the perfect match for clients with thick natural lashes and allow lash artists to create darker volume effect. 
With longer bases than regular wide fans, these lashes provide a greater bonding area to the natural lashes, therefore offering better retention.
👉Learn more: Narrow Fans: Everything You Need To Know
KWIN LASHES PROMADE FAN
Though different in the form of packaging, all of Kwin Lashes Promade Fan in our Promade Fan Collection shares the same key features:
The fans feature a pointy base with a minimal amount of glue, allowing for perfect isolation and seamless attachment to your clients' natural lashes, ensuring optimal retention. 
Each fan is meticulously handcrafted to be symmetrical, offering you clean and precise results. This symmetrical design guarantees that your lashes look evenly distributed and beautifully symmetrical.
Our Promade fans are made from unique Korean PBT, a high-quality material that sets them apart from the rest. This premium Korean PBT ensures durability, flexibility, super dark shade without looking plasticky.
PRIVATE LABEL SERVICE
Kwin Lashes Factory goes beyond simply producing high quality lashes. We offer customizable solutions extend beyond the lashes themselves. We provide a range of packaging solutions, including private label packaging, where you can showcase your logo, colors, and branding elements. This allows you to create a cohesive and professional look for your lash products besides their excellent quality. Contact us today to get this product on your shelf as soon as possible!
Key Features
Capacity: 500 fans -1000 fans/ box (As requested)

Material: High quality Korean PBT

Curl: C, CC, D, DD, J, B (requested)

Thickness (for 3D Narrow): 0.07/ 0.1

100% handmade, pointy base

Symmetrical fans

Extra tight fan: 3D is 2.5 to 3 mm wide

Pre-arranged in a row – faster and easier to pick up
How To Use
Step 1: Separate the strips using hand or tweezers
Step 2: Lay the strip on a silicon pad
Step 3: Pick the fan from the base